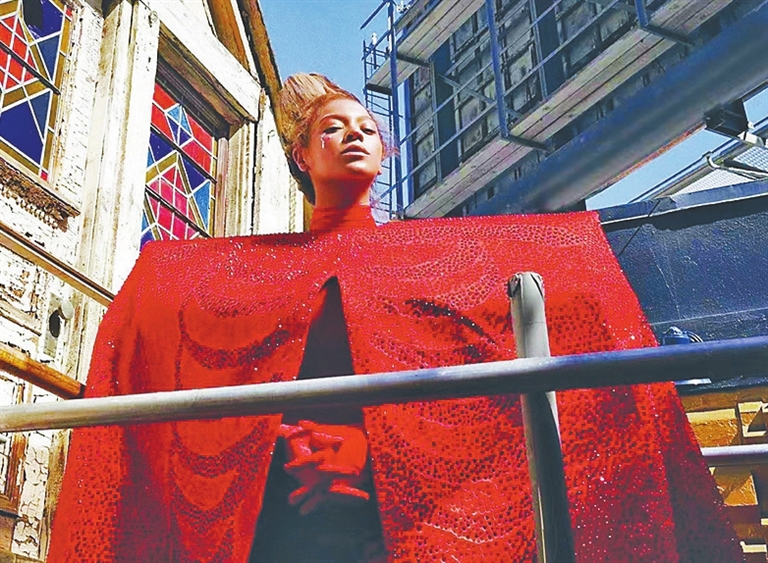 IN February, less than two years after he established his design brand Buerlangma, 21-year-old Chinese fashion designer Yuan Qiqi received an unexpected email from across the ocean: The PR team for U.S. singer Beyonce said the star wanted to wear an outfit from his 2021 collection — a red dress with stunning shoulder pads inspired by the traditional wear of China's Yi ethnic minority — for the star's next album "Renaissance."
In his short career as a fashion designer, Yuan has been inspired by the diverse traditional cultures of China, from the turquoise of the well-known Song Dynasty (960-1279) painting "A Thousand Li of Rivers and Mountains" and traditional Chinese ink paintings to the large shoulder pads of the Yi people.
Talking about how he was inspired by the Yi, Yuan said that one day he happened to come across a popular short video on Douyin, in which a group of elderly Yi men were wearing traditional clothes.
"I was surprised by their traditional clothing style that was at the same time very modern. Their amazing dark blue undertones plus the eye-catching shoulder pads impressed me a great deal," said Yuan.
Bearing that in mind, Yuan incorporated the shoulder design into his dress and used an impactful red as the base color of the garment. He had originally stuck to only hinting at these elements in his designs from time to time.
"I used to think that since I was young, I wasn't qualified enough to be able to bear this huge responsibility to advocate traditional Chinese culture because it is a massive system. I grew up with the modern and classic art from the West and I appreciate them. But as I dug deeper in both Chinese and international fashion design, I realized that the two don't contradict each other," said Yuan.
Before he became recognized on the international stage, Yuan went viral after an appearance on a Chinese talk show two years ago. He was invited as a junior representative on a debate show, in which the 19-year-old actively commented on one issue that he cared about: Should boys be allowed to go to school in a skirt? Himself wearing a colorful long tulle dress, Yuan advocated that boys should be able to choose for themselves.
From the concept of gender identity to cultural appropriation, this socially aware designer pays keen attention to all the leading and fresh, edgy but vague concepts and terms that are trending around the world.
He believes that visual representation of these social topics is "the most direct, convenient and quickest way" for him as a young man to transmit his ideas to the public. With this in mind, Yuan injects his thoughts on social topics into his designs.
The recent Dior controversy has triggered the young fashion designer's desire to go from passively and occasionally adding traditional elements to his designs, to actively defending traditional culture as a designer.
"The Dior issue has made me realize the urgency to protect and promote my own culture," he said. "There are so many staggering designs in ancient people's clothing that we as young designers need to learn, understand, deconstruct and promote." (Global Times)