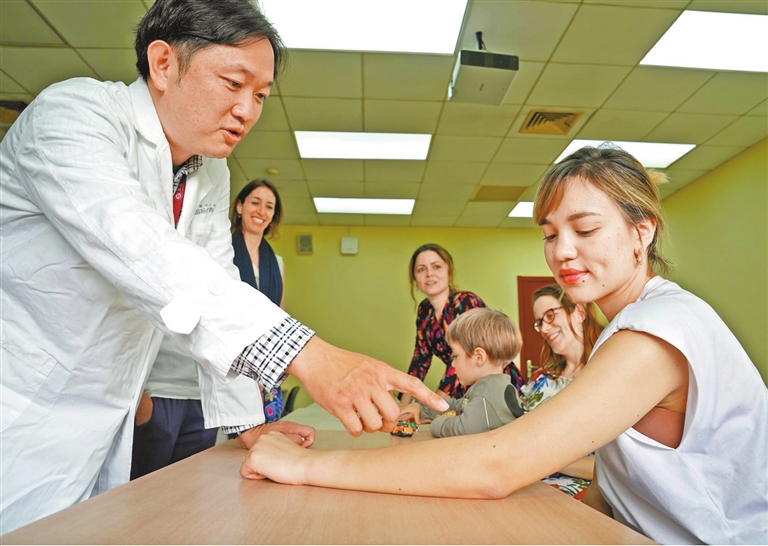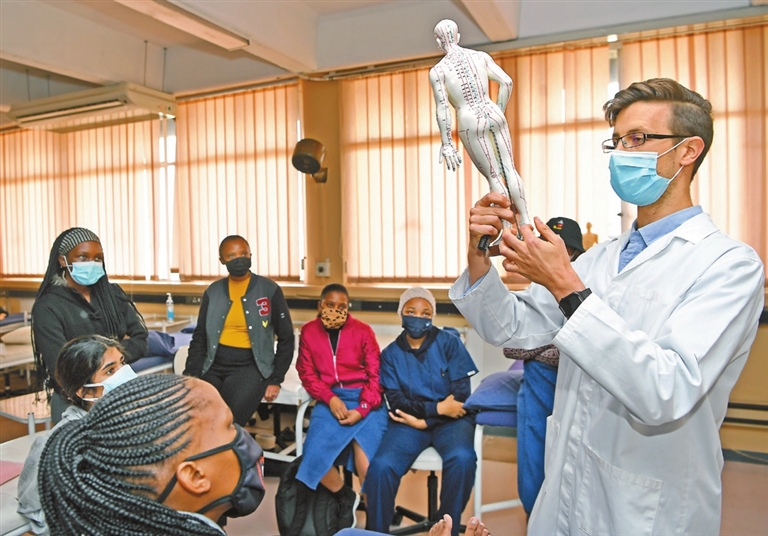 WITH thin needles being inserted into a patient's acupoints, a cardiothoracic surgery began on the patient who remained fully conscious.
This is a scene from a recent documentary focusing on anesthetic acupuncture, an alternative method that reduces the needed amount of sedatives or pain relievers for operations.
The documentary produced by Shanghai Media Group (SMG) follows the effort of Zhou Jia, head of Yueyang Hospital of Integrated Traditional Chinese and Western Medicine, and his team.
Anesthetic acupuncture derives from traditional Chinese acupuncture, a treatment that dates back more than 2,000 years. It is based on the theories of traditional Chinese medicine (TCM) and entails stimulating certain parts of the body with a needle penetrating the skin to relieve symptoms.
Originating in Shanghai, anesthetic acupuncture was first applied in a tonsillectomy operation by Shanghai General Hospital in 1958. However, as the technology was still in its infancy at that time, this method did not win widespread recognition.
In 2001, Zhou, then a cardiologist at Renji Hospital Affiliated to Shanghai Jiaotong University School of Medicine, received a letter inquiring about a heart operation. The female patient, then 23, was reluctant to receive general anesthesia because both her mother and grandmother had developed severe side effects after general anesthesia.
After thorough research, Zhou looked to acupuncture for a solution, which he believed could be helpful. He visited many TCM doctors and learned to apply acupuncture to relieve the pain of patients.
Zhou's team then came up with a solution that combines acupuncture with Western anesthesiology, and formed standard specifications to promote this combined method. The practice was later applied in many hospitals across Shanghai with positive feedbacks.
In 2005, a BBC documentary crew made a trip to Shanghai to explore about the research, which appeared mystical to Western people. Under their camera, Zhou's team successfully performed an operation of percutaneous balloon mitral valvuloplasty without endotracheal intubation under acupuncture-induced anesthesia. The episode titled "Alternative Medicine: The Evidence" was later broadcast worldwide.
The episode also caught the attention of French and German documentary producers, some of whom came multiple times for interviews.
The new SMG documentary, filmed between 2021 and 2022, focuses more the efficacy of anesthetic acupuncture. Doctors choose the acupoints corresponding to the patient's ailment, which can help relieve their pain, reduce anxiety and protect the organs under operation.
"With the coordinated effect of Chinese acupuncture and Western anesthetics, this approach reduces the use of anesthetics. It can therefore reduce the possible damage to the patient's organs caused by a high-dose anesthetic and facilitate the patient's rapid recovery," said Zhou. The technology is particularly helpful in the treatment of patients who are allergic to anesthesia or those with certain physical conditions for whom general anesthesia is too risky.
To date, Zhou's team has completed tens of thousands of surgeries under acupuncture anesthesia, including more than 700 cardiopulmonary bypass heart surgeries and more than 800 thoracoscopic lung surgeries without endotracheal intubation.
(Xinhua)