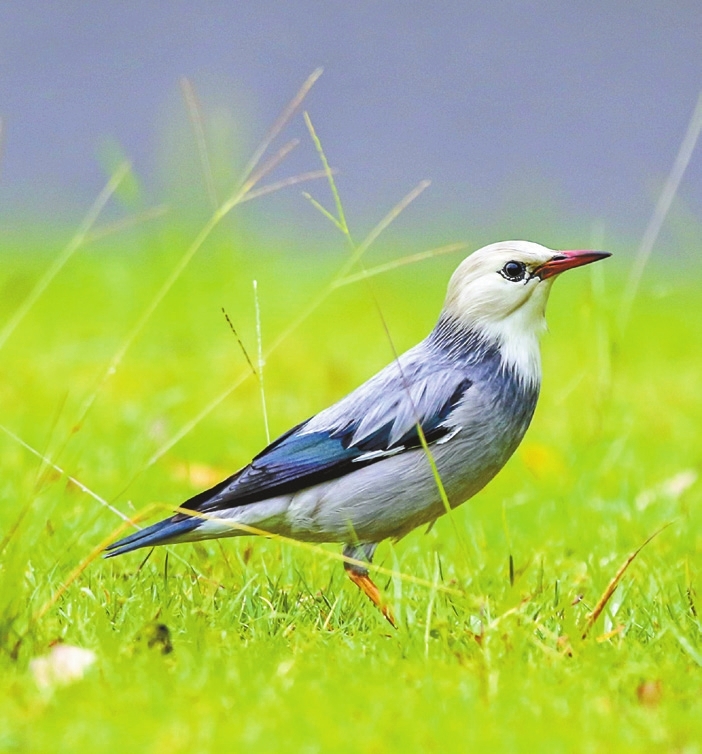 Measuring around 23 centimeters in length, the red-billed starling (Spodiopsar sericeus) is an astonishing bird that over time gradually started inhabiting our beautiful city. It is now considered a resident species in Shenzhen.
Sexual dimorphism, which is common in birds, is also observed in this medium-sized starling.
The males have a strikingly white head and a dark gray collar that diffuses into a lighter gray covering the rest of the body. Only the wings and the tail are of a fascinating bluish or purplish color that shines under the sunlight, a total delight to observe. The beak, as its name suggests, is red and in some instances may have a black tip; the legs are yellow or orange.
Females are a bit brownish and the contrast between the head and the body is not as marked as it is in males.
This species is often seen moving in large flocks and likes foraging in fields of grass in search of insects and worms, but also feeds on fruits from some trees.
Despite their huge global population, its numbers in Shenzhen are pretty low. Their local population is in a process of initial growth, and the species calls for our protection of their habitats and food sources. This is a great opportunity to show our love for nature and to help with building a home for a new species in Shenzhen.
2022.05.27
A red-billed starling is seen foraging in Xiangmi Park in Futian District.