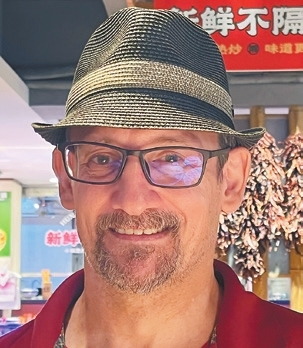 Wei Jie
claudiamente@hotmail.com
AS the conversation with Terry Given went on in a Huaqiangbei restaurant serving Hunan food, my worries of a difficult interview filled with technical jargons started to wane. He's so articulate, and has such a strong sense of humor that the hour-and-a-half meeting was filled with laughter.
Given, 53, an electronics expert from New Zealand, has lived in Shenzhen for almost nine years. His story in China, however, started way back in the early 2000s when he spent about four to five months each year in the country working on electronic products from various factories for his clients in the U.S., Singapore and China. He said that in the next few years, he has no plans to leave because he loves his life in the city.
"This place is really alive," he said, adding that he couldn't wait to get back to the "lovely, civilized, high-tech Shenzhen" when he was on a 10-day vacation with his wife in Bali right before COVID started in early 2020, as "the buses here don't have diesel engines, and the motorcycles don't make much noise as they are all electric."
The last time he went back to New Zealand was in 2016 to renew his passport. He spent three days there and then returned to Shenzhen.
More importantly, he just loves "the entrepreneurial spirit of the Chinese." He added, "For example, if you rent an apartment and ask the person you rent it from if the apartment is furnished, the answer you'll get is probably a yes, whether or not it is. Because if it's not, he would immediately find people to work on that."
He also found the people very productive as well. "Look at how long it takes to build a 20-story building here in Shenzhen. It's about eight months, but it will be a five years' job in New Zealand," Given said, adding that the Chinese don't talk much, but just focus on getting things done.
The electronics expert stated his observations of the Chinese people are based on his years of experience dealing and working with local engineers whom he described as "utterly fearless."
"Just because that I don't necessarily know how to do something doesn't stop me from doing it," Given elaborated on why the Chinese engineers are "utterly fearless."
Many years back when Given was still in New Zealand working from home as a consultant in EMC (electromagnetic compatibility) standard and designing LED screens for soccer stadiums and LED lighting, he had an American client with whom he had worked on developing an LED light. In the beginning, he was involved in the LED light design with "this much of power to be fitted in this (small) space." After doing several analysis and magnetics design, he worked out a prototype on how to build it in six months.
After that, Given traveled to China to get help for the final product through EMC certification. "I was in this Huizhou factory and, even though we were in the very beginning stage of a feasibility study, this guy I worked with said to me confidently 'we can do it,' and they did do a great work and got it just about perfect, except for last couple of tricky problems."
Given, who now works for Tymphany, a world leading audio equipment ODM/OEM (original design manufacturer/original equipment manufacturer) provider in Futian, said that there weren't as many expat engineers working there a few years back. "They (the local engineers) are excellent (doing the job)."
Tymphany, a multinational company established in 2004, might not ring a bell to regular consumers, but its big clients involve Bose and Bang & Olufsen. The company also produced the hugely popular Beats Pill speaker. Tymphany also acquired DST in 2005, a merger of Denmark's Peerless (set up in 1926) and Vifa (founded in 1933).
Given now works more like a troubleshooter at Tymphany, helping his young Chinese colleagues and factories solve tricky technical problems. He said that electronics engineering involves a substantial amount of mathematics, and sometimes doing algebra correctly will help an engineer overcome an obstacle better.
Given, who comes from a country known for its breathtaking natural landscapes, spoke highly of Shenzhen's green footpaths and hiking trails. A few months ago, he picked up a new hobby practicing Brazilian Jiu-jitsu, where he goes to a local BJJ gym to practice thrice a week.