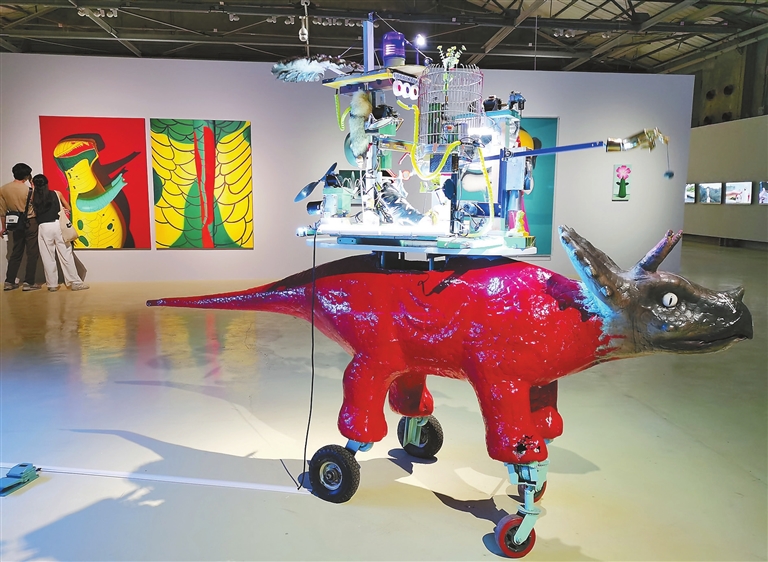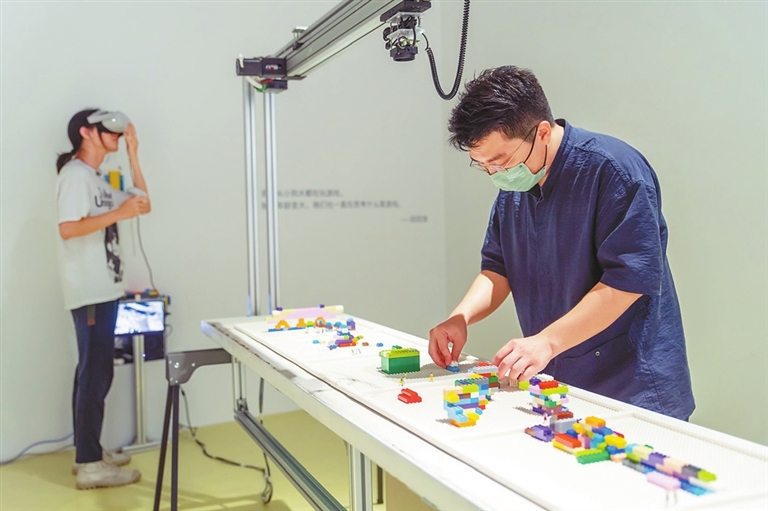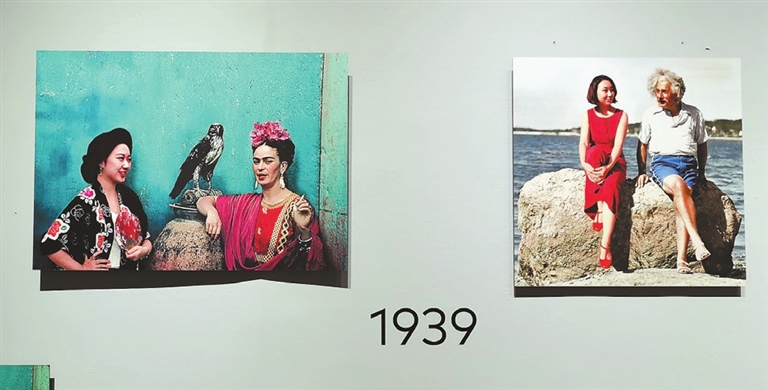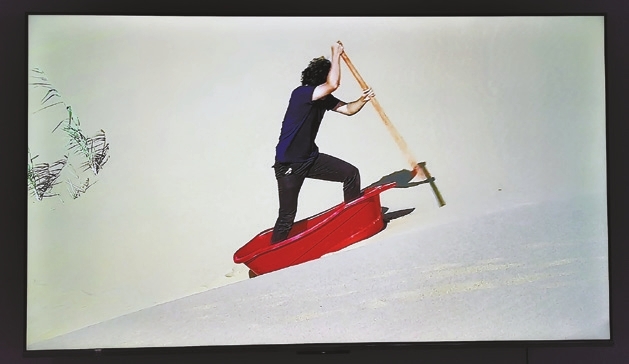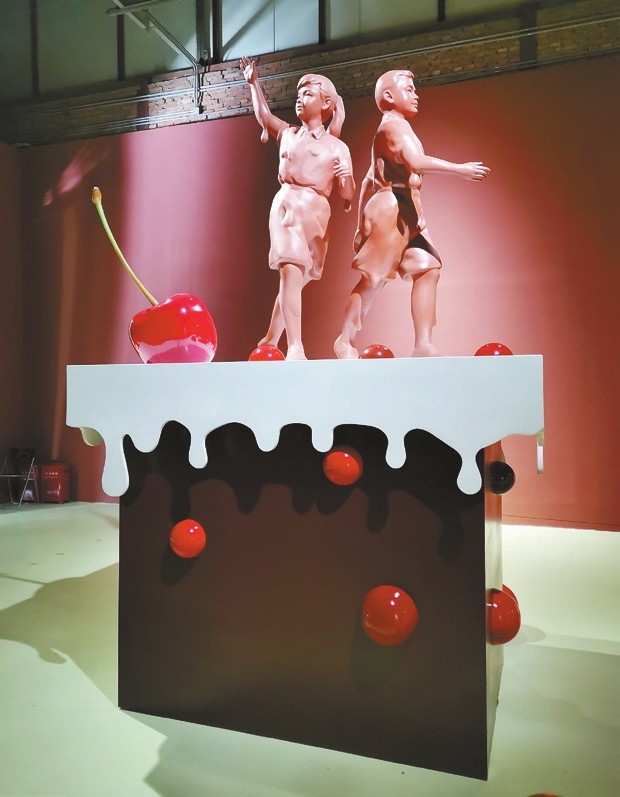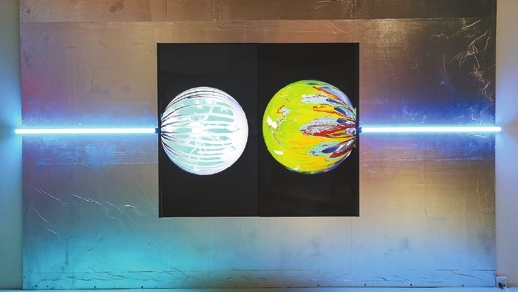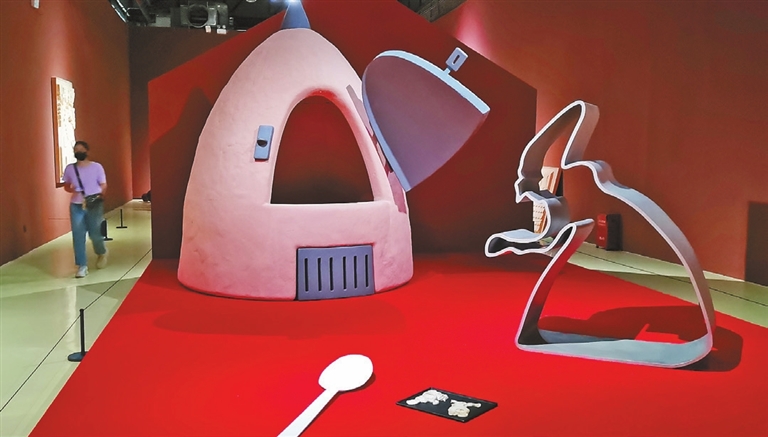 Cao Zhen
caozhen0806@126.com
IN some artists' eyes, art is an infinite game and they borrow from the world of play to play with the world.
"Art's Language, Artists' Game," a new exhibition in OCAT Shenzhen's Hall A, focuses on contemporary artistic creations containing game-related elements. Fifteen groups of artists use videos, games, installations, performance art, paintings and photography to present the diverse relationship between contemporary art and the concept of "game." The exhibition curator Li Rongwei intends to connect various factors in the concept of "game" with artistic creation in a metaphorical way.
Many artists featured in the exhibition employ a bold and playful use of materials, styles and techniques to alter the usual function of objects, resulting in unexpected transformations.
Chinese artist Liu Silin uses Photoshop to edit her images into historical photos, with herself posing next to iconic figures, such as Marilyn Monroe, Albert Einstein, Audrey Hepburn, Grace Kelly and Andy Warhol.
In her series, "I Am Everywhere," Liu "travels through time" and digitally crafts her own version of reality. Holding a master's degree in photography from Tsinghua University, she has been playing her "photo game" for 12 years, exploring the role of photography in the era of cultural globalization, the glorification of icons and how images are used to visually tell stories from history.
"Celebrities and historical figures were symbols created through media communication, so by intruding into their historical moments, blurring reality and fiction, and with the help of the internet, my images are spread equally along with famous people. I will ultimately become a symbol like them," Liu explained in an earlier interview.
Rowing a boat strenuously in a desert and doing a cartwheel repeatedly on a bridge until exhaustion, Li Binyuan's "games" are strange and question whether a sports game is played for the purpose of winning or for its own sake.
In many of his performance artworks, Li uses a combination of his body and surroundings to disturb, inspire, amuse and challenge urban life, and the social restrictions attached. Last year at an exhibition in Shenzhen, Li exhibited his video recording himself naked resisting a cascading waterfall.
Young artist Tong Kunniao transforms seemingly trivial materials into whimsical and playful kinetic assemblages. Having grown up amid the rapid digitalization and concurrent rise of mass consumerism in China, in his practice he fosters a fascination for used commercial goods as cultural remnants.
The artist's work challenges the way we place meaning in commonplace objects today; for example, there is a two-screen video showing two lollipops pointing to each other. Even though we may not understand why he did this, it doesn't stop us from liking this work because it is aesthetically pleasing and showcases the artist's subversive sense of humor.
There are also some interactive works in the exhibition, such as video games and VR works, allowing visitors to understand contemporary art through playing games while touching topics related to them. These works lead viewers to step outside the norm and penetrate parallel worlds.
In OCAT Shenzhen's Hall B, visitors will step into an enigmatic "fairytale world" created by Chinese artist Lu Pingyuan who is exhibiting contemporary artworks inspired by the German fairytale "Hansel and Gretel" in another exhibition.
At the exhibition titled "Trapping Cooking, Cooking Trapping. It's a Lovely Life," Lu extracts the main elements from the story, such as children, family, a candy house, cookie crumbs, etc., and reorganizes them into contemporary artworks, combined with his personal experience. The exhibition invites viewers to capture the randomly scattered artistic elements and use their imagination to create a story of their own.
"'Hansel and Gretel' contains the most essential issues: family, food, shelter, temptation, trickery, rebellion, etc. The settings are quite appealing to me, for example, children getting lost and learning to restrain desire, and the witch crafting a perfect trap for her own survival," said Lu in an earlier talk with the exhibition curator Wang Jinghan.
Lu explained that the title "Trapping Cooking, Cooking Trapping, It's a Lovely Life" originated from the witch's murmuring as she is creating the figurine in the fairytale. "It's like a whine, a spell, a code of creation, and the 'philosophy' of living," Lu said.
Lu's creations have always been closely related to fantasy legends, surreal stories, fairytales and animation. Last year in Shanghai, he exhibited his works inspired by "Barbapapa." "These influences are like some food that I swallowed together. I am not exactly sure how each one influenced me; I am more interested in how to use various ways to give the objects a soul and let them 'speak,'" he said.
"Art's Language, Artists' Game" runs through Oct. 20, and Lu's solo exhibition ends Oct. 30. Several public activities on art, games and fairytales will be held during the exhibition periods.
Venue: OCAT Shenzhen, South Area, Nanshan District (南山区华侨城创意文化园南区OCAT深圳馆)
Metro: Line 1 to Qiaocheng East Station (侨城东站), Exit A