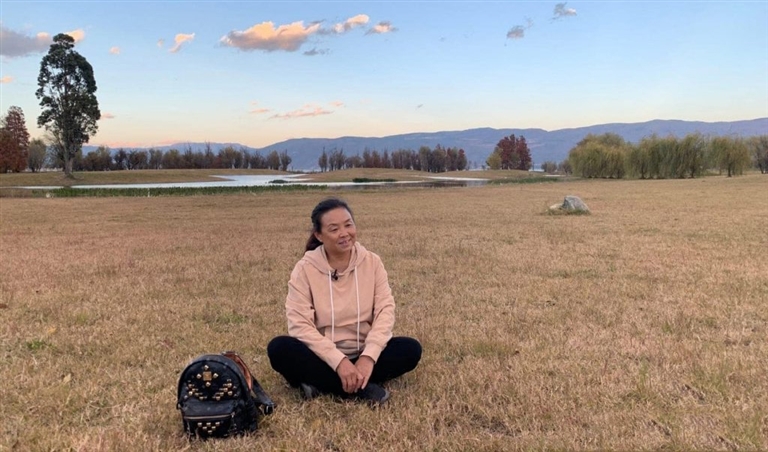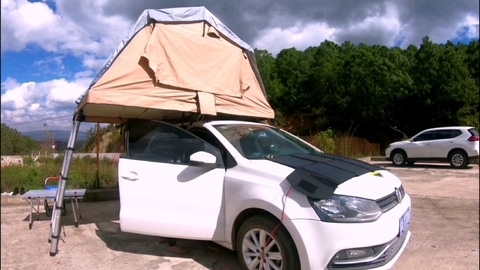 IT'S almost two years since Su Min, a retired woman, left her home in Zhengzhou, Central China's Henan Province to start a solo tour around China.
Su bought a white Volkswagen Polo back in 2015 on installments. She paid back the loans in two years and then her daughter became pregnant with twins. In the next few years, Su quit her job to take care of her daughter and grandsons. When the grandsons were ready to start kindergarten, Su was ready to leave. So far, the 58-year-old has covered thousands of miles and traveled to many provinces in China.
Her story was covered by The New York Times last year, drawing interest from the curious public.
Su wants to escape from a repressive marriage by traveling.
Born and educated in Tibet, Su returned to her hometown Henan with her parents after finishing high school.
After that, she lived in Henan for decades and had many jobs such as a factory worker, a cook, and a supermarket worker.
She met her husband through a matchmaker in 1986, and she married within a year. After marriage, Su gradually found her husband stingy.
"At first I was jobless, and he gave me money to cover my living expenses and checked my spending every month. But I could not remember everything, so he began to question me," Su recalls.
Later, Su worked various odd jobs and became financially independent. But her husband's pickiness made her feel depressed at home.
"I was born an outgoing person. But my husband loved picking on every word I said. I became depressed and stopped talking to him," she says.
From 2016, Su helped take care of her twin grandchildren. "When I took care of my grandchildren, I had to face my husband every day at home. That made me feel worse," Su says.
Su once cut herself with a knife after a quarrel with her husband and was diagnosed with depression.
Leave
Her desire to leave her family grew stronger.
Su watched some videos about self-driving travel on the internet in 2019. Then she had the idea of doing a tour herself.
Su's grandchildren went to kindergarten in September 2020. The grandmother was ready to start her journey.
Su quickly bought a roof tent and other travel equipment such as a portable energy storage device and a stove online.
"At first, my daughter was worried. I showed her those self-driving tour videos on the internet, and I told her my traveling would be helpful for family harmony. She finally agreed," Su says.
On Sept. 24, 2020, Su departed from Zhengzhou and headed south.
Su did not have a clear plan for her journey.
"My daughter suggested I go to Chengdu to visit an old friend, and I listened to her," she said.
She spent more than 20 days in Chengdu, gathering with her old friend, and meeting new friends.
"I went to see a recreational vehicle show and met campers who organized a trip to Yunnan. So, I joined them," Su says.
Su traveled to more than 20 cities in Yunnan. The beautiful scenery left a deep impression on her.
From there, she went to Hainan, and then traveled back north, stopping to appreciate the sceneries along the way.
Difficulties
Su travels on a tight budget. She rarely visits attractions that charge entrance fees. She just walks around.
There were times when she did not have enough money. Su chose to live at a campsite instead of going out. She waited for her pension to be credited into her bank account, then she continued her journey.
Su always avoided taking highways because that comes with tollgate fees.
The car used to be linked to her husband's payment card. One day, Su took a highway trip and spent RMB ¥81 (US $12.6).
Her husband asked her to pay back the fee the next day. Su was very angry and removed his card from the car.
Fame
Su makes vlogs to subsidize travel expenses from click rewards and shares her travel life with netizens.
In the summer of 2020, she began to make some short videos with her mobile phone. In October, she bought a second-hand GoPro and learned production skills online.
Su opened her account "50-year-old Auntie Self-driving Tour" on Douyin, one of the most popular short video sharing platforms in China and other social media platforms to update her activities. On Douyin, she has nearly 300,000 fans.
Su has made many friends by traveling and vlogging. When traveling in Yunnan, friends driving recreational vehicles protected her car from strong wind. In Sanya and Wenchang, she lived with fans who follow her on social media for a few days.
Su thinks that travel brings her happiness.
However, Su doesn't want a divorce from her husband. She says she will return to her home after the journey and hopes her husband will change his attitudes a bit. "I hope we, as a big family, can fare better after this long break," she says. (SD-Agencies)