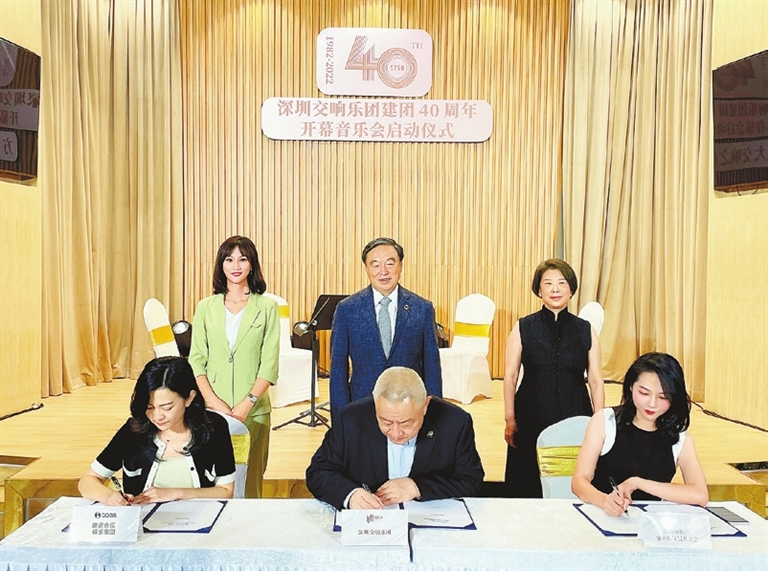 Debra Li
debra_lidan@163.com
FOR those classical music fans who can't go to the concert hall to enjoy a live concert, the Shenzhen Symphony Orchestra (SZSO) now has a special gift to offer.
The beloved local orchestra marked its 40th anniversary on the night of Aug. 26 with the opening concert of its 2022/23 season staged at Shenzhen Concert Hall.
Prior to the show, the SZSO signed a strategic partnership agreement with QQ Music, China's leading online music platform, and the nonprofit Shenzhen Symphonic Music Development Foundation, pledging to reach out to the public and offer quality classical music to fans online for free.
At present, there are 19 digital albums available on QQ Music, which were contributed by SZSO and categorized under three themes. Fans can listen to a collection of all the works by Beethoven performed by the orchestra, evidence of its virtuosity and vast repertoire. Another collection features high-quality original works by contemporary composers that were commissioned by the orchestra, including "Ode to Humanity," "My Motherland," "Hakka Mountain Songs," and "Chinese Harmonious Music" — the world's first Buddhism-themed symphony. A third collection presents the most memorable past performances from the orchestra's rich repertoire.
Riding on the tide of music digitalization and a growing number of young audiences accustomed to enjoying music on their smartphones, the SZSO has been cooperating with streaming sites such as Bilibili and v.qq.com to bring live concerts online. The cooperation with QQ Music marks another big stride forward.
In July, the orchestra broadcast a live concert on QQ Music to mark the 25th anniversary of Hong Kong's return to the motherland.
Embraced by classical music fans for its high-resolution recordings, QQ Music has established a wide range of profound cooperation with such prestigious performance groups as Guangzhou Symphony Orchestra, China National Opera House, and Nanjing Chinese Orchestra.