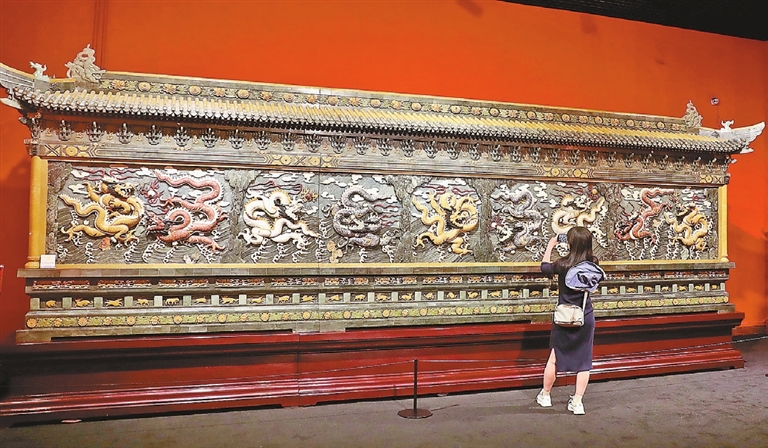 WITH millennia's development and a glorious past, Beijing's gold lacquer inlay art has been favored by ancient royal members and become a symbol of craftsmanship, patience and a pursuit of the exquisite.
Over the decades, generations of artisans have stayed in a complex of plain-looking workshops located in a village in southern Beijing, fully immersing themselves in a world of refined crafts in order to inherit the skill.
To save the art form from fading into memory, a museum has been established in the refurbished workshops to tell people a story of lasting devotion in the pursuit of beauty.
Perhaps, Beijing Gold Lacquer Inlay Art Museum will be the start of a new chapter for this national-level intangible cultural heritage.
"It may fulfill the wishes of many masters in this industry," said Bai Qun, founder of the museum, at the venue's opening ceremony last week. "Having such a museum was one of my father's last wishes."
Bai, 48, is registered as a national-level inheritor of the craft. The inlay art, predominantly enjoyed by royal families, was in crisis at the fall of the Qing Dynasty (1644-1911). Still, artisans of the craft have made painstaking efforts to keep it alive. Bai is among the sixth generation of artisans to do so.
"This art bears the cultural lineage of this ancient city," he says. "It reflects the ethos of Beijing, as well as people's ability to harness inner peace and stick to one career for a lifetime."
Archaeological findings showed that lacquerware appeared in China about 8,000 years ago. The gold lacquer inlay art — to add a luxurious luster to items such as screens and furniture, and adorn other artworks inlaid with gold, jades and various precious gems — evolved during the Warring States Period (476-221 B.C.) and the Han Dynasty (202 B.C.-A.D. 220).
During the Qing Dynasty, this regal inlay art became particularly complicated, as cost was not the emperors' first concern. They seemed to be unsatisfied by flat inlays. After the high-relief technique was introduced, a three-dimensional effect also appeared on the surface of the lacquer.
For lacquerware, only with continuous polishing, can its brilliance be created. An old saying in the industry may demonstrate just how excellent the artisans of this craft are: "30% of the work relies on carving, and 70% is about polishing."
In Bai's eyes, such works not only reveal the superb artistic level of the craftsmen, but also a grand picture of social prosperity. "When the precious materials are used to portray a natural landscape, it also shows how people worshipped nature," he says. "And this is a language that travels easily around the world."
The gold lacquer inlay art is widely known as one of the eight outstanding imperial handicrafts of Beijing. Last year, Bai sought to open a museum displaying artifacts related to the eight handicrafts in the west of Beijing. He understands that more work is needed to effectively bring the traditional arts back into people's lives, and it starts with gold lacquer inlay art becoming the first among the eight handicrafts to have a specifically themed museum.
"COVID-19 has influenced people's lives for nearly three years, and many workshops dedicated to traditional craftsmanship have also faced great challenges," Bai says. "But these traditional skills have survived numerous tough times and still continue to thrive. The opening of the museum may give people confidence and remind artisans of the reasons why they started. We'll never let down our predecessors," he says.
To remember those that have contributed to the survival of the craft, 13 outstanding modern craftsmen, including several who have passed away, were bestowed with the title of "masters of gold lacquer inlay art."
"This museum is where tradition will be inherited in a creative way," says Liu Chaoying, chairwoman of Beijing Museum Society. "With this platform, craftsmen of younger generations can better study the art form in cooperation with designers and scholars. It can prolong our living history in a dynamic way."(China Daily)