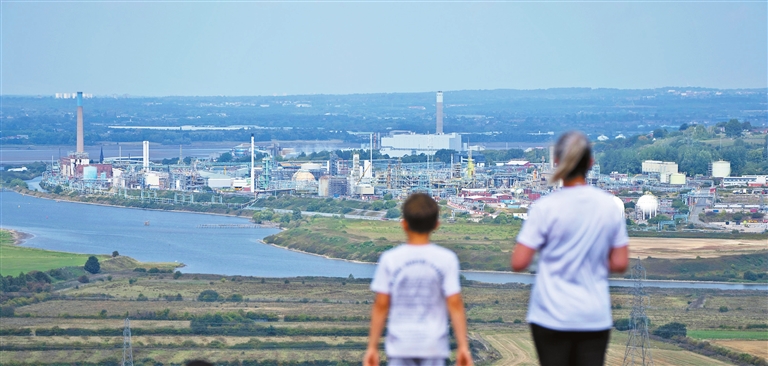 EUROPE is heading toward a bitter winter as a new disruption of natural gas from Russia aggravates its energy crunch and cost of living crisis.
Russia's largest gas producer Gazprom announced Friday it had stopped gas supplies via the Nord Stream I pipeline for an indefinite period due to malfunctions at a compressor unit.
According to Gazprom, it had received a warning from Russia's state technology and ecology watchdog Rostekhnadzor that the detected malfunctions "do not allow for the safe trouble-free operation of the gas turbine engine."
The supply of Russian gas to Germany through the pipeline will be interrupted indefinitely. Deliveries to France's leading energy company Engie were already halted Thursday.
Analysts say the Russian gas cut-off will likely worsen Europe's energy crisis and trigger further fuel price hikes, escalating inflation and impacting livelihoods.
Looming recession
Cuts and suspensions of Russian gas supplies, which have occurred on and off since the start of the Ukraine conflict earlier this year, are widely feared to worsen Europe's energy crunch and lead to a restructuring of the demand and supplies on the global market.
In recent years, Europe has doubled its efforts to diversify natural gas imports and cut back on consumption, yet to no avail: natural gas prices have reached an all-time high, and the new suspension of Russian gas will undoubtedly worsen the situation and increase recession fears.
Credit rating agency Fitch Ratings said the eurozone was now set for recession due to the disruption of Russian gas imports and the lack of short-term substitutes.
It said a complete shutdown of Russian pipeline gas exports to Europe — which would cut GDP in 2023 by an estimated 1.5 to 2 percentage points — now looks increasingly likely.
This would likely result in a recession that starts in the second half of this year, with Germany and Italy seeing GDP contract in 2023.
A Reuters poll conducted during Aug. 29-Sept. 1 showed Germany would see three consecutive quarters of negative growth starting from the current quarter, surpassing the definition of a technical recession.
It showed that Europe's largest economy and manufacturing powerhouse is among the most vulnerable to any cut-off in energy supplies or rising costs as its industrial sector relies heavily on Russian gas.
While Germany is likely to bear the brunt as the cut-off threatens to halt industries, the overall EU economy will face risks of recession as a consequence.
On Thursday, the French minister for economy and finances Bruno Le Maire warned a total cut-off of Russian gas would pose severe challenges to France.
"[Year] 2023 will be more difficult as our economic growth relies on Russian natural gas," said Le Maire.
Soaring cost of living
Inflation in the eurozone hit a new record of 9.1% in August as energy and food prices continued to drift higher, preliminary figures published by Eurostat on Wednesday showed.
Elevated inflation and soaring prices are escalating the cost of living crisis in the 19-country single currency area. Economists here say the Russian gas cut-off is not reflected in current inflation data.
To rein in inflation, the French government has continued an energy tariff shield that caps natural gas prices to the October 2021 level until the end of this year.
In a recent interview with the French media, however, Prime Minister Elisabeth Borne said that "from the beginning of 2023, a rise in prices also seems inevitable for households."
Her remark has triggered widespread concern over energy price surges, further inflation and social unrest.
Many Europeans worry that high inflation triggered by the current energy crisis could fuel social unrest, protests and strikes, according to a recent survey covering France, Germany, Poland and the United Kingdom.
The survey, conducted by pollster YouGov for the non-profit organization More in Common, showed that the cost of living has become the most important issue for Europeans in these four countries.
Insatiable thirst for gas
On average, the EU's natural gas storage facilities have been filled to 80% of their capacity, well ahead of an early-October target set by EU authorities as an energy crisis emergency plan.
However, against the backdrop of the Russian gas cut-off and lack of substitutes, the 27-nation bloc is still hoping for a comparatively mild winter that might help it get through the energy crisis.
Though the EU's natural gas reserves signal potential relief for prices in the short term, storage alone is not enough to meet its winter demand, said Jacob Mandel, senior associate for commodities at Aurora Energy Research. "Threat of shortages remains — an unexpected cold snap could quickly drain inventories if imports do not keep pace."
This insatiable thirst for natural gas has sent Europe on a constant hunt for new liquefied natural gas (LNG) suppliers in the international market. Yet, it still lacks terminals for LNG storage, and such terminals cannot be built anytime soon.
Simply speaking, finding substitutes for Russian gas is anything but easy. As Europe's second-largest natural gas provider, Norway has endeavored to increase supplies following the Ukraine conflict, yet cannot fill the gap as quickly as expected.
Europe is heading towards a harsh winter, said Agathe Demarais, global forecasting director of The Economist Intelligence Unit. She said the continent should expect "two years of a very difficult adjustment with a lot of economic pain." (Xinhua)