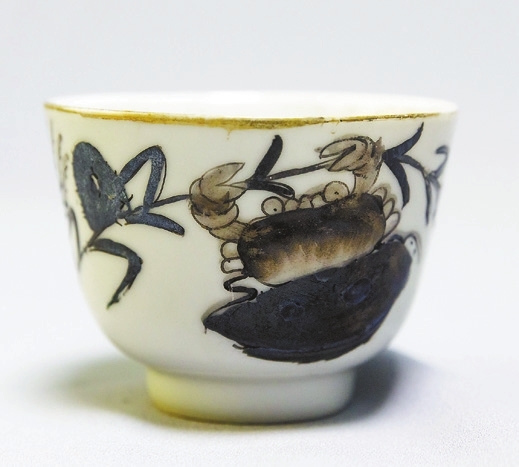 ON Tuesday, the Shanghai Cultural Heritage Conservation and Research Center revealed the latest batch of artifacts recovered from the Yangtze River Estuary No. 2 project, including green-glazed pottery made in Jingdezhen, Jiangxi Province.
"Due to longtime seawater corrosion, this green-glazed cup appears slightly brown," said Zhai Yang, vice director of the center. "However, it represents cultural exchange between China and the world during the early days of Shanghai's opening up as a trade port."
The salvage and relocation project is centered on one of the world's largest and most well-preserved ancient wooden shipwrecks.
Since the project began in March, over 600 ceramic artifacts have been recovered, including exquisite porcelains made in Jingdezhen, known as the "porcelain capital" and hookah pots made in Vietnam.
After more than six years of underwater survey and exploration, archaeologists have confirmed Yangtze River Estuary No. 2 as a wooden sailing ship from the reign (1862-1875) of the Tongzhi Emperor of the Qing Dynasty (1644-1911). The shipwreck is about 38.5 meters long and 7.8 meters wide, with 31 cabins.
Meanwhile, Chinese research vessels Explore 1 and Explore 2 have discovered 66 ancient relics among the wreckage of three ships in the north area of the South China Sea, the Institute of Deep-sea Science and Engineering, Chinese Academy of Sciences recently revealed.
The newly discovered relics include porcelain fragments, redware pottery and bronze coins. The treasures were found on the seabed among three shipwrecks located 2,000 to 3,000 meters below the surface. This depth marks a new deep sea milestone for China's underwater archaeology as the previous record for an underwater excavation by Chinese archeologists was 1,000 meters below the surface.
"This puts us on the same level as other countries that are advanced in the field of underwater archaeology. There are really not that many countries in the world that can carry out such deep sea archaeology," said Cui Yong, head of the team that excavated the Song Dynasty (960-1279) Nanhai No. 1 shipwreck in the South China Sea.
Unmanned deep submersible technology was a significant advancement introduced to assist in the latest underwater investigation. The submersible is capable of using sonar to locate objects as small as a grain of rice and can cover an area of around 100 square kilometers a day. Manned deep dives were also carried out for the underwater identification and extraction of relics after the unmanned submersible located possible relic sites. After the excavation of the 66 relics, researchers have continued carrying out further investigations using technologies such as image data extraction and three-dimensional laser scanning.
The Nanhai No. 1 was a large merchant ship from the Song Dynasty. The shipwreck was excavated in 2007 using China's creative "one-time integrated salvage" solution. More than 180,000 fragments of porcelain wares along with 181 gold ornaments were found.
(CGTN, Global Times)