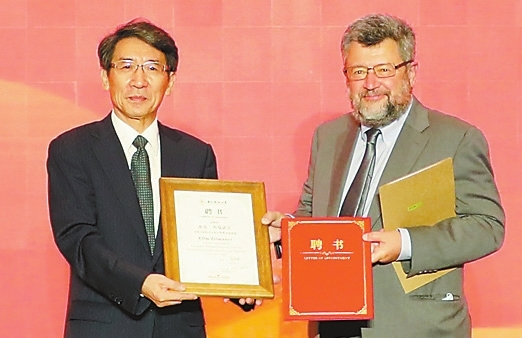 Han Ximin
1824295095@qq.com
EFIM ZELMANOV, a Russian-American mathematician who won the Fields Medal in 1994 for his work in group theory that solved the century-old restricted Burnside problem, has been hired as a full-time chair professor by the Southern University of Science and Technology (SUSTech).
At a conferment ceremony at the university in Shenzhen yesterday, Ding Zhongli, vice chairperson of the Standing Committee of the National People's Congress and an academician of Chinese Academy of Sciences, congratulated Zelmanov on his new job and SUSTech on its rapid progress in recent years through a video link. He believed that mathematics in SUSTech will make solid progress and contribute to the discipline in China.
Mayor Qin Weizhong said at the ceremony that Zelmanov's joining marks SUSTech's new step in building first-class disciplines. He said the city will speed up building the university into a world-class research university.
This February, the Department of Mathematics of SUSTech was included into the second batch of the Double First-Class Initiative by the Ministry of Education. It was the first time for a local university in Shenzhen and the youngest university in China to be listed into the national plan designed to lift the status, standing and international competitiveness of China's higher education system.
After receiving the certificate from SUSTech president Xue Qikun, Zelmanov, also a foreign academician of the Chinese Academy of Sciences, said he was deeply touched by the warm welcome and impressive support from SUSTech and the Shenzhen government.
"Shenzhen is a flagship of the information revolution that is rooted in mathematics. I am looking forward to contributing to the development of mathematics in Shenzhen," Zelmanov said.
Prior to the full-time chair professorship, Zelmanov had worked part time at the SUSTech International Center for Mathematics (Zelmanov Mathematics Center), which was founded in February 2019. Zelmanov was the founding director of the center, one of 10 Nobel Prize Laureate laboratories funded by the Shenzhen Municipal Government.
At an interview yesterday, Zelmanov said he is confident the center will become one of China's advanced mathematics centers and contribute to the development of mathematics in the country.
The Fields Medal is often referred to as the mathematical equivalent of the Nobel Prize. It is granted every four years and is traditionally given to mathematicians under the age of 40, rather than to more senior scholars.