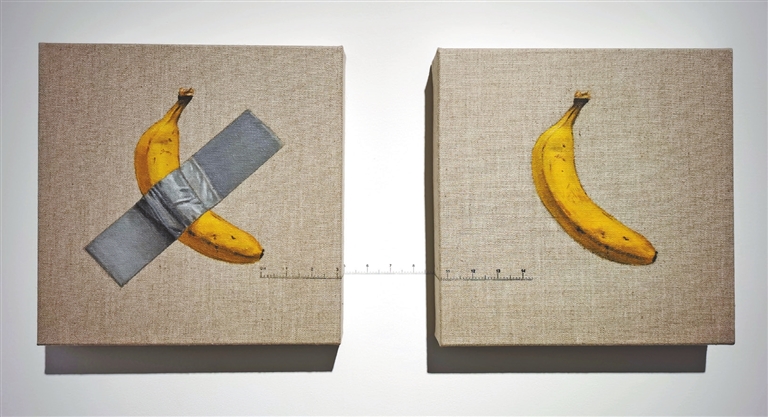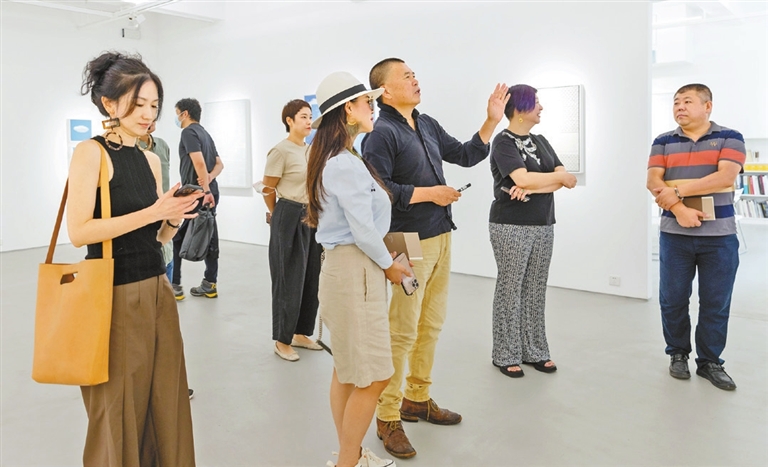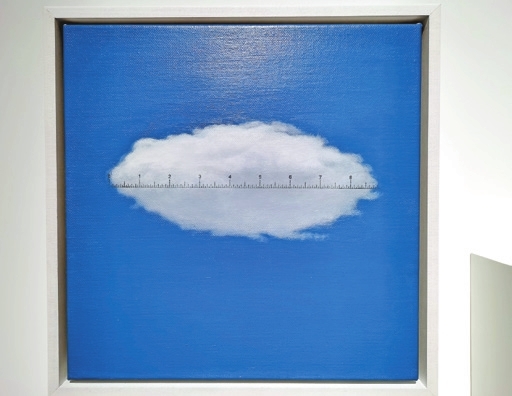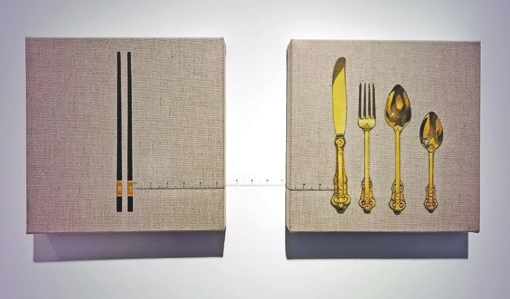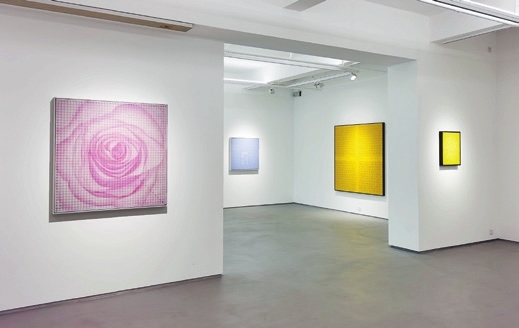 Cao Zhen
caozhen0806@126.com
PEOPLE who visited Pingshan Art Museum recently to see the "Shen Shaomin's Brief History of Science" exhibition may be impressed by the "I Am My Own Result" installation, in which two giant tapelines measuring each other's lengths. Its creator Shen Shaomin asks viewers in the artwork profile: "Measure a standard with a standard; which is the standard?"
Now Shen is exploring the world of "measure" further by launching another exhibition at Gallery MC in OCT-LOFT. The exhibition, titled "Measure," features Shen's canvas paintings inspired by rulers and measurement. Compared with the Pingshan Art Museum exhibition showcasing several giant installations, the Gallery MC exhibition seems static as some paintings are small in size while some others are in light color tones. If viewers could spend a bit more time observing the paintings, they could sense the artist's unique vision.
For example, in the "Distance" series, Shen draws a ruler between two paintings of bananas; one depicts Maurizio Cattelan's famous banana duct-taped to a wall and the other shows an ordinary banana. Three years ago, Italian artist Cattelan sold the banana for US$120,000 at Art Basel Miami. As a response, Shen's artwork banters the distance between an exorbitant banana and a common one.
Also in the "Distance" series, Shen draws a ruler between a painting of a flashlight and a painting of two batteries. "A flashlight without batteries is like a person without a soul. If someone has no soul, what is it?" the exhibition curator Zhu Rongyuan commented in the exhibition profile.
In an acrylic on canvas painting, Shen draws a ruler on a desert, seeming to make a futile effort to measure a boundless land of sand. In a similar painting, he draws a ruler over a cloud to measure this freely floating object's length. You could regard the artworks as poetic or sentimental, and the artist invites visitors to have their own views.
"At the exhibition, Shen expresses his doubts on standards and on rules. The function of a ruler, a common tool in daily life, is deconstructed and reconstructed in his art. It is no longer a standard nor can it be used to measure something," Zhu wrote in the profile.
In spite of no formal training in fine art institutions, Shen has found a way to be distinct in contemporary art creation. As a poet, he always uses the most straightforward words in his poems, and as an artist, he adopts commonly seen materials for his artworks. He told Shenzhen Daily that artists should have a sensitivity to their surroundings, the function of art is to ask questions, and artworks should trigger thoughts.
Shen developed manual skills in his childhood in Northeast China, an area known for heavy industry. When he self-learned print art in his hometown in Heilongjiang, he experimented with many kinds of materials, which later influenced him in creating artworks in various forms, from sculpture to painting, from video and installations to performance art.
After migrating to Australia where he visited several bone exhibitions in nature museums, he returned to China and gained a reputation in the 2000s for his giant bone sculptures alluding to contemporary issues of genetic modification and consequence of environmental threat.
He has also resided in Daqing, a city famous for its oil fields. The experience there inspired him to use oil pumps to create the "Kowtow Pump" outdoor installations in 2007. The industrial installations are "a commentary of our dependence on oil and its impact on our environment."
In 2019, he used 33 tons of sea salt to form a large cube on the Xichong beach in Shenzhen and named it "The Monument of the Sea," expressing his feelings of the sea.
In recent years, when Shen became acquainted with scientists in Shenzhen, he learned that behind the most cutting-edge robots or technological achievements, there are eliminated prototypes and failures, so he asks, "Will human beings be eliminated like the robots?" Then in his mechanical installation "Arena" shown at the Pingshan Art Museum, he placed several quadruped robots on and off a boxing arena, some energetically jumping while some tottering to their last gasp.
Far different from other contemporary artists, Shen doesn't use science and technology to create dazzling works of art; instead he reflects his doubts on technological development. He believes the key to contemporary art is breaking rules.
Asked what his next rule-breaking artwork would be, Shen said he is pondering a public art program, perhaps in vacant office buildings or in a drug rehabilitation center.
Dates: Until Nov. 11
Hours: 10:30 a.m.-6:30 p.m., closed Mondays
Venue: Gallery MC, Block A4, North Area, OCT-LOFT, Nanshan District (南山区华侨城创意文化园北区A4栋二楼美成空间)
Metro: Line 2 to Qiaocheng North Station (侨城北站), Exit B