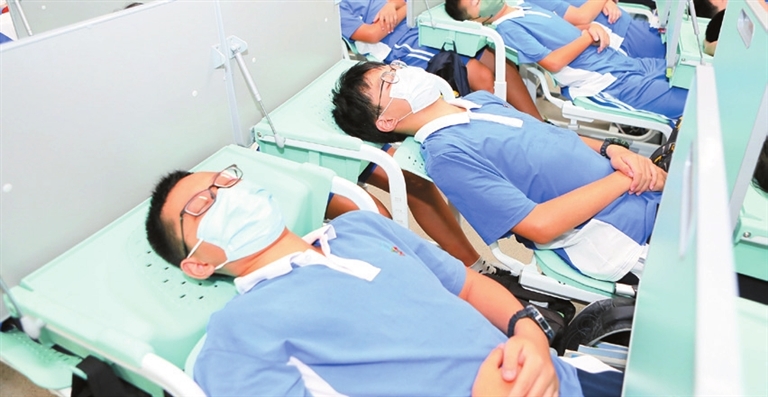 SHENZHEN Nanshan Foreign Language School Dachong School recently put 400 sets of specially designed desks and chairs into use to help students take midday naps in the classroom, according to Shenzhen Evening News.
The school's students were seen raising desktops and reclining chairs to about a 30-degree angle during their lunch break Tuesday. Then, the students laid their heads down on the desk area behind them to take a nap.
Some classes from grades 2 to 8 have used the 400 sets of desks and chairs. Du Ping, principal of the Dachong school, said if the feedback on these desks and chairs are positive, the school will promote its full use in the school to completely address students' midday nap issues by 2023.
Students from Grade 7 Class 5 said they had a good rest with the desks and chairs. "It is very convenient to use the desks and chairs, which could greatly reduce their stress after each use," said Huang Huiling, the class' head teacher. The desk and chair sets can meet the needs of students 1 to 1.8 meters tall and weigh 20 to 90 kilograms each, suitable for primary to high school students.
The desks and chairs also have a safety lock to ensure safety and have a 10-year lifetime, according to the report. Likewise, the school learned about a new type of smart desks and chairs being developed that can help solve their nap issue and has communicated with the company's research and development team many times on the matter.
This May, Du also visited the designer's office and proposed improvements from the students' perspective. After seven 3D printing upgrades, the desks and chairs were finally put into use for the new semester.
Some parents in Shenzhen advised public schools to use the lunch break desks and chairs, while the city's education authority suggested that some schools in the city have already used similar facilities such as folding beds and specially designed desks and chairs to help students rest during their lunch break. The authority will also promote practical measures to ensure students have a sound environment to take midday naps.  (Wang Jingli)