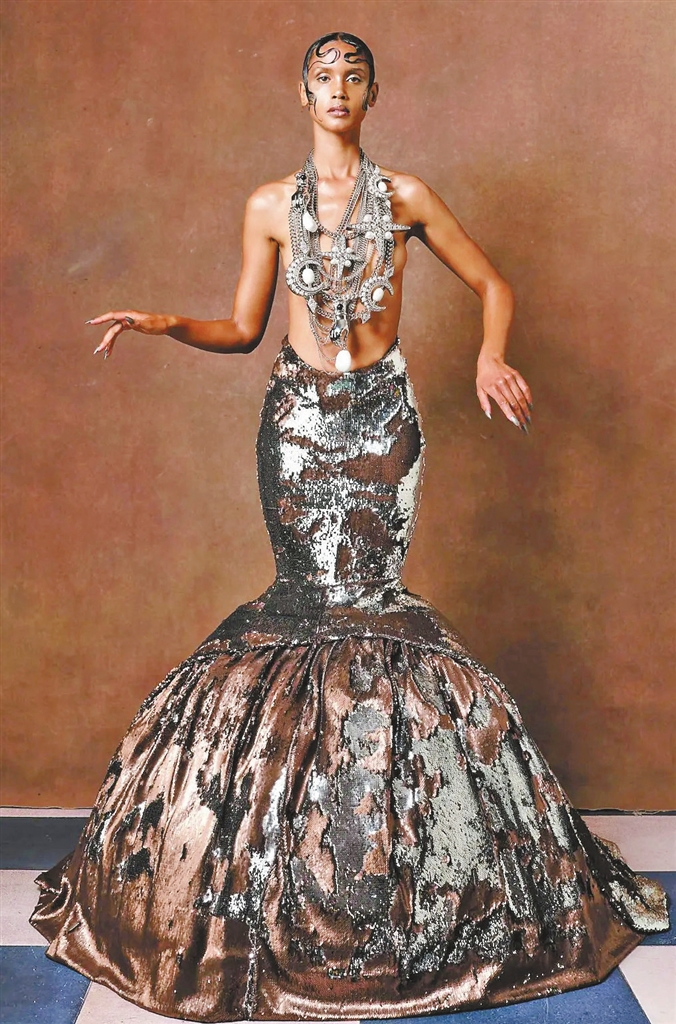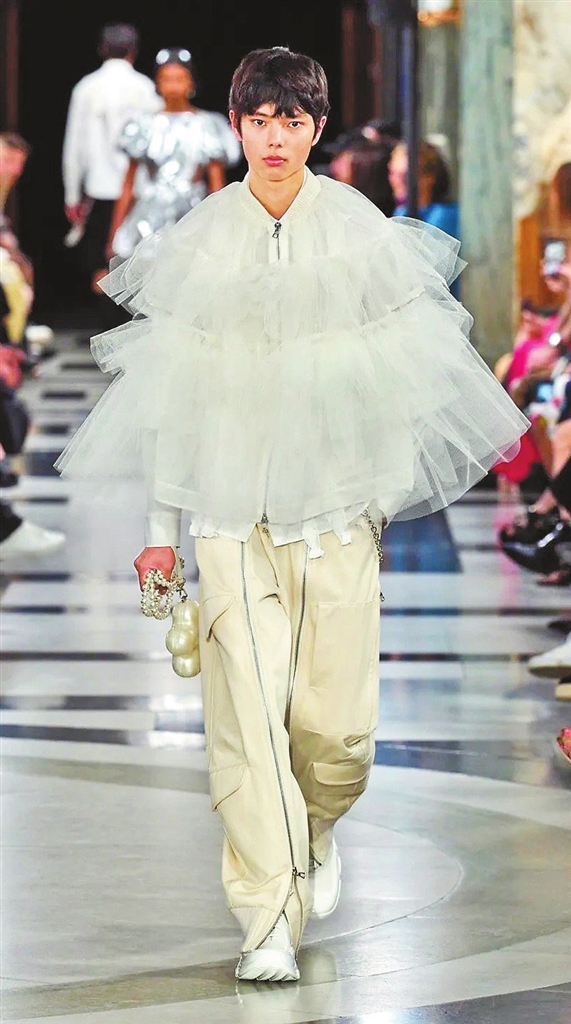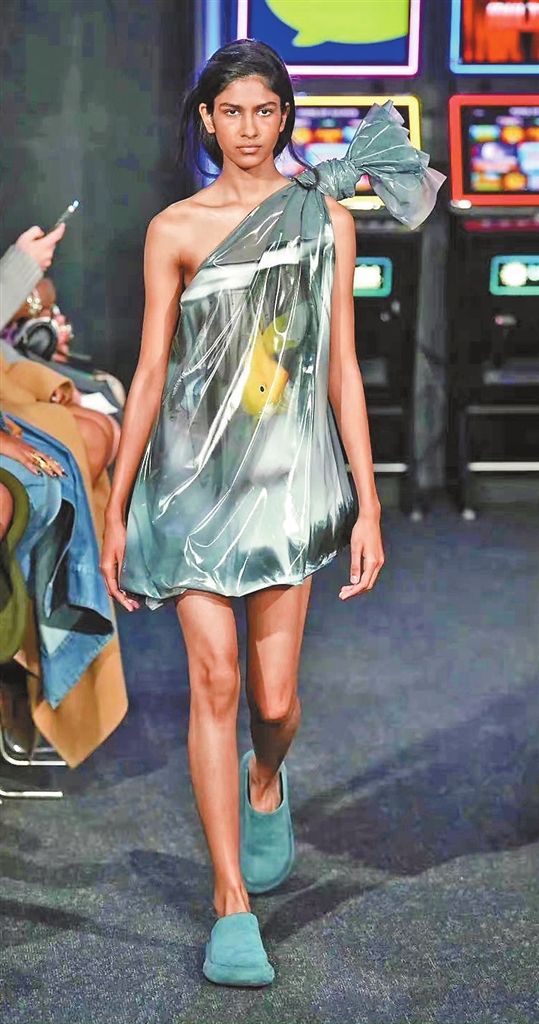 DUE to the sudden passing of Queen Elizabeth II, London Fashion Week's (LFW) Spring 2023 offering was slightly reduced, with some of the headline designers such as Burberry and Raf Simons rescheduling their shows for October instead. Partly as a result of that, the four-day event had a lack of viral moments making their way over to China's social media.
There were a few meme fashion moments, though. Chinese label Pronounce had models carry plastic dolls down the runway, JW Anderson presented keyboard-warrior clothes for our internet-obsessed world, and Asian-American designer Chet Lo's collection featured gigantic balloon accessories that definitely couldn't squeeze onto the subway.
According to Chinese netizens, here are some of the noteworthy LFW collections:
Bora Aksu
Bora Aksu founded his label in 2002, after graduating from the MA in Fashion Design at Central Saint Martins where garments from his collection were purchased by Domenico Dolce and Stefano Gabbana as inspirational pieces. His new show presents an anachronistic dreamland inspired by the work of occult artist and author Henry Darger, and the fantasy of Marcel Dzama. Visually, motifs of bats, polka dots, horns and millinery adorn the collection, each of which is drawn from the work of Darger and Dzama, and each symbolizes an aspect of female maturity: from childhood pleasure, trauma to adolescence, and male effects in adulthood. The main palette of the collection features a bold, natural navy blue, cream tones and soft pink tones.
Simone Rocha
Despite Irish designer Simone Rocha getting caught up in H&M's cotton controversy in April 2021 due to a collaborative collection happening at the same time, her latest London show was a hit on Weibo.
One of the most popular posts discussing Rocha's collection was by fashion commentator Nikki-Min. She wrote, "Simone Rocha will never disappoint... The design of the 2023 Spring collection is so innocent! The fluffy tulle skirt and sweet-lace butterfly structure evokes a complex yet gorgeous feeling, just like walking out of an oil painting."
Newly popular in China, the ribbons, pearls, and tulle romance of the designer's aesthetic is proving solid among young consumers.
Harris Reed
Everybody's favorite demi-couture designer made his walking catwalk debut at the start of fashion week with an ode to the Queen in the form of a performance from Queen frontman Adam Lambert, who sang a poignant rendition of the British band's classic, "Who Wants to Live Forever?" In true outré Reed style, ensembles were corseted, embellished and entirely show-stopping, which only further cemented his place among the who's who designers of the industry. With Beyonce, Harry Styles and Lil Nas X among his cadre of fans, the question on everybody's lips was a simple: to what heights will he inevitably go to next?
Richard Quinn
Unsurprisingly, one of the most-talked about shows of the season was Richard Quinn, winner of the Queen Elizabeth II Award for British Design in 2018. Many netizens discussed the opening section of the show which was an ode to the late Queen Elizabeth II, presenting 22 all-black outfits.
Across the many conversations being had in China, one blogger said the statement humped designs of the collection resembled the famous "Lumps and Bumps" series by Rei Kawakubo. Another said the opening funeral looks were similar to Lady Gaga's funeral outfit in "American Horror Story."
Overall, the main consensus on Weibo was how impressed users were that the Irish-British designer managed to pull off the black looks in the space of just 10 days. Despite being one of the leading LFW topics of discussions, Quinn is another designer without social media presence or a standalone store in China.
Halpern
London-based Michael Halpern's eponymous label presented a collection commented as "wild yet elegant" by Chinese blogger FashionAmberR. Though opinions on the leopard print were divided, the general consensus was that the show was a "glamorous hit."
As an ode to the 60th anniversary of the Barbie Dreamhouse, the label joined forces with Mattel to create a fun, feel-good and frothy riff on the more-is-more DNA of the doll.
The dramatized makeup engaged viewers, the bold prints got people talking, and users seemed genuinely intrigued by the embellished designs. Presenting such high-octane opulence made each runway shot an ultimate shareable image for netizens.
Although it's not yet available on the Chinese mainland, Halpern is stocked across Asia, in Hong Kong SAR, Singapore, Thailand and India.
JW Anderson
Last on the list, but certainly not the least spoken about, is JW Anderson — one of the only major labels to stay on schedule as planned.
Riffing on our collective dependence on digital devices, the Northern Irish designer hosted his spring/summer 2023 show next door to his flagship store — at the Las Vegas arcade, a late-night Soho institution.
As attendees took their seats around the periphery of the game-packed room, models sauntered through in ensembles that were intended to challenge our increasingly virtual existences. Dresses were adorned with computer keys; a futuristic metallic orb, reminiscent of a digital component, was fashioned as a dress; and shirts boasted screensaver-inspired images. The line between what's real and what's not was the only thing missing.
When searching for the label across China's social media, Fall 2022's Pigeon Bag collection is one of the most viral pieces, proving the power of meme fashion. But the fact that London It-girl Alexa Chung attended the show sparked some views and conversation for this particular collection.
The brand launched its first pop-up store in China back in 2019 as well as a local D2C site.(SD-Agencies)