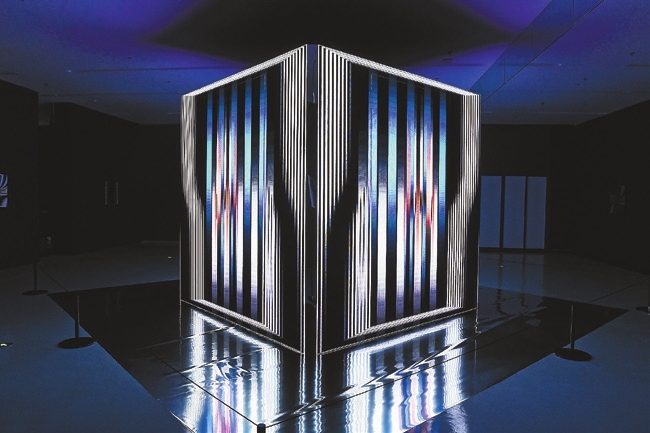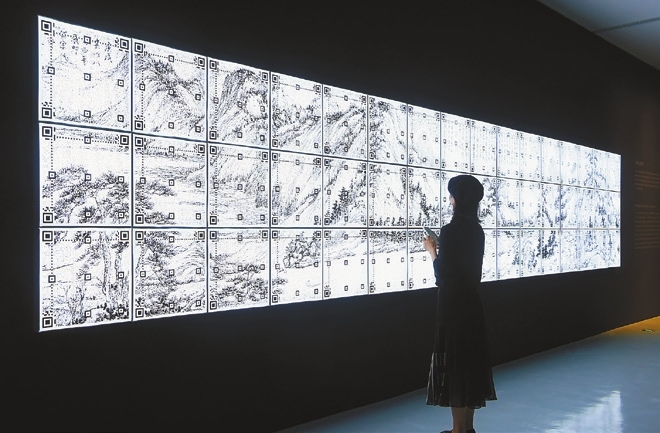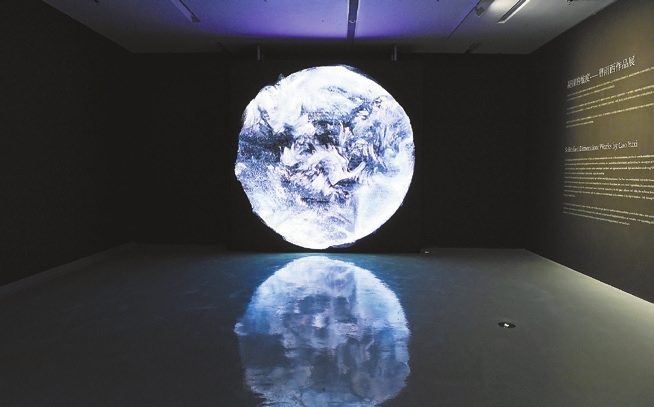 Debra Li
debra_lidan@163.com
WHILE many of us find contemporary art hard to penetrate, new media artist Cao Yuxi has other thoughts. Cao, the visual effects director of the 2022 Beijing Winter Olympics opening ceremony, believes that everyone can react to and interact with a piece of contemporary art, the moment they raise their smartphones to take a selfie in front of it.
The first large-scale solo exhibition from Cao, titled "Solidified Dimension," brings more than 100 pieces of his works created in recent years to a 1,300-sqm space at the second floor of the Art Museum, Guangming Culture and Art Center, inviting interactions from the curious visitor.
Cao, a graduate of the Central Academy of Fine Arts in Beijing who furthered his studies in digital art at the School of Visual Arts (SVA) in New York City, is an explorer and experiments with audio-visual installations, AI-based digital art, light installations, live performances and a crossover of art forms.
Apart from the snowflakes visual that dazzled audiences at the Olympics ceremony, Cao is perhaps best known for his public installations, including an interactive ink painting installed at Daxing International Airport in Beijing that is presented on an LED screen based on AI algorithm. He also designed the stage for the popular variety show "Sisters Who Make Waves" and contributed to a light show put on the high-rise buildings in Shenzhen's CBD areas.
The "Solidified Dimension" exhibition consists of five parts.
"Shanshui Paintings by AI" is a new media series based on an AI algorithm. The artist, who calls himself a die-hard computer and new technology fan, first sampled thousands of pieces of ink paintings, created by ancient masters, contemporary artists as well as amateurs at different ages to form a database, and then he used the database to "teach" the Nvidia AI algorithm to learn to do ink paintings. The end result is a constantly flowing ink painting formed by the motion of millions of pixel particles.
Cao also captured stills from the resulting ink painting, made alterations in color shades and added a few final touches before having them turned into Giclée prints in the round, square and long scroll shapes of traditional ink paintings. "I've always been fascinated by technologies, and am eager to explore the integration of art and technology," Cao says.
The paintings, when appreciated from a short distance, give the miraculous impression of a glass-free 3D effect, inadvertently reminiscent of the AI creator behind them.
"Dwelling in the Fuchun Mountains" is a generative digital art installation which uses an algorithm to turn the original ink painting masterpiece by Yuan Dynasty (1271-1368) artist Huang Gongwang into a puzzle made of halftone QR code patterns. Part of Cao's Quick Response Code art project, the installation deconstructs the ink painting tradition with a ubiquitous technological application that permeates every aspect of our daily life. When the visitor scans any piece of the QR code puzzle with their phone, they can get the whole QR code version of the ancient painting on their screen.
Unlike a traditional piece of art that inspires awe and admiration in the audience who can only enjoy it from a distance, contemporary work invites more interaction from the audience who feel more or less equal to the artist, Cao says.
"Dimensional Sampling," which had appeared on Shenzhen's outdoor light show, is an audio-visual installation series based on QR code samples Cao collected from daily life and sound samples collected by a Hong Kong artist. In a room with dazzling lighting design that transports the audience immediately into a disco club, people can hear the click sound of taking photos and beep sound of an incoming message if they listen carefully enough, a metaphor for the ubiquitous existence of technology and the internet in our age.
"Light Creatures," the mini version of which people have seen on the stage of "Sisters Who Make Waves," is a 30-meter space installed with more than a dozen translucent fabric screens, on which light and shadows created by a laser projector mimic the ever evolving cells, as if light becomes a creature with a life of its own. Visitors are invited to take surreal photos in this space to interact with the work.
The final part of the exhibition is a retrospection of the artist's other previous works, including the transformation of Wang Ximeng's "A Panorama of Rivers and Mountains," changing it into a graphic reflecting a year of Beijing's PM 2.5 data, a signifier of air pollution. The audience can also get a better understanding of the artist and his works via a 14-minute documentary shown in this room.
This show is part of a series of shows and exhibitions that mark the second anniversary of the Guangming Culture and Art Center, a landmark cultural facility in Guangming that opened to the public Sept. 19, 2020.
Early bird tickets are available at 38 yuan per person until tomorrow.
Dates: Until Nov. 19
Hours: 10 a.m.-6 p.m.
Tickets: 58 yuan per person
Booking: WeChat account "GCACArtMuseum"
Venue: 2/F, Art Museum, Guangming Culture and Art Center, Guangming District (光明区光明文化艺术中心美术馆二楼)
Metro: Line 6 to Fenghuang Town Station (凤凰城站), Exit B