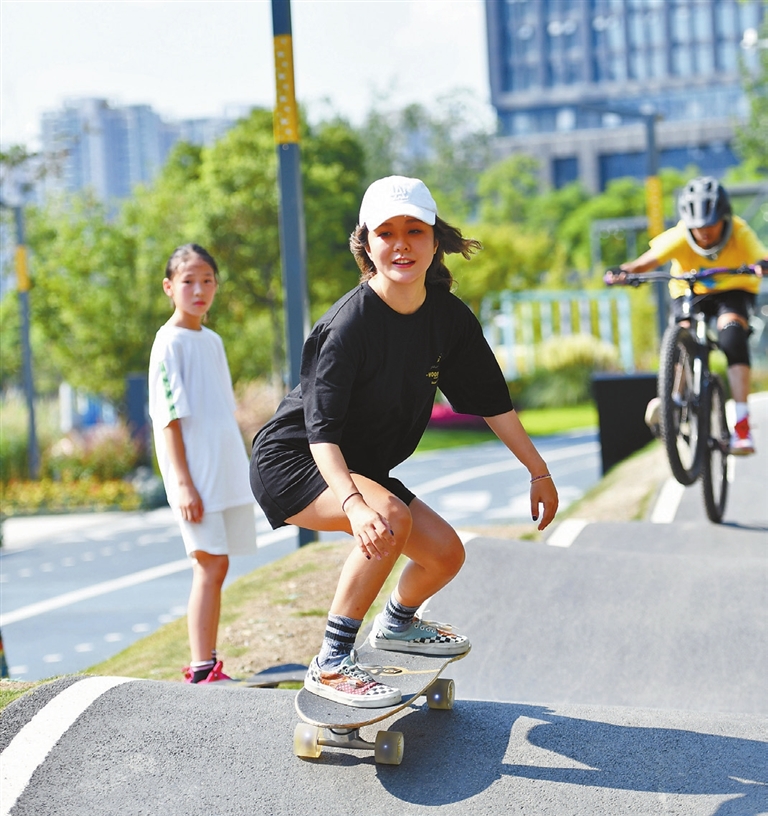 SNOWBOARDING, skateboarding and surfing might be the activities that first come to mind for most board sports lovers.
But now board lovers in China have found a new option — surfskating.
It only got popular recently in big cities like Beijing, Shanghai and Shenzhen.
Surfskating is a type of skating done on a board called a surfskate, which is a skateboard with a special surfboard-esque shape and unique features that essentially allow you to surf on the street.
As Californian surfers were looking for ways to practice their moves during flat sea days, they invented surfskating which enabled them to "surf" on hard surfaces.
The main feature of a surfskate is the front truck, which is designed to swivel more than a regular skateboard truck. This gives the board a turning radius similar to that of a surfboard, allowing you to make tight turns and carve like you would on a wave. It also allows you to generate momentum by turning the board from side to side (like pumping on a surfboard), which is unlike a traditional skateboard that requires you to push off the ground using one of your feet to produce speed.
For many, the fact that a surfskate allows you to emulate the movements of a surfboard on land is what makes this activity so appealing.
Who can surfskate
It doesn't matter if you have never skateboarded or surfed before. Anyone can buy a surfskate and learn how to ride it.
The way you generate speed and turn on a surfskate is very intuitive. This means that even total beginners can learn the basics of surfskating fairly quickly and easily.
Of course, if you know how to skateboard or surf, you will be able to pick up surfskating even faster.
Surfskate deck, grip and boards
There are a lot of things to consider when buying your first surfskate. The most common mistake first-time buyers make is choosing a surfskate purely on looks.
A cool design can be hard to resist, but the most important factor in choosing is finding one that's the right size and shape for you. Here, you have to learn about the different parts of a surfskate.
A surfskate deck is the part of the board you stand on. It's usually made from wood, and it's what gives the surfskate its shape and rigidity.
To make sure that you buy the right-size surfskate, you need to check the length of the deck. The main rule here is that shorter and lighter riders can get away with a shorter deck, while tall or heavy riders require a longer deck.
Note that the length of a surfskate is measured in inches. For example: A small rider might use a 31-inch and under surfskate, while a larger rider might use a board 33 inches and over. As for deck width on most boards, it averages about 8 inches.
Also, a beginner might require a bigger board for better balance. In that case, a surfskate deck around 33 inch long and 8 inch wide will be fine.
The layer of material between your foot and the deck is called the grip. The grip is designed to keep your foot in place while riding and to prevent you from slipping. It is also meant to provide some comfort.
Most grips these days are made from a grainy self-adhesive sheet that's placed on the upper side of your deck. However, some companies use grippy rubber or even cork for their grip.
The most popular grip is the sandpaper-like grip that comes stock with many boards.
The shape of your surfskate also has an effect on how it rides.
The board shape doesn't just mean the silhouette. It also takes into account wheelbase, concave and tail. The wheelbase is the measurement from the inside of one truck hole (the mounting hole for trucks that show up on the deck of a board) to the other, while the concave is the amount of curvature on the surfskate deck from rail to rail. As for the tail, it may have a slight kick for tricks or it could be totally flat.
Finally, there's the big difference between nimble surfskate boards and longboards or cruisers; surfskates having a shorter deck and tighter turning arc allow them to perform more radical turns.
Underneath the deck is where the trucks and wheels are located. Both play a massive role in how your surfskate will ride. Connected to the trucks are the wheels. These come in all sorts of shapes, sizes and durometers (hardness).
If you're just starting out, the best size surfskate wheel is around 50-60 mm. This is a happy medium that will allow you to cruise around without being too slow or too fast.
As for the hardness of the surfskate wheels, we recommend a durometer of 78-80. This is soft enough to provide a good grip on the pavement, but not so soft that your wheels will wear down quickly.(SD-Agencies)