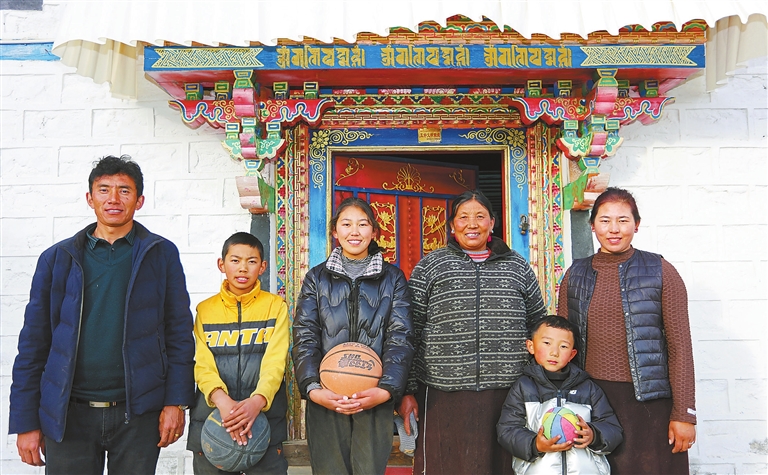 RESIDENTS in Southwest China's Tibet Autonomous Region have seen their living conditions significantly improved over the past decade, as the region has spent heavily on enhancing local housing conditions in both urban and rural areas.
In 2021, the per capita residential building area of Tibet's urban residents reached 45.62 square meters, 9.48 square meters more than that in 2012, Jiang Yuexia, deputy head of the regional housing and urban-rural development department, told a press conference held Sunday.
Meanwhile, the per capita residential building area of its farmers and herdsmen reached 40.63 square meters, 11.05 square meters more than that in 2012.
Over the past 10 years, the region poured nearly 1.4 billion yuan (about US$197 million) into the renovation and upgrading of 126 old communities, according to Jiang.
The region has also promoted the household garbage disposal mechanism in its rural areas and hired some 200,000 cleaners in villages.
In addition to better living quarters, the Tibetans also enjoy an improved ecological environment.
The autonomous region has poured 12.7 billion yuan into ecological protection over the past 10 years, authorities said.
In 2021, the forest coverage rate in Tibet reached 12.31%, and the comprehensive vegetation coverage of grassland grew to 47.14%, Shui Yanping, deputy head of the regional department of ecology and environment, told a press conference Monday.
The population of rare wild animals has also seen restorative growth, according to Shui. The population of the black-necked crane, which is under first-class national protection, has increased from less than 3,000 in 1995 to over 10,000, while the number of Tibetan antelopes has increased to more than 300,000.
Figures show that Tibet remains one of the areas with the best natural environment globally, with local ecosystems remaining stable and the environment constantly improving, she said.
It would be surprising when people consider how fast infrastructure has grown with heavy investment and building occurring in the past 10 years, bringing an improved living to locals.
Over the past decade, three railway lines have formed a "Y" shape on the plateau region, with the latest Lhasa-Nyingchi line, the region's first electrified railway line, kicking off operation June 25, 2021.
In Cosibsumgyi Township, Ngari Prefecture, residents of Baka Village have enjoyed development dividends in local infrastructure.
"In the 1990s, local residents started to plant willow trees along the river valley. The weather in Ngari Prefecture was a serious hindrance. Plantings are usually carried out in April and May, when Cosibsumgyi is often snowbound," said Oizhu Doje, who hails from Baka Village.
Oizhu Doje recounted a time when the mountain was completely blocked for a month due to heavy snowfall, preventing the transportation of nursery stock to the outside.
At the end of 2020, an asphalt road was operational in the township. "The road, coupled with a series of favorable policies, has guaranteed smooth shipment for nursery stock," Oizhu Doje said.
Improved transportation network has rendered a further boost to tourism in the region. Tourism generated about 1.6 billion yuan in revenue and created 64,500 jobs for farmers and herders last year.
In Tashi Chodan, a community in the Nedong District of Shannan, known for its Tibetan opera, some 30 artists perform regularly for tourist groups.
Dawa Drolma, 52, one of the performers, said they have shows every night during the peak season.
Dawa Drolma and her family have also refurbished their house into a homestay with six beds. "During the busiest time, all rooms are full," she said, adding that the opera performance and homestay business bring the family an extra income of more than 50,000 yuan every year.
Located in a deep valley in the Himalayas, Medog County is besieged by high hills and primitive forests. For centuries, porters were the major transportation means for the county.
The situation significantly improved following the start of the operation of the Medog Highway in October 2013. Children can now go to school by vehicle.
They also have access to better facilities and learning tools. A 100-Mbps broadband network now covers all primary and middle schools in Tibet.
All of the region's primary and middle schools have been equipped with multimedia classrooms, 15,157 in total, said Nyima Tsering, head of the regional department of education.
Over the past decade, Tibet has spent 215.4 billion yuan on education. All students enjoy a 15-year public-funded education as well as a financial support system to help them access higher education. (Xinhua)