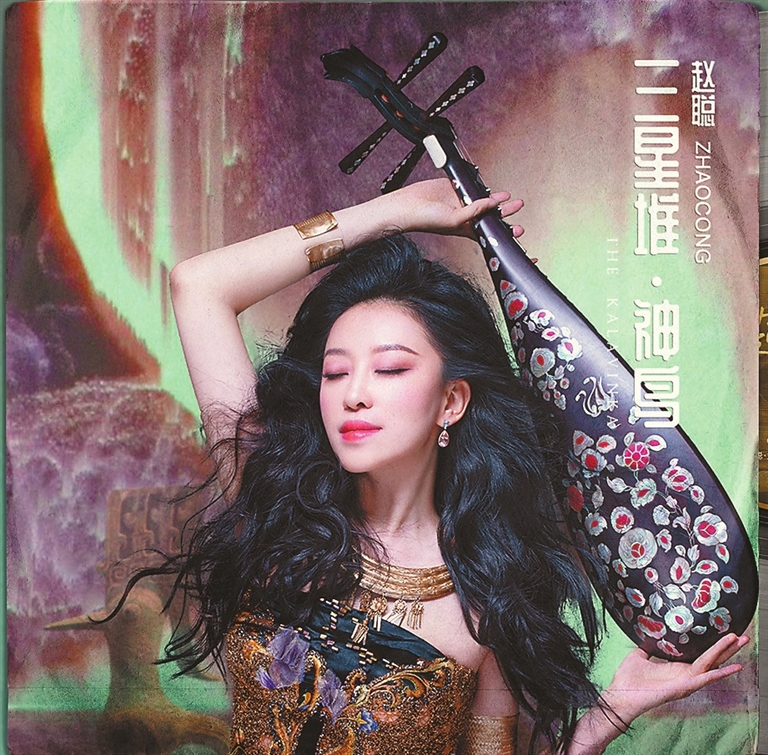 WHEN Zhao Cong first visited Sanxingdui Museum in Sichuan Province in May 2021, writing another music piece was not high on the popular pipa player's agenda.
"I had lots of questions about those mysterious items from thousands of years ago, but no answers. I was so overwhelmed that I couldn't find the proper words to describe my feelings," recalls Zhao, president and principal pipa player of China National Traditional Orchestra. "Suddenly an idea hit me. I wanted to compose a pipa music piece to describe my feelings and to communicate with the past."
The music piece, titled "The Kalavinka," has been released both digitally and as a limited edition vinyl record capped at 3,000 numbered pressings recently. Kalavinka refers to the mythical, birdlike Buddhist creature with a melodious voice. The music piece, which combines pipa, the 2,000-year-old, four-stringed Chinese lute, with the sounds of electronic music, is inspired by the images Zhao saw in the museum.
Sanxingdui Museum was built in the 1990s to keep, preserve, display and research the archaeological discoveries from the Sanxingdui site. By sheer chance, in 1929, some artifacts that would later form the basis of the Sanxingdui collection were discovered by a villager. However, they were only recognized as significant discoveries in the 1980s when thousands of more bronzeware items were unearthed from two pits, providing valuable insight into the ancient civilization in Sichuan, known as Shu. More discoveries have since been made at the Sanxingdui site, attracting many visitors from around the country to the museum.
Among the artifacts found at Sanxingdui, a 3.96-meter-tall bronze holy tree is the most enigmatic, and attracted Zhao during her visit. With a main body and a base, the holy tree has three levels to its trunk and nine birds stand on its branches. Experts believe it reflects the ancient Shu people's worship of the sun.
"Perhaps the birds serve as a connection between the sky and earth, between the mortal world and the heavens," says Zhao. "The tree conjured up a lot of images and sounds for me. I wanted to take the listeners back to ancient China by using sounds from the future. Only electronic music could work with pipa to create such an atmospheric sonic experience, which is full of imagination," she adds.
As soon as she returned to her home in Beijing, Zhao called her friend Liu Sichao, who graduated from the Central Conservatory of Music with a major in electronic music composition.
"I was very excited when she told me about her ideas. It was not the first time that I worked with a traditional Chinese musician, but it was the first time that I composed for pipa," says Liu.
"She is very open-minded about music and we tried to find a balance between pipa and electronic music. We agreed that the two, one from ancient China and the other from the contemporary world, should coexist with harmony and independence," Liu adds.
Zhao, who was born into a family of musicians in Northeast China's Jilin Province, learned to play pipa with her mother when she was a child. In 1996, Zhao came to Beijing to study pipa at the Central Conservatory of Music and joined the China National Traditional Orchestra after her graduation in 2000.
She is known for reviving the ancient musical instrument by giving it a contemporary twist. Her 2005 debut album "Carmen" features pieces adapted for pipa and guitar.
Her second album "Sound of China: Dance in the Moon," which was released in 2008, saw her collaborating with the Prague Symphony Orchestra, featuring pieces such as "Moonlight on Spring River" and "Ambush on All Sides."
The pipa player is also credited with popularizing the ancient instrument among a younger audience. She performed a pipa piece titled "Red Flame" for "Honor of Kings," a best-selling video game by Tencent Games subsidiary TiMi Studios, when it introduced its new character, a female warrior named Yun Ying. With different techniques of playing her pipa, such as plucking the strings individually or sweeping the pick across all of the strings, Zhao vividly portrays Yun, a lovely, brave young female warrior armed with a spear.
Though Zhao has never been trained to compose, since her first album, she has tried to create melodies for her instrument. "Composing for Sanxingdui was quite challenging compared to my other compositions. It's abstract and full of complexity," says Zhao, who once wrote a pipa piece titled "Flying Apsaras," inspired by a trip to Dunhuang in Gansu Province, home to the Mogao Grottoes.
"I sent Liu lots of musical elements that I thought of after returning from Sanxingdui and he replied with his electronic arrangements. Those sounds then inspired new ideas. We finished the whole piece by inspiring each other and exchanging ideas back and forth. It was a long process," says Zhao.
(China Daily)