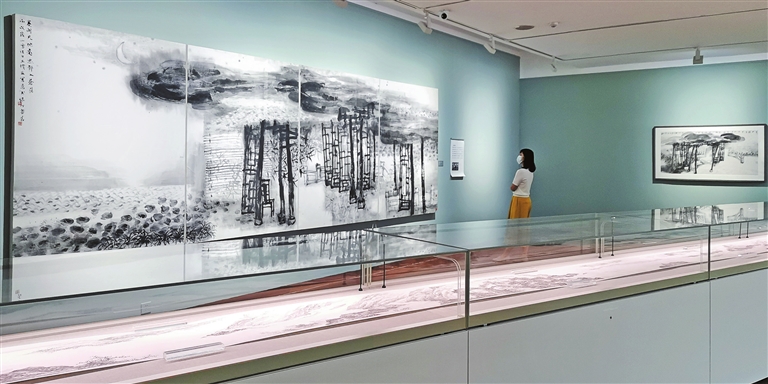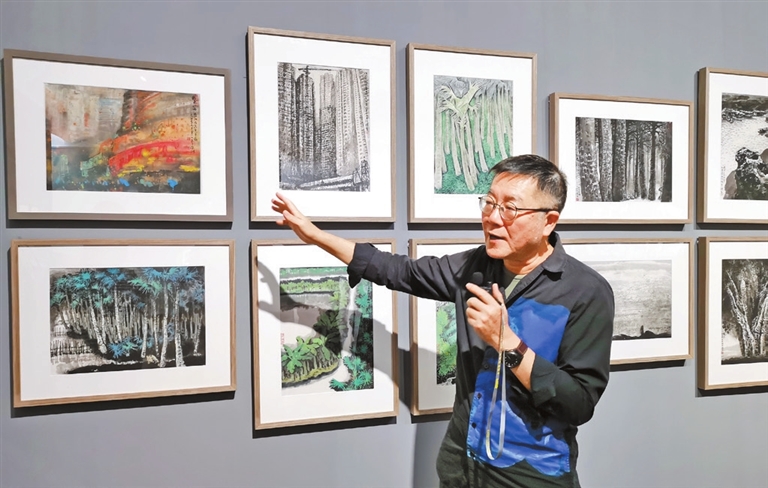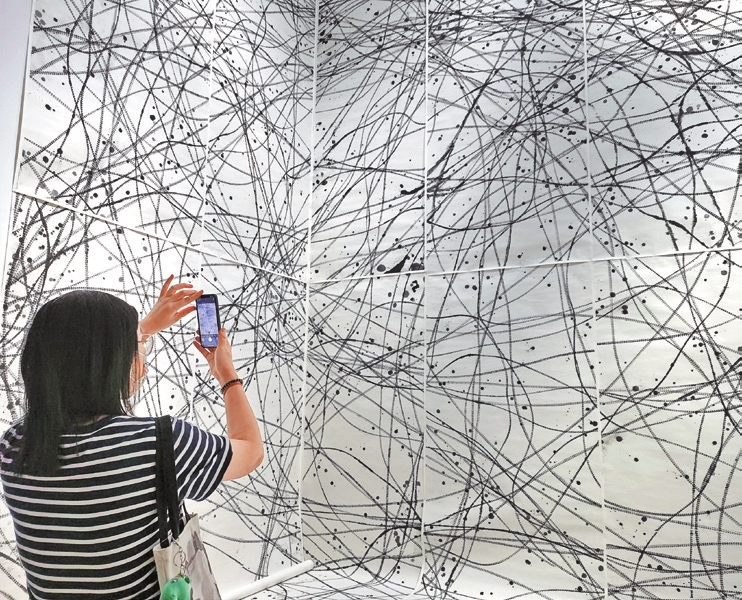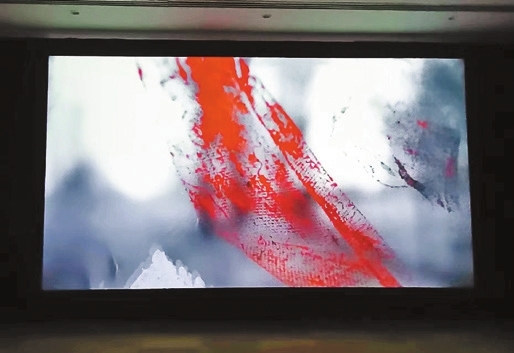 Cao Zhen
caozhen0806@126.com
RIVERS are the source of life; long or short, a river is usually associated with one's hometown. This is also the feeling Chinese artist Wang Huangsheng is sharing in his new exhibition at the He Xiangning Art Museum.
"Wang Huangsheng: Remoteness and River" displays Wang's ink paintings, installations, videos, photographic works and a VR work arranged in five sections named after the rivers in Wang's life. To him, the rivers run from the past, through the present and to the future, and he is reviewing the traces left along the rivers.
Wang's contemporary vision is rooted in his past. The first section, "Hanjiang River," showcases ink paintings created by Wang in his childhood in the 1960s. Growing up near Hanjiang River in Jieyang, east Guangdong, Wang was instructed by his painter and calligrapher father when he was a child.
In this section, visitors can sense Wang's early mastery in lines and strokes. Establishing a foothold in tradition, he finds self-expression in a fluid, unrestrained yet controlled touch in his later large-scale ink paintings and one can feel the way ink ebbs and flows in varying saturations across the paper.
Wang said that in 1984, he and friend Li Yi rode bikes to trace the Pearl River in South China and traveled through Guangdong, Guangxi, Guizhou and Yunnan from September to November. During the trip, they depicted landscapes and ethnic minorities in paintings and photos, which are now on display in the second section, "Pearl River."
Wang wrote in his diary that in this journey, he appreciated the beauty of freedom and vitality in the wild, elegant and grand landscapes seen in different regions. A plant specimen he collected in 1984 prompted him to revisit some areas along Pearl River in 2020. This time, he collected more plant specimens and used a rubbing technique to produce ink images of plants, offering a new angle of viewing ink art. "These ink images look like X-ray photos, implying my inquiry on the nature of life," said Wang.
The "Houhai Lake" and "Wanliuhui" sections showcase works after Wang moved to Beijing in 2009. He said the Houhai Lake area, one of Beijing's most popular leisure places for both locals and tourists, is where he finds relaxation in the capital's hustle and bustle. His studio is located in Wanliuhui in north suburban Beijing where there are several streams.
Since then, Wang's practice has grown to encompass collage, installation, rubbing, video and sound art. "I tried to incorporate paintings with multiple materials, such as iron wire, plants, bandage to present new visual expression, but my attention and care for life is still the focal point of my works," said Wang.
In Wang's "Traces of Wind" video and photo series, while the scenes remain black and white, the use of symbolic color is in the form of a flying red bandage. "It's a symbol of life, fragile and light but beautiful and free," Wang explained.
The final section, "Traversing," featuring a VR work, demonstrates Wang's experiments with new technologies and explorations in the future world.
Holding a doctorate in art history, Wang has held several prestigious positions and academic titles in art museums and universities, and has also been an academic leader in the fields of fine art and contemporary art.
Dates: Until Nov. 26
Booking: WeChat account "hxnartmuseum"
Venue: He Xiangning Art Museum, Nanshan District (南山区何香凝美术馆)
Metro: Line 1 to OCT Station (华侨城站), Exit C