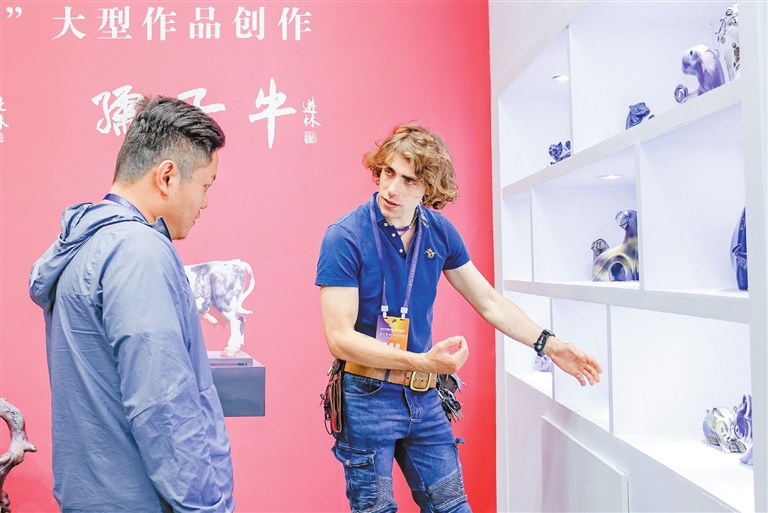 Han Ximin from Jingdezhen
1824295095@qq.com
VISITORS, exhibitors and buyers from the U.S., France, Russia and African countries all came together to seek opportunities at the China Jingdezhen International Ceramic Expo (CJICE) that was inaugurated in the city of Jingdezhen in Jiangxi Province yesterday.
The expo, covering 28,400 square meters at the Ceramic Expo City, attracts over 40 international brands from Germany, France, the U.K, Russia, Italy, Japan and South Korea, and over 530 exhibitors participate in the porcelain exposition.
The newly built facility has three exhibition halls. At Hall 1, organizers display tea sets, tableware porcelain, hotel utensils and wine sets.
Hall 2 has exhibition areas for domestic and international exhibitors. At Hall 3, areas are designated for advanced ceramics, ceramic industrial chain, artistic porcelain and mass entrepreneurial startups. Halls 1 and 2 will be permanent sites for porcelain trade, display and tourism, engaging in wholesale and retail of porcelain after the expo.
Over 100 overseas buyers participated in the onsite procurement, Jingdezhen Municipal Government, one of the organizers, announced at a ceremony yesterday.
Angue Emilia, an African expat, has her Gabon Store Kevazin in Nanjing and engages in exporting Chinese porcelain for daily use to Africa. Emilia has been engaged in porcelain trade for over two years, and she said porcelain products from Jingdezhen offer more choices.
Taua Aiop had a seven-member team business in Yiwu, Zhejiang Province. Every month, his company, Ansar Trading, sees five containers of Chinese products exporting to Senegal via Guangzhou or Ningbo ports.
"To source from the origin at Jingdezhen can help us save costs," Aiop said.
Nzaba Jean from France, who was on his third trip to Jingdezhen, found this trip easier and he has established his supplier cycle. Jean, who owns a trading company named Afriget, said he hoped to procure Jingdezhen products and sell them in France.
"China is a great country with a stable economy. Places like Jingdezhen can provide various products with innovative materials," Jean said.
"Jingdezhen porcelains are very important to the world. It distinguishes from others for its innovation and novel designs and craftmanship," Jean said. He initially plans to procure daily porcelains, and then he expanded it to other categories like artistic porcelains.
It took about a month for Andrey Bednyakov of Imperial Porcelain Manufacturing in Russia to come to Jingdezhen due to COVID quarantine measures.
"We cherished this opportunity to consolidate relationship with our Chinese partners, buyers and share ceramic making with our counterparts," Bednyakov said.
Gnahe Franck, who has been in Jiangxi for six years and is a doctoral student from Jiangxi University of Finance and Economics in Nanchang, attended the expo with friends.
"In my country, Cote d'Ivoire, as well as in Africa, people are interested in Chinese culture and I want to find something interesting to bring back to my friends back home," Franck said.
During the expo, which will run until the end of the week, the Jingdezhen government will organize over 30 activities including digital conference and international procurement matchmaking conference, advanced ceramics and high-tech industry development conference focusing on its digital economy and advanced ceramics.
In the direct procurement matchmaking conference yesterday, the organizers invited about 30 e-commerce enterprises, with 60 overseas buyers seeking business cooperation opportunities.
The industrial value of ceramics industry in Jingdezhen reached 51.6 billion yuan (US$7.1 billion) in 2021, up by 15.7% year on year.
The expo, first held in 2004, has developed over the last 18 years, becoming more international and professional.