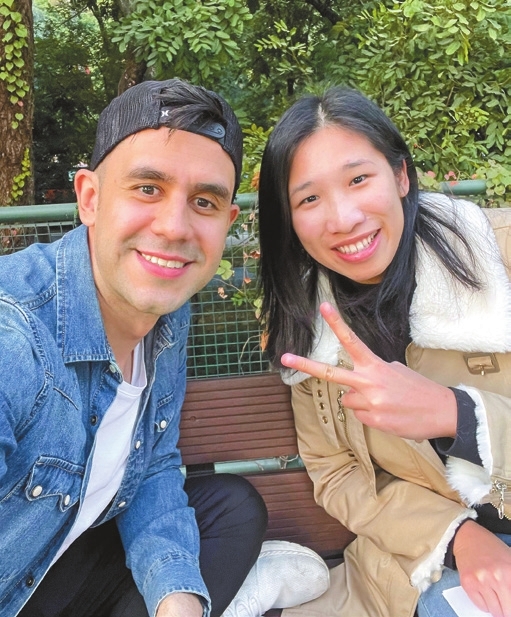 Zhang Yu
JeniZhang13@163.com
STANDING on the rostrum alongside nine people of different ages and professions, Venezuelan Rafael Saavedra definitely stood out as the only expat receiving the title of Shenzhen Good Netizen for 2022 at an award ceremony held at Wuzhou Guest House in Futian District on Nov. 3.
"I feel very honored to be there representing the expat community in China or in Shenzhen. It definitely gives me a lot of motivation and encourages me to create more and better content," Saavedra told Shenzhen Daily in an interview Tuesday.
Saavedra has been living in Shenzhen for seven years and is keen on making videos and creating content about Shenzhen and China on his travels.
"I always try to create as much content as possible to show this beautiful city to my followers and try to communicate more about the city. I think Shenzhen is an awesome place and a beautiful city, and it serves as an example for many other cities in the world," Saavedra said.
Saavedra, who owns the YouTube channel "Rafa Goes Around," had 28,500 followers as of yesterday.
His recent video about the newly opened Shenzhen Metro Line 14 received 120,000 views on the platform.
(Continued on P3)
(From Page 1)
"I have a lot of followers who are really connected to the content that I make, and they always ask for more. They really want to see life in China and Shenzhen," he said.
If one watches Saavedra's videos on YouTube or on China's Bilibili, one will find that most of his videos about life in China, especially Shenzhen, have garnered hundreds of thousands of likes and views.
The Venezuelan also made special mention of Shenzhen Daily, the first media outlet in the city and even in China that reached out to him about his popular videos and interviewed him in early 2021.
According to Saavedra, the interview gave him the chance to share his work at that time, a few months after he started making videos. "Shenzhen Daily has a very special space in my heart. This is one of the newspapers that I love the most," he said.
Saavedra described his friendship with Shenzhen Daily as a very nice and close one, with both keeping very good interactions in making videos together.
"It definitely helped me because some of the works we've done together have been shared on Shenzhen Daily. That helps a lot to reach a wider audience, especially the expat community in Shenzhen. They have access to the content that I make," he said.
Saavedra said he really looks forward to continuing making content from his heart to show the city and China. "I also hope I can keep creating more and more content and do a lot of things together with Shenzhen Daily."