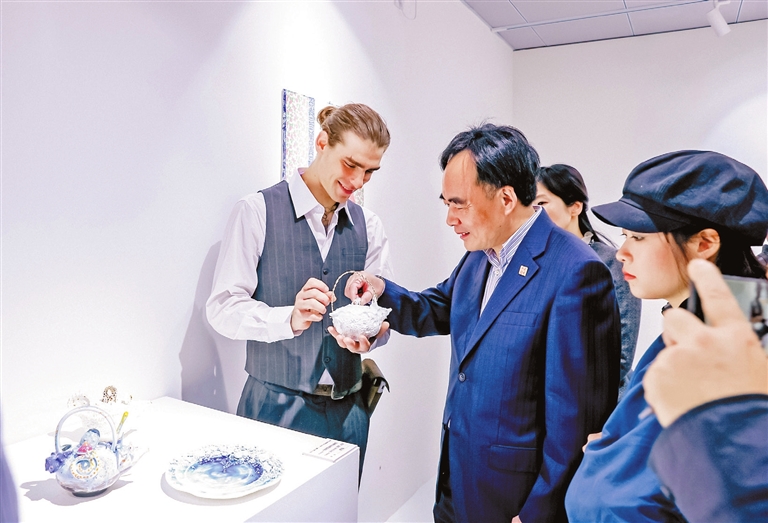 Han Ximin
1824295095@qq.com
"IF you want to learn ceramic culture, you should go to Jingdezhen."
These were the words that Denis Naymark kept in mind since he was a teenager. He determined to follow this course after graduating from Hofstra University in New York in 2013.
As a career, he chose ceramic sculptures, which is also his hobby. He also has other degrees such as mathematics, finance and Chinese culture.
Following the suggestions from his mentor Paul Chaleff, Naymark started ceramic training when he was 8. Naymark came to Jingdezhen, the ceramic capital of the world for over 1,000 years, and became a member of the "Yangjingpiao."
"Yangjingpiao" is a Chinese word referring to foreigners who came to study, work or settle down in Jingdezhen to pursue their artistic dreams.
After settling in the city, Naymark studied at Jingdezhen Ceramic University and got his master's degree in 2016.
"The atmosphere in Jingdezhen is quite good. You get everything to make ceramics from materials to production and sales," Naymark said at an interview Wednesday after attending an art exhibition featuring works of foreign artists held at a village in Fuliang County.
The exhibition displayed a total of 45 ceramic products by 34 artists from the United States, Japan, Türkiye and among others.
It is estimated there are around 5,000 "Yangjingpiao" in Jingdezhen a year, according to organizers of the exhibition.
"Jingdezhen is not big, but there's a surprisingly large population of foreign artists. It is a quite tight knit community where we all have several favorite hangout spots like Taoxichuan, and engage in dialogues regularly," Naymark said.
For Naymark, nature is an art gallery without a roof, where he could often drive a motorcycle into villages, mountains and forests to seek inspirations.
In 2021, Naymark and his partner established Living Fossil Studio. The studio's ceramic practice focuses on sustainable materials that don't pollute the environment during the creation process.
"We often borrow the forms we see in nature and recreate them in clay. We recreate the colors and glazes, underglaze or overglaze paint, trying to replicate what we see in nature and combine it in unique ways," Naymark said.
Naymark, who has been sculpting ceramics for over seven years, hopes the newly established studio could grow and become a place for artists, foreign or local, to share ideas in creating art.