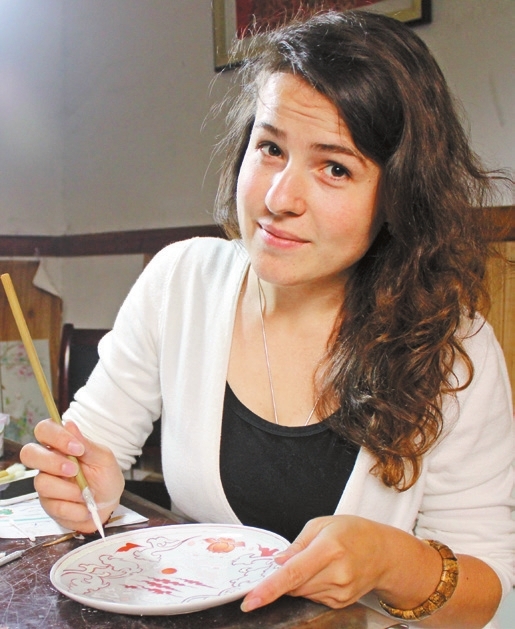 Han Ximin
1824295095@qq.com
FASCINATED with Chinese culture and ceramic art in Jingdezhen, Russian Anastasiia Dremova became a typical "Yangjingpao" among foreign artists who are staying in Jingdezhen to pursue their creative inspirations.
"My life in Jingdezhen is destiny, influenced by Chinese culture and traditional Chinese medicine," Dremova said. She is currently a Ph.D. student at Jingdezhen Ceramic University. She has been living in the city for 10 years and is fluent in Chinese.
Dremova, who was then a student of the Saint Petersburg Stieglitz State Academy of Art and Design, came to China in 2012 for her master's degree research topic on Chinese culture.
At the academy, she studied Chinese language at the Confucius Institute and came to Jingdezhen Ceramic University for her doctorate degree in 2016.
"Jingdezhen is a perfect place for me because it unites everything that I love — like art, creation and traditional Chinese culture. I like to see traditional heritage in Jingdezhen masters' hands," Dremova said.
"Jingdezhen is a unique city with various skills to make porcelains and abundant resources in porcelain making up and down the industrial chain," she added.
Over the years, Dremova made dozens of ceramic sculptures and her creations were mainly about nature, the source of her inspiration.
"Unlike cities like Beijing and Shanghai, Jingdezhen is a quite small and slow-paced, where people can rest to reflect. Its urban area is surrounded by green mountains and has a very clean river running through it," Dremova said.
"Nature is important for an artist, as all artists want to connect with it through arts. In nature, you get a lot of energy and inspiration. It refreshes your mind when you are stuck in the big city with your ideas and thoughts. Wherever you go to nature, you will have a lot of ideas for creation," Dremova said.