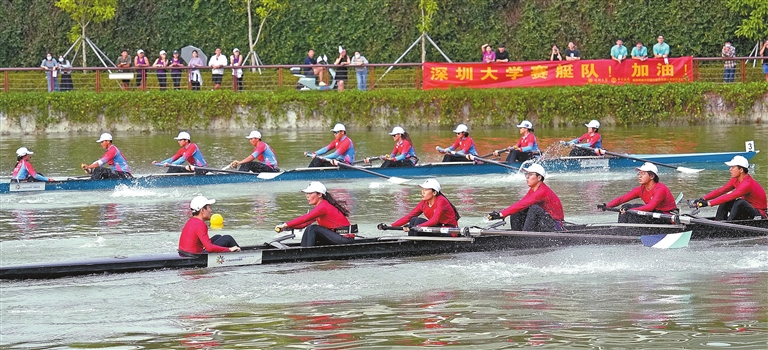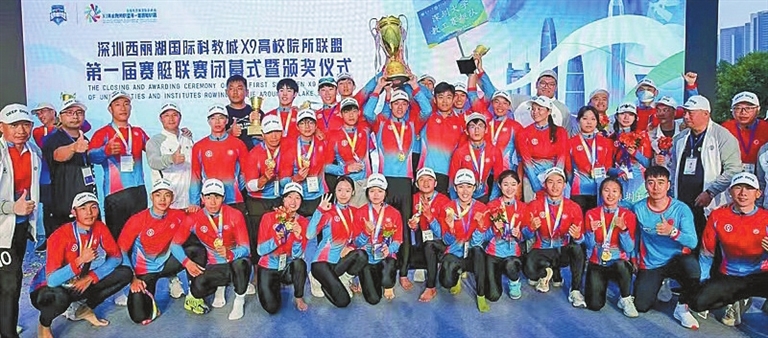 Wang Jingli
wangjingli0715@163.com
SHENZHEN University's (SZU) rowing team was crowned the champion at the first Shenzhen X9 Alliance of Universities and Institutes Rowing League Around X-Lake Sciensity yesterday
Amid cheers, chants and yells, the rowing finals (also the third stage of the race) was held along Dasha River at University Town in Nanshan District yesterday afternoon.
The race adopted a Total Points system, and after three races, SZU achieved 25.4 points in total to finally clinch gold in the league.
Peking University Shenzhen Graduate School (PKU Shenzhen) and Tsinghua Shenzhen International Graduate School (Tsinghua SIGS) finished second and third respectively, with 16.7 and 16.3 points.
The three schools were awarded the first prizes of the race at a closing ceremony held after the finals.
Recipients of other honors including excellent rowers and academician helmsman were also unveiled at the ceremony.
Ding Wenhua, an academician helmsman honor recipient, said that rowing is a perfect sport that integrates culture and technology with the urban natural environment. "The host of the rowing race will hugely improve the integration of the city's culture, technology and innovation," Ding said.
In addition, it was announced at the ceremony that the second X9 Alliance rowing league will be organized by the Southern University of Science and Technology (SUSTech).
Rowing has been widely regarded as a sport that requires a lot of teamwork and is very popular among universities worldwide.
A total of 24 teams composed of 360 teachers and students from universities and institutes including SZU, SUSTech, Tsinghua SIGS, PKU Shenzhen, Harbin Institute of Technology, Shenzhen (HITSZ), Shenzhen Institute of Advanced Technology of the Chinese Academy of Sciences, Peng Cheng Laboratory, Georgia Tech Shenzhen Institute and Tianjin University (GTSI) competed in the first X9 Alliance rowing league. They are also the first members of the X9 Alliance that was officially established ahead of the first stage of the race Nov. 6.
X9 Alliance intends to make the rowing league an annual event and help it become Shenzhen's sports IP as well as science and education drawing card.