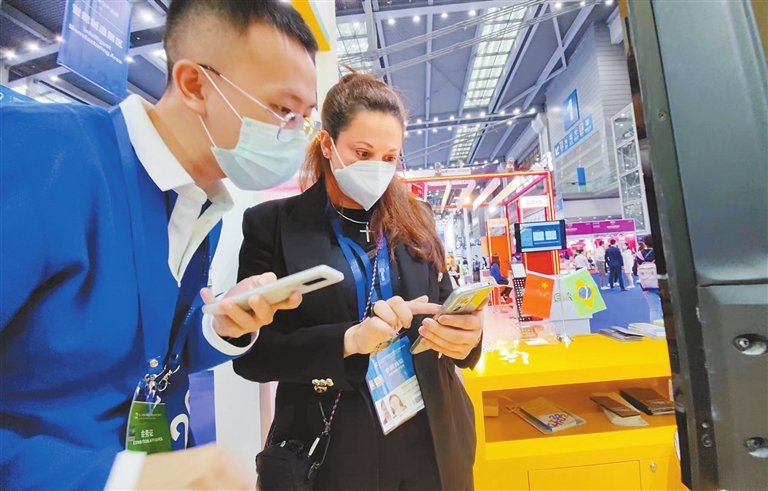 Zhang Yu
JeniZhang13@163.com
FOR the second time in a row, Brazil has set up a pavilion at the China Hi-Tech Fair (CHTF), with four technology companies and six state governments presenting their innovative products and solutions and seeking cooperation opportunities at the annual big tech event, which opened in Shenzhen yesterday.
"Last year was the first time that the Brazilian delegation participated in the CHTF in the form of the Brazilia Pavilion, and this year is our second time," Estela Chen, a representative from the Beijing Representative Office of ApexBrasil, the Brazilian Trade and Investment Promotion Agency, told Shenzhen Daily.
"It is very much hoped that more Brazilian technology enterprises can show up at the fair to deepen cooperation with Shenzhen. We are also looking for suitable institutions and platforms to explore an innovative cooperation mechanism," Chen said.
The four companies joining the Brazilian delegation include Krilltech, NCB-Biohub, Luckie Tech and Travel Technology Interactive, covering the fields of agricultural technology, medical services and IT software.
The six state governments are Amapá, Amazonas, Cerará, Rondônia, Mato Grosso and Tocantins, exhibiting their innovation and business environments to Chinese investors.
"We are attending the fair for the third time, and we are building our relationship with the China Hi-Tech Fair. The fair is always amazing. The organization, the coordination, the promotion, the infrastructure they have here and all the benefits they offer to the exhibitors," said Ariana Guedes de Oliveira, Mato Grosso's international affairs adviser.
According to De Oliveira, China is one of Brazil's most important business partners. The two countries can focus not only on trade, but also cooperation in technological innovation, especially in sustainable agriculture and green energy.
She said that the Mato Grosso state has already signed two memorandums of understanding with Chinese institutions, Xiamen Torch Development Zone for High Technology Industries and South China Agricultural University.
"With South China Agricultural University, we are going to have some key lab projects, two in Brazil and one in Guangdong, to work with fertilizers, nanotechnology and bioproducts," she said.
De Oliveira believes that although some companies are unable to participate offline due to the pandemic, the CHTF will continue to be the best tech fair in China and even in Asia in the coming years.
The Brazilian delegation made its CHTF debut in 2020.