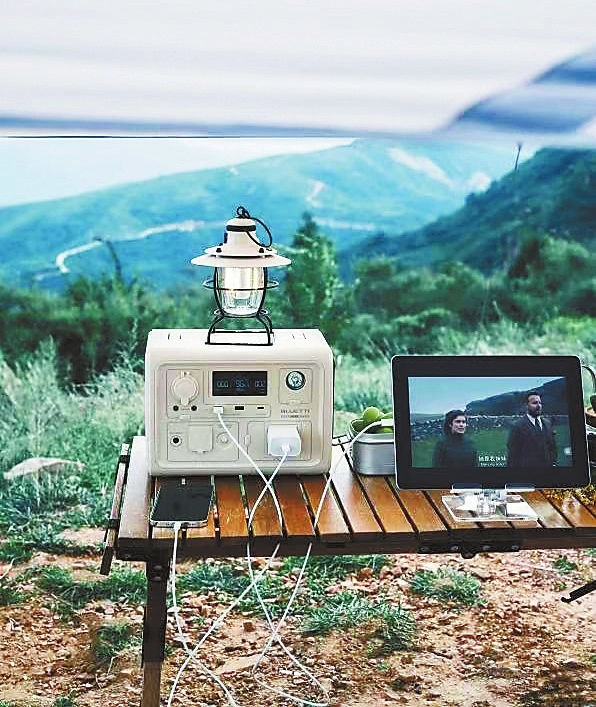 Yu Yuanfan
aimee3031@126.com
AS camping gains popularity as a holiday activity, especially among young urbanites, portable power stations, which serve as an outdoor power supply, have become a staple in many campers' shopping lists.
BLUETTI, a leading energy storage brand, is bringing a whole lineup of portable power station products to the 24th China Hi-Tech Fair (CHTF) in a bid to reach more potential customers.
"This is the first time we attended the CHTF," Flora Fan, BLUETTI's brand image specialist, told Shenzhen Daily. "And it's good to see so many visitors taking an interest in our products, starting from the first day of the event."
The portable power stations displayed at BLUETTI's booth in Hall 2 of the Shenzhen Convention and Exhibition Center in Futian District come in different sizes and capacities, catering to people with various power supply needs. Small-capacity power stations can power up devices such as mobile phones, laptops, camping lights and small radios, while large-capacity ones can charge up appliances such as electric kettles and induction stoves.
"Many mobile phones nowadays can be charged wirelessly, so our power stations have this feature to spare users the trouble of bringing charging cables," Fan introduced, showing visitors how one of their portable power stations work.
According to Fan, BLUETTI's portable power station products take a shorter time to recharge. "For example, our EB3A model takes about 45 minutes to recharge to 80% via an indoor wall socket, or it takes about two hours via an outdoor solar panel. Both are convenient and save time."
The power stations are also made to withstand extreme temperatures, ensuring a stable performance and a longer life cycle. "Our premium-quality lithium iron phosphate batteries enable our power stations to operate between -20 and 40 degrees Celsius, so they are safe to use in most scenarios," Fan said.