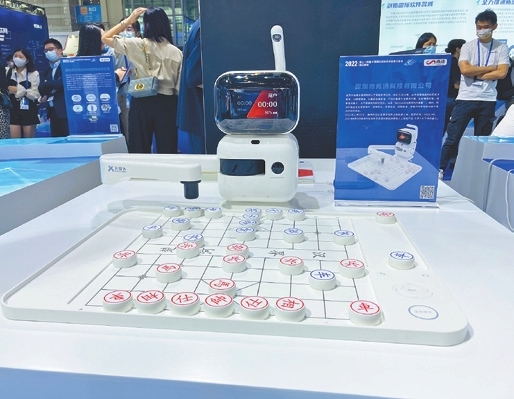 Lin Lin
linlin_szdaily@126.com
VISITING the 24th China Hi-Tech Fair (CHTF) is akin to traveling to the future. One can play Chinese chess with a robot, test blood sugar levels without pricking fingers, control elevator panels without touching a button and enjoy pour-over coffee served by a robot barista.
At the Futian booth of SenseTime, an AI software company, visitors were attracted to a white robot playing Chinese chess. The robot was launched in August and had defeated or tied with Chinese chess masters in previous matches.
According to Wang Siming, marketing manager of the company, the robot provides challenges at 26 different levels to meet the needs of beginners and advanced players. The robot can also teach children how to play Chinese chess.
Glutrac, a Hong Kong-funded enterprise committed to non-invasive continuous blood glucose monitoring technologies, has presented Dynasyno, a smart watch that allows people to test their blood sugar levels simply by wearing the watch and pressing a finger on it for one minute. Then, the user's blood sugar level will be uploaded to the cloud and displayed on their mobile phone.
"The main science behind this smart watch is the detection of optical signals," said Li Shuang, assistant to the company's president. "The optical sensors on the side of the watch can detect certain spectrums that reflect the absorption of glucose molecules in the blood, which can then be used to analyze a person's blood sugar level."
Shenzhen Kandao Technology Co. Ltd., a Longgang-based national high-tech enterprise and one of Shenzhen's "little giant" enterprises at the fair, is presenting a three-dimensional camera and a panoramic camera for vloggers.
The 3D camera named QooCam Ego has a viewer that allows users to instantly view 3D photos.
The company's panoramic camera is equipped with two fisheye lenses and by connecting the camera to a smartphone, users can take 360-degree videos and simultaneously share it to others via video calls.
Aside from nifty everyday gadgets, the fair also features AI-powered industrial appliances made by Shenzhen firms.
Wisson, a Futian-based State-level high-tech enterprise, is bringing a series of air-powered soft robotic arms to the fair. Their latest product, a robotic arm named Nimbo, weighing around 3 to 10 kilograms, can be installed on drones to grip or carry things.
Tedarobotics, a Bao'an-based "little giant" enterprise focusing on the research and development of industrial robots, has brought an industrial paint robot. Powered by AI and a 3D camera, the robot will scan the target area for painting and generate a route first, and then its robotic arm will follow the route to finish painting the target.