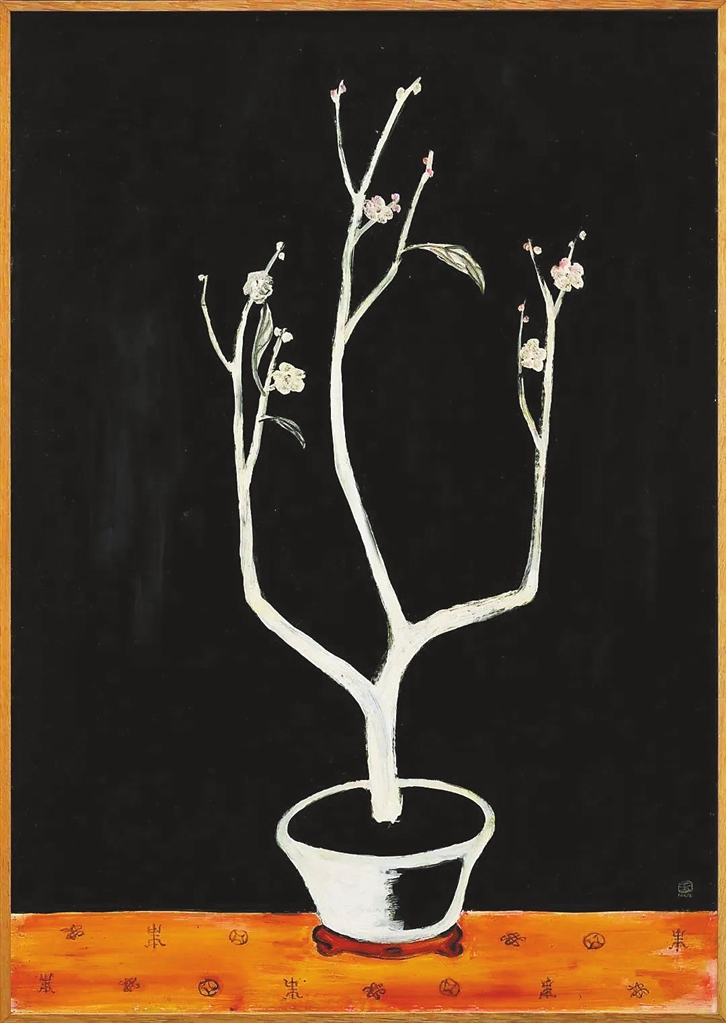 FOLLOWING its preview in Shanghai, Beijing and Taipei, Chinese French artist Sanyu's painting "Potted Prunus" will be auctioned at Christie's 20th and 21st Century Art Evening Sale in Hong Kong on Nov. 30.
This will be the auction debut for the work, which was the only prunus painting Sanyu (1900-1966) created in the 1940s. "Potted Prunus" exemplifies Sanyu's maturity in art with minimal forms and colors, combining both Eastern and Western traditions. In this still life he painted a Chinese floral pot of prunus flowers, in white and dotted pink, standing on an orange tablecloth and against a pure black background.
The branches remind one of the strokes and structure of Chinese calligraphy and rubbing, while the contrast between the white and black hints at an intertwined relation between nothingness and abundance in Chinese philosophy. The patterns on the tablecloth, drawn from those on Chinese antiquities, reveal his homesickness.
Chinese French artist Zao Wou-ki (1921-2013) once said of the work of Sanyu that "the most delicate works of Sanyu are precisely those paintings that are the simplest, where nothing is concealed."
With pre-sales estimated to be between US$15.3 million and US$21.7 million, Christie's upcoming five auctions will feature iconic artists from China and abroad such as Zao, Yoshitomo Nara and Yayoi Kusama, and contemporary artists such as Nicolas Party and Avery Singer.
The five auctions, running from Nov. 30 to Dec. 1, are the 20th and 21st Century Art Evening Sale, the Post Millennium Evening Sale, Marc Chagall, Color of Life: Works Formerly From the Artist's Estate (Part II), the 20th Century Art Day Sale, and the 21st Century Art Day Sale.
A dinosaur skeleton, "Shen the T.rex," will also be among the offerings. It will be the first specimen of its kind to be auctioned in Asia.
"The five art auctions are a celebration of both world-renowned and up-and-rising artists, comprising a superb breadth of artworks created from the early 1900s to the present," said Evelyn Lin, deputy chairman and co-head of the 20th and 21st Century Art Department, Christie's Asia Pacific.(China Daily)