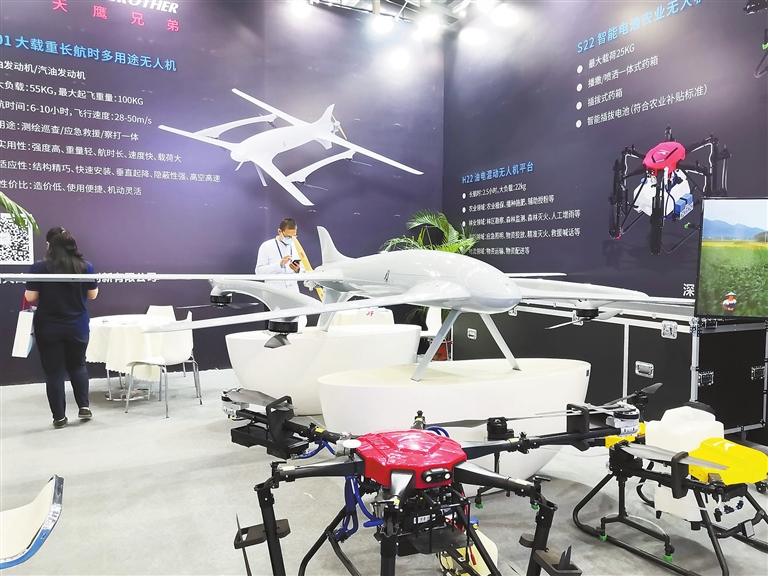 Zhang Yu
JeniZhang13@163.com
WHILE drones and underwater robots are not new to the market, the versatility of these products improve every year.
At the ongoing China Hi-Tech Fair (CHTF), which opened in Shenzhen on Tuesday, DJI, the Shenzhen-based global leader in drone technology, is exhibiting a wide variety of industrial solutions. Their industrial drones, different from common consumer drones, are more widely used and target various industries such as public security, aerial surveying, energy and agriculture.
"For instance, Mavic 3E, which was launched last month, has redefined industry standards for small commercial drones," said Xu Wei, a staffer at the DJI booth in Hall 6 of the Shenzhen Convention and Exhibition Center in Futian District.
According to Xu, with a mechanical shutter, a wide-angle camera lens and an RTK (real-time kinematics) module for centimeter-level precision, the Mavic 3E brings mapping and mission efficiency to new heights.
A thermal version is available for firefighting, search and rescue, inspection and night operations.
So far, the small drone has been used in surveying projects in Shanxi, Yunnan and Sichuan provinces, as well as the Guangxi Zhuang Autonomous Region, according to DJI.
The sleek design of a large silver drone designed by Shenzhen Eagle Brother Drone Innovation Co. Ltd. also attracted many visitors in Hall 7. The multipurpose drone, 2.9 meters long (including the engine), has a maximum load of 55 kilograms. It can work in temperatures between -30 and 50 degrees Celsius.
Underwater robots are also showstoppers at the fair. With two inflatable pools at the booth, staffers from Chasing-Innovation Technology Co. Ltd. deftly demonstrated their submersible robots' agility to a crowd of onlookers.
"The M2 Pro Max underwater robot is our new industrial underwater robot, which can be used in water conservation, dam maintenance, scientific research and other fields," said Zhu Xinqiao, the company's Americas sales manager.
"As long as the underwater operation is within a depth of 200 meters, we can use this robot to replace manual labor. It can carry multiple multifunctional accessories, including directional sonar and multifunctional mechanical arm, which can meet more underwater operation demands," he added.