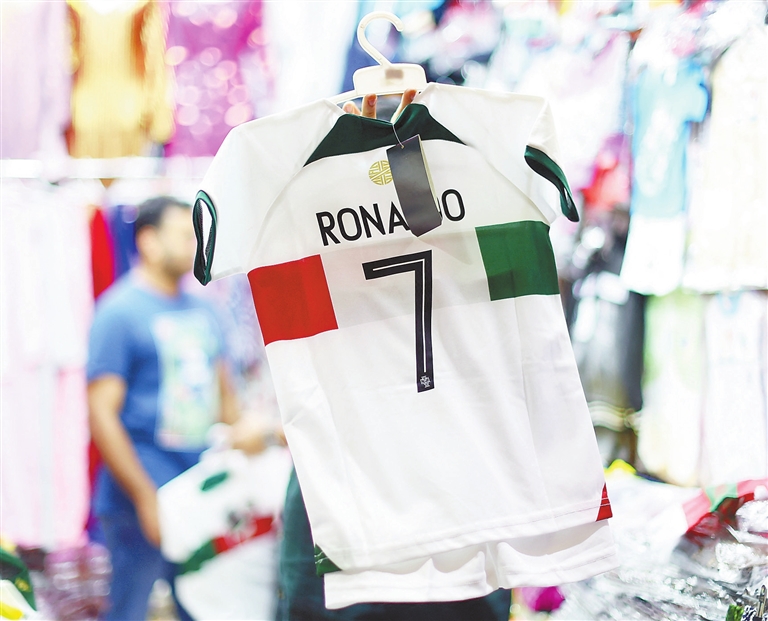 THE quadrennial FIFA 2022 World Cup will kick off in Qatar on Sunday. But "Team Yiwu," the world's largest commodity center in East China's Zhejiang Province, has already booked a place in the final by supplying competition products and millions of footballs to the tournament.
According to the Yiwu Sports Goods Association, from the participating countries' flags for the top 32 teams to the trumpets and whistles for cheering, from soccer balls to jerseys, and from scarves to World Cup decorations, Yiwu manufacturing accounted for an almost 70% of the market share of all the items to be used in Qatar.
At the Yiwu International Trade City, shop owners have been kept busy on their phones to communicate with foreign customers and domestic material providers on production. Many Yiwu workshops have been in full swing to supply products, and sellers are busy delivering their goods.
To deliver the World Cup-related products to fans around the world in time, locals in Yiwu set up a transportation network in mid-September for the event. It takes about 20 to 25 days for World Cup-related products made in Yiwu to travel from Ningbo and Shanghai to Hamad Port in Qatar through the network.
According to one Yiwu-based logistics service provider surnamed Zhou, goods are transported to Zhejiang's Ningbo-Zhoushan Port from Yiwu through railway, and then shipped to Qatar, arriving in 20-25 days.
"Logistics have been running smoothly and Yiwu port is operating 24/7. We have also been working overtime to pack and deliver goods to fill the orders and factories have been busy producing. On average, we sent 10 standard containers a day," said Zhou.
For many Yiwu-based sellers, the World Cup is always a peak season for sales, which also bolsters their businesses.
Wen Congjian, founder of Yiwu Danas Import & Export Co., focuses on soccer jerseys. The busiest time came in July, August and September when he had to add one more shift for workers to work from 6 p.m. to 10 p.m. and dispatch excess orders to other eight factories to facilitate production.
"The production cycle is about 20 days. And within 30 days, the jerseys can be shipped to all parts of the world via containers," Wen said.
The 2022 Qatar World Cup is the fourth tournament for Wen since he started the business. Over the past 15 years, his business has expanded from a one-man office to three stores, a sales team of dozens of people and a factory of 100 workers.
Over 20 categories of products have seen improved business thanks to the World Cup, according to AliExpress, an online retail platform under Alibaba Group.
More than 10 million items, such as soccer themed playing cards, beers, clothing, small flags and festival-related products, are available on the online trading platform for overseas market, according to AliExpress.
In October alone, sales volume of soccer clothes in Brazil market increased by 680%, with a seller on AliExpress selling more than 10,000 soccer jerseys within a week, and the sales volume of soccer boots sold to the United Arab Emirates tripled in the same month.
"If not for the World Cup, the turnover of my business in a year might have been 20 million yuan (US$2.8 million). This year, we've sold more than that amount of goods related to the World Cup alone," said Wen.
Yiwu Danas Import & Export Co. received 2 million orders for soccer jerseys from overseas markets for the 2022 World Cup. So far, all orders have been shipped.
In addition to exports orders, Yiwu manufacturers are also busy producing FIFA-related products for the domestic market.
According to Wen, his company is also preparing for domestic market orders and cannot rest, although all overseas orders had been shipped.
Such products have been trending on many e-commerce platforms in China too.
On Tmall Global, for instance, the plush mascot La'eeb is a big hit among soccer fans, and the limited edition of the Qatar royal family's World Cup decoration has been sold out as early as Aug. 12, the 100-day countdown to the FIFA 2022, when Tmall Global started selling licensed products of the game.
(Global Times)