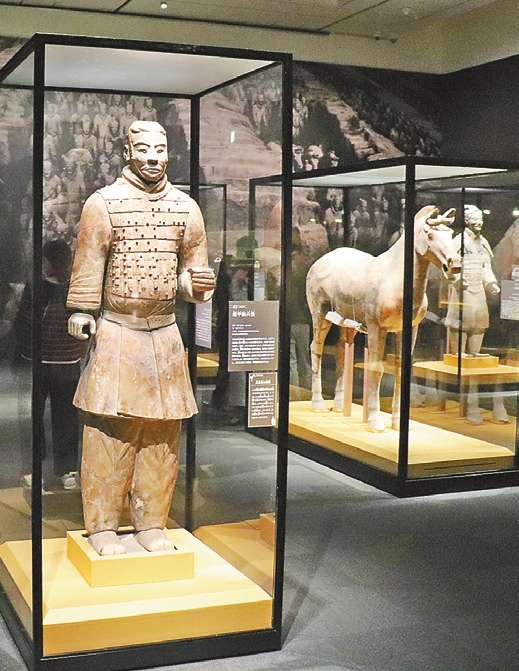 IN commemoration of the 50th anniversary of the normalization of China-Japan diplomatic relations, the exhibition "Terracotta Warriors and Ancient China: Heritage From the Qin and Han Dynasties" recently opened at the Ueno Royal Museum in Tokyo, the last leg of its nearly year-long traveling exhibition in Japan.
"I think the Terracotta Warriors and Horses should also be called ambassadors, because they can make people feel the charm of China wherever they go," said Japanese historian Kazuyuki Tsuruma, who is an honorary professor of Gakushuin University.
Previous exhibitions in Kyoto, Shizuoka and Nagoya have been very successful with already 240,000 visitors.
Tang Qishan, curator of the exhibition and executive director of the Japan-China Cultural Association, said: "What makes us even more delighted is that there are so many young visitors. We are very content with the enthusiasm shown by young Japanese people for ancient Chinese culture."
With a total of 121 sets of relics from cultural institutions and museums in China's Shaanxi and Hunan provinces, the large-scale exhibition showcases the Terracotta Warriors and Horses, stone artifacts, bronze wares and other exhibits spanning from the Western Zhou Dynasty (1046-771 B.C.) to the Eastern Han Dynasty (25-220).
Guo Xiangdong, deputy director of the Emperor Qinshihuang's Mausoleum Site Museum in Xi'an, said, "You can get a close view of the details of the exhibits."
In the exhibition, the No. 2 bronze chariot and horse, is surrounded by a circle of manga works. "It is a very popular Japanese manga series titled 'Kingdom,' the background of which is set in the Qin (221-207 B.C.) and Han (202 B.C.-A.D. 220) dynasties. You can see the bronze chariots and horses illustrated in the manga," Guo explained.
"This way of displaying comics and cultural relics in the same place is also an important reason why it attracts so many young people," Guo added.
Tsuruma said that during his more than 40 years of teaching at the university, many students have learned about ancient Chinese history, and he would help young Japanese improve their Chinese ability through reading historical books and observing archaeological objects at museums to enhance students' interest in learning Chinese culture.(Xinhua)