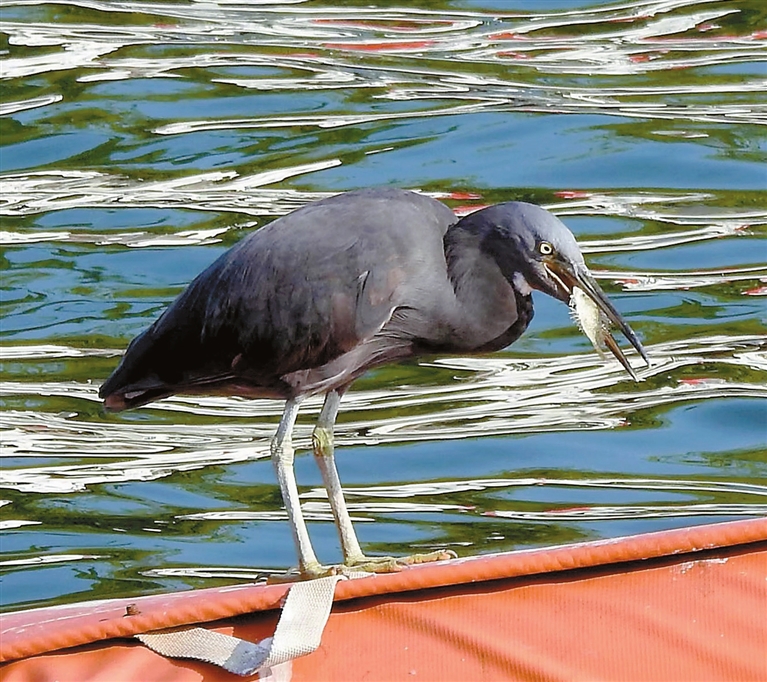 A YANTIAN resident recently captured the image of a rare reef heron foraging at Yantian coastal promenade, Shenzhen Evening News reported.
The reef heron is a medium-sized bird with dark gray feathers, a long grayish-yellow heavy bill and greenish-yellow legs. It has a small population and was classified as a level-2 State protected animal, according to Zhang Jie, a member of the Shenzhen Wildlife Protection Association.
Dong Yi, a fan of observing birds, spotted the reef heron in Yantian recently. He recorded a reef heron in the Dameisha or Xiaomeisha areas a few years ago, and was even highly fascinated to spot another reef heron days ago while he was walking along the promenade. "It was a surprise to find the rare reef heron. Many people have been coming here to observe. I cherished this opportunity and stayed until it turned dark yesterday," Dong told the News in a recent interview.
"The discovery of a national protected animal proves that the ecological environment is improving in the city and in the district. These rare birds are willing to set foot in the city because of its good water quality and abundance of fish and shrimp. What's more, birdwatchers won't disturb the birds," Zhang said. "The appearance of birds is an important element to evaluate the city's natural environment."
Yantian is renowned for its clear waters and lush mountains and takes the lead in terms of quality of ecological environment in the city. Embracing the flourishing sea and mountains, Yantian District is listed as the country's first batch of demonstration areas to enhance ecological conservation. It also won the title of Natural Oxygen Zone of China, according to Chen Jie, a staffer from Yantian's ecology and environment administration.
Yantian is trying to make full use of its advantages to build coastal greenways, construct an ecological corridor and develop ocean carbon sink industry.
(Chen Siqi)