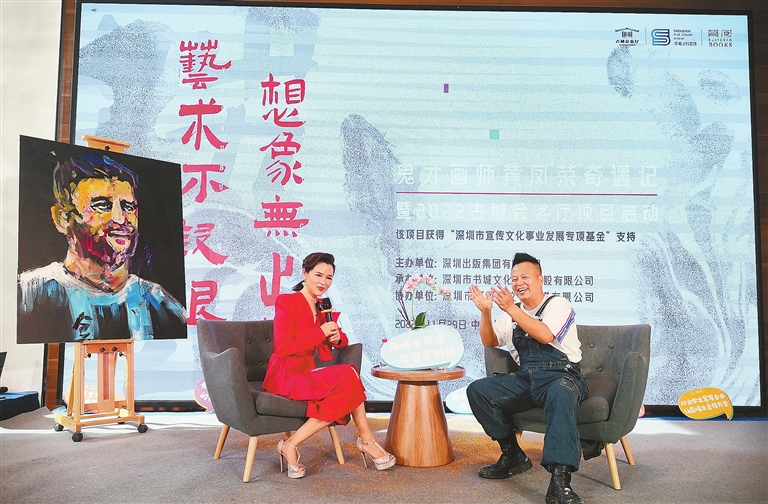 Debra Li
debra_lidan@163.com
HUANG FENGRONG, a migrant worker-turned cross-boundary artist, shows people how to make lemonade when handed lemons by life.
At a free lecture recently at the Taoyuan Zhiguang book bar in Nanshan District, Huang shared his life story to inspire the audience. He also gave two painting performances during the lecture, dancing around while painting the portraits of soccer stars Lionel Messi and Cristiano Ronaldo, accompanied by music.
Born into a poor family in Putian, Fujian Province in 1977, Huang has always fancied becoming a painter. Dropping out of junior high school, he began to work in a factory in the nearby Quanzhou City at 19. Never giving up his passion for painting, he had used all his spare time practicing on his own. At the suggestion of a friend, he decided to learn painting at an art studio in downtown Putian. His formal training in art started at 20.
In 2004, Huang migrated to Beijing and opened a small art studio in the suburbs. Finding that the job of a painter was unable to provide a stable income, Huang was forced to leave Beijing again. He then opened a small boutique shop in Xi'an with his family, but he knew deep down that his painting dream didn't die.
In 2006, he migrated to Shenzhen and opened a studio in the Dafen Oil Painting Village in Longgang District. He had always wanted to do something different with art. In January 2010, he debuted his "painting performance" at a gala in Dafen, combining painting with music, dancing and exaggerated body movements. The humorous and artsy show drew loud applause from the on-site audience and caught the attention of China's State television CCTV. Since then, he has been invited to appear as a guest on several TV programs. Bigger fame found him in 2012 when he appeared on the popular show "China's Got Talent."
More of a kind of performance art, Huang has tried various forms and materials in his live painting show. He can paint a portrait with the canvas upside down; he uses golden powders, collages in his works; he also uses his feet to tramp on the paints. Some in the audience may compare his performance to magic.
Although many art industry insiders would question the value of Huang's works, he has been embraced by the public home and abroad.
"A friend who is a native of France invited me to perform and paint for Sophie Marceau, which I did and she liked it," Huang said. This opportunity led to another, where Huang participated in an exhibition at the Palais de Versailles in Paris and re-created "Liberty Guiding the People" in collages.
"People can feel touched by really great works of art," he said. "But the process of creating a piece of art is often less known to the public. My performance demonstrates to people that art can be fun, and I hope that my audience can be inspired and become interested in art."
Huang said while it's difficult to stick to one's own ideas when everyone else dismisses them, the fruit of one's continuous efforts makes all the difficulties worthwhile.
The lecture, an event of the project "Meeting in the Ancient Town," was organized by the Shenzhen Publishing Group. It was viewed by more than 14,000 audience members online.