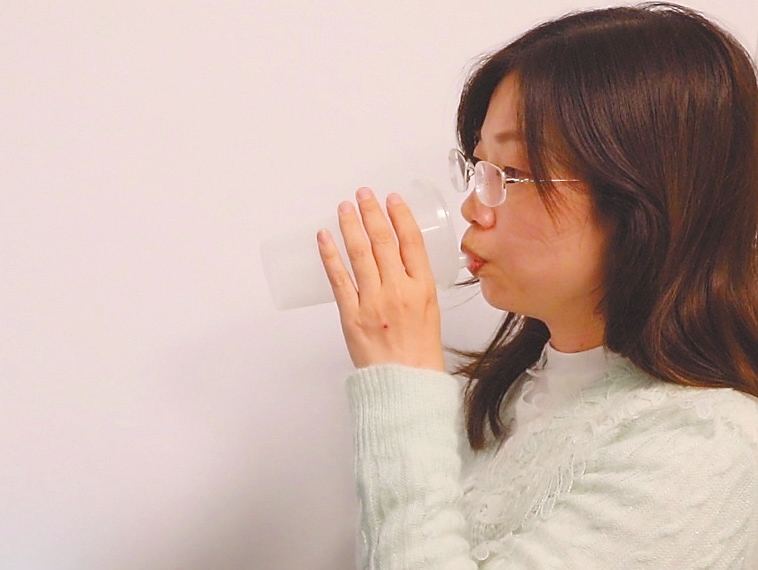 A WOMAN surnamed He became the first Shenzhen resident to receive an inhaled COVID-19 vaccine for a booster. The vaccination took place at Cuizhu Subdistrict's community health service center, an affiliate of Luohu Hospital Group in Luohu District, on Tuesday.
It was part of the first batch of inhaled COVID-19 vaccine put into use in Guangdong Province, sznews.com reported.
The health center has set aside a closed space for the vaccination of the needle-free vaccine. Li Zhishen, director of the center, said that when getting the inhaled COVID-19 vaccine, citizens need to follow certain steps.
First, citizens should take a deep breath, and stick the short nozzle of a translucent white cup into their mouths. After slowly inhaling, people must hold their breaths for over five seconds, then breathe normally, and the vaccination is done.
The woman, under the medical staff's guidance, quickly completed her vaccination. She said that it tasted a bit sweet when she inhaled the mist, and the whole process was comfortable. "The key is to hold your breath well," she said.
The inhaled vaccine is a recombinant COVID-19 vaccine (adenovirus type 5 vector) and is the world's first inhaled COVID-19 vaccine used for sequential booster immunization, a vaccination strategy that uses different types of vaccines for original and booster inoculations.
The easily administered vaccine is inhaled into the lungs through the mouth, so that the atomized vaccine can finally reach the lungs through the respiratory tract. While generating humoral and cellular immunity, it can stimulate the respiratory mucosal immunity, forming a triple immune protection.
Li reminded that the inhaled vaccine can only be used as a booster at present, and cannot be used as the first vaccine dose.
A total of 12 citizens became the first group of people to receive the inhaled vaccine in Shenzhen on Tuesday afternoon. The vaccinations will soon be available in Guangming and Nanshan districts.
Citizens who need vaccinations can make an appointment through the following WeChat accounts, "深圳卫健委" (szwjwwx), "深圳疾控" (szcdcepi) and "健康深圳" (jkshenzhen), or the WeChat miniprogram "社康通."
(Zhang Yu)