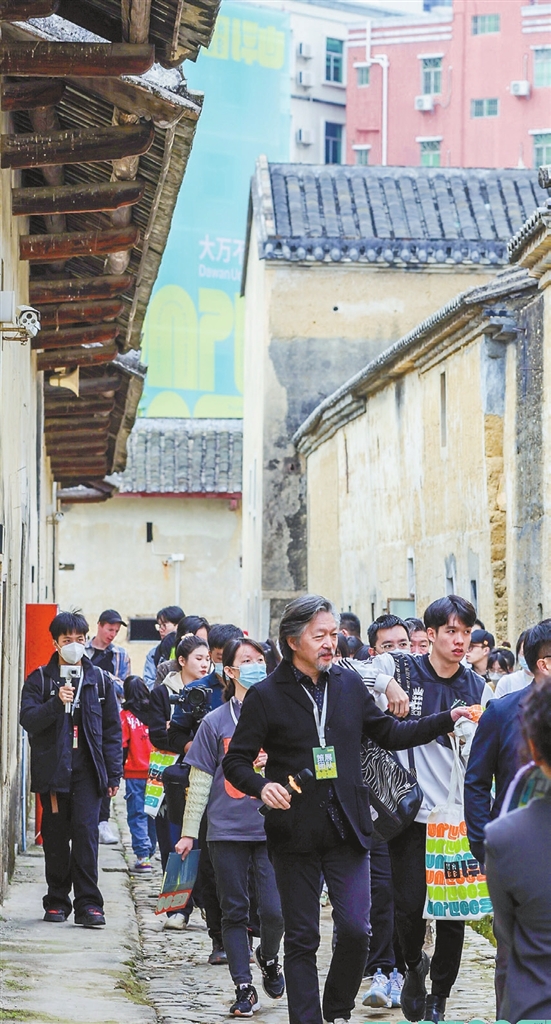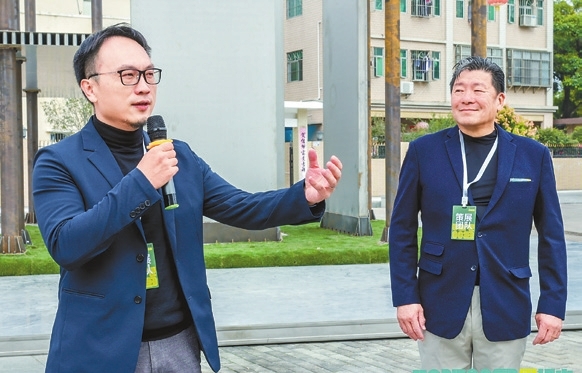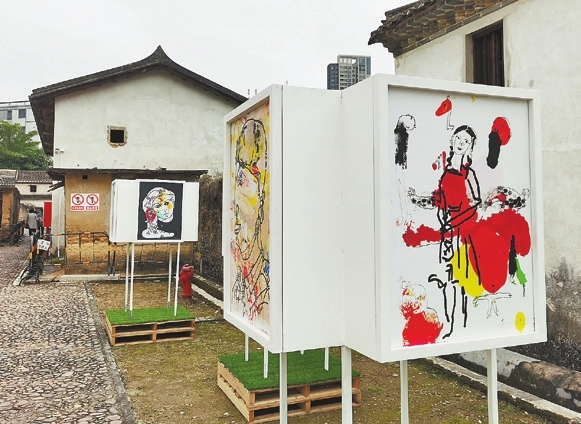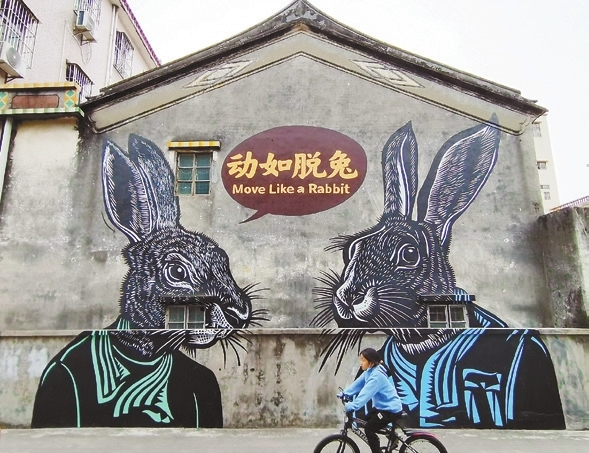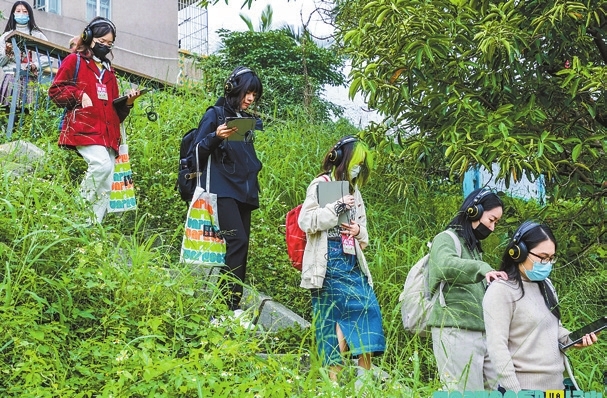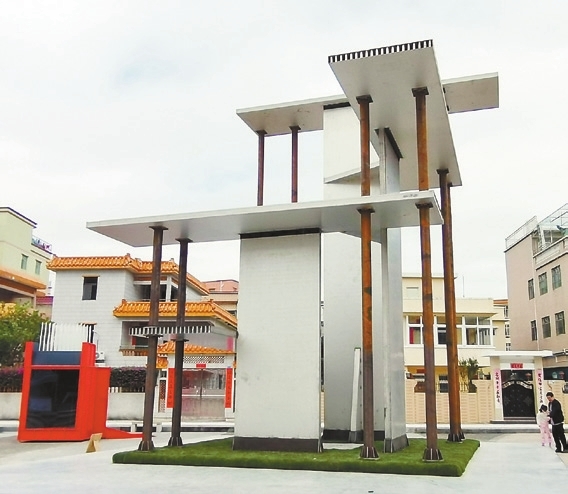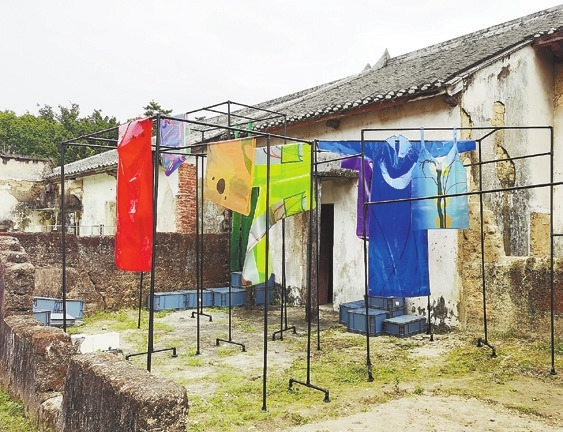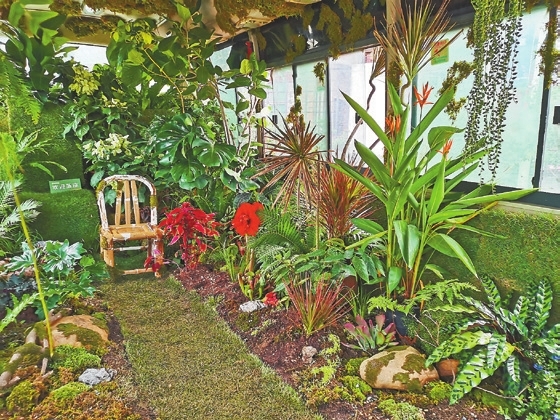 Cao Zhen
caozhen0806@126.com
A TYPICAL Shenzhen minibus is decorated with lush plants and flowers inside, attracting curious passersby to hop on, a little red room is filled with two lively children eager to read something in front of a microphone, and a mighty structure consisting only of slabs and columns draws children to joyously play around the object. They might not know what these installations are for but they fully enjoy themselves.
These works are placed beside the crescent pond outside the Dawan Ancestral Residence, which is the Pingshan subvenue of the ninth Bi-City Biennale of Urbanism \ Architecture (UABB) running through March 3, 2023. With "Urban Cosmologies" as the theme, this year's UABB focuses on the sustainable and ecological development of cities under the dual-carbon goal, holding exhibitions at the GDH City • Jinpi Fang main venue in Luohu and six subvenues around the city.
As a centuries-old Hakka compound with more than 400 rooms, the Dawan Ancestral Residence has embraced a wide range of cultural events over the past a few years. When the UABB sets "Dawan Unplugged" for the theme of the Pingshan subvenue, it is gearing up to expand its creative offerings and reach more people there.
"I think the word 'unplugged' is poetic. It doesn't mean we don't use electricity but suggests less digital, more human touch, more relationship, what kinds of collaboration we make happen, how we interact with local citizens," said Richard Hsu, one of the three chief curators of the Pingshan exhibition. He is an interdisciplinary design researcher and practitioner, serving as adjunct professor at College of Design and Innovation of Tongji University.
Curated by Liu Xiaodu, Gao Yan and Hsu, the exhibition brings together works from artists, architects, landscape designers and ecology scholars who explore the relationship between historical remnants and modern life, and seek to explore future urban habitat with the characteristics of "symbiosis, humanism and emotion."
The chief curators believe Dawan, which was built in 1791, represents the origin and inheritance of Hakka culture in Shenzhen and is a cultural asset of Pingshan that also has a rich ecological environment, high-tech industrial development and artistic innovation. Injecting artworks at this historical site could help raise public awareness on the value and potential of Dawan and bring vitality to the area.
The exhibition is divided into four parts: "Come Together," "Wondrous Ingenuity," "Humanism Felt" and "Open-Spirited Paradigm." Artworks and architecture or urbanism projects' photos, videos and models are displayed on cobble alleys, courtyards and rooms inside the 25,000-square-meter compound, with a few on the square and in the garden outside.
At the opening of the exhibition Dec. 3, visitors rambled in Dawan while listening to "Unwalking: Riverive" played on mobile devices. The interactive sound artwork by SUSTech School of Design student Hu Chengwei is part of the "Unwalking" project led by the school's assistant professor Marcel Zaes Sagesser and Xu Binghuang.
Their team collected natural sounds in Dawan, such as the river-flowing sound and bird chirping. "Unwalking" connects an ecological system that entwines around the centuries-old compound. Using on-site fieldwork, UI design and sound creation, the team lets visitors understand Dawan in a diversified way.
Many exhibitors got inspiration from small but empathetic things to connect the past and the future. Architect Zhang Bin and artist Liu Yi hang colorful clothes made of TPU (thermoplastic polyurethane) in a courtyard to make an evocative scene, emphasizing the human trace and establishing a dialogue on the deserted site.
Lily Zhang and Wataru Shinji created "Sand, Stone, Mountain" with raw materials directly from nature. Artist Yuan Ye's "Dawan Plant Identification Manual" examines plants at Dawan. Artist Shen Shaomin was interested in ditches at Dawan, so he and architect Liu Heng covered a field and a ditch with broken glass to make them look like still water.
Artist Sibylle Schwarz's drawing series "Hakka People and Friends" was created based on profile photos of Hakka people. "This is one of the unplugged ways; everything was done by hand in many cases. For the series, Schwarz studied and researched Hakka culture, so she's able to paint a little bit of the Hakka costume," said curator Hsu.
Hsu stressed that many architectural shows in the world are quite intellectual thinking and are often made for people with the same education or interests. "We should speak to and serve the villagers, the countryside, and we hope many of these exhibitions can reach people of different ages, education and interests. When Hakka people see these paintings, they can identify themselves, … so design smart, design conscious and serve people well," he said.
Architect Olivier Ottevaere and curator Gao designed a raw structure with only slabs and columns to respond to the UABB's dual-carbon theme. Inspired by Le Corbusier's Dom-Ino House, their work "T4 Tower" uses low-carbon materials, providing an open-air activity space for residents around Dawan.
"We try to advocate the concept that a space can be produced with quite limited materials and also make people aware the structure itself can be beautiful. We don't need to spend extra resource to decorate it … and that action is a way to tackle the issue of carbon emission as well," said Gao, who is principal architect of E+iDEA and teaches at Future Habitat Program, Tsinghua Shenzhen International Graduate School.
Initiated by Shenzhen in 2005 and joined by Hong Kong in 2007, the UABB implies the idea that discussions on architecture should focus on urbanism. Past Shenzhen editions were held at old industrial areas and urban villages and have brought upgrading and vitality to those areas.
Liu Xiaodu, one of this year's Pingshan subvenue chief curators, is a member of the UABB Academic Committee and co-curated the 2017 UABB. He is also principal architect and co-founder of URBANUS and director of the Pingshan Art Museum.
He told Shenzhen Daily that the UABB is more like an urban development engine to entice an area to become part of the city development, whether it was held at OCT-LOFT or Nantou Ancient Town in the past editions or is taking place at Dawan Ancestral Residence this year.
"Dawan is very well preserved; there's nothing you can change at the historical site, but outside the compound, there's still an urban village, so this is something we really want to revitalize," said Liu who hopes that through the biennale, the urban village in the neighborhood may become more creative and have greater cultural involvement. Certainly, generating business opportunities there is also a contribution to be made.
Dates: Until March 3, 2023
Hours: 9:30 a.m.-noon and 2-5:20 p.m. (Tue.-Fri.), 9:30 a.m.-5:30 p.m. (Sat.-Sun.)
Admission: Free
Venue: Dawan Ancestral Residence, Pingshan District (坪山区大万世居)
Metro: Line 14 to Jinlong Station (锦龙站), Exit B