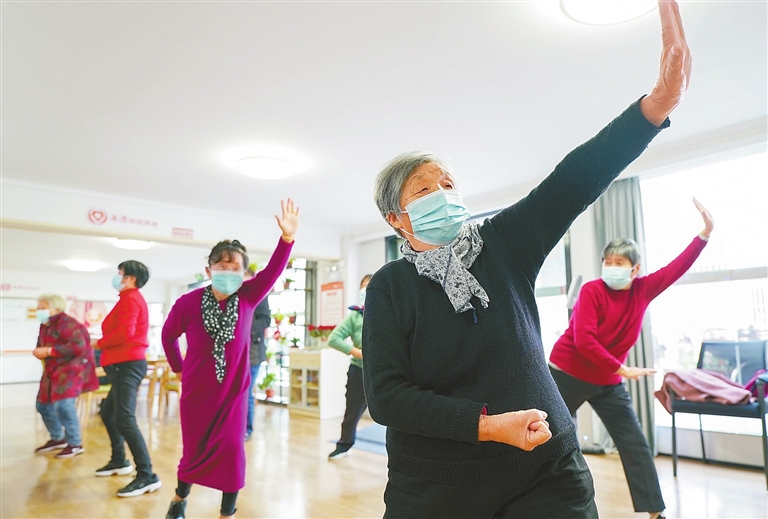 ONLY two months after Qi Yu started working as a bathing assistant for the elderly, the gentle considerate young woman has won the hearts of her customers.
Qi, born after year 2000, works at an elderly care and bathing center in the Nanyingmen Subdistrict in North China's Tianjin Municipality.
Every time Qi helps an elderly person to bathe, she starts by taking their body temperatures, blood oxygen and blood pressure. Then she guides them into the room, puts on some music and gives them a massage before the bathing begins.
"The customers who need bathing assistance are generally in a poor physical condition. It would be perilous to be careless," Qi said.
Since the customers have different physical conditions and needs, Qi and other bathing assistants usually need to create tailored bathing plans for them and make adjustments on site.
In her spare time, Qi would try to learn about the needs and preferences of the elderly. She would talk with neighbors and relatives to find out the suitable light music to play for her customers during bathing.
"Although I am new in the industry, I try hard. Every time I've completed a service, the smiles on the face of my clients make me feel that my job is meaningful," Qi added.
Gao Zhanshuang also works at the center, and has been engaged in the senior care industry for many years.
"The elderly nowadays need more targeted and professional services, after years of progress in the industry. With China entering an aging society, I have seen an increase in the number of elderly customers booking bathing services," said Gao.
Zhao Rong, the head of the center, said that the fledgling industry is promising, but it needs regulation.
To avoid disputes in case of accidents, many service providers would require their clients to sign an agreement before offering the service.
"Bathing services for the elderly not just improve their quality of life, but help them maintain their dignity as well, as old people would feel despised for not being sanitary. We hope more young people will get involved in the industry," Zhao added.
Yan Yangjunqi, 28, is a bathing assistant based in the city of Chengdu, capital of Southwest China's Sichuan Province. Yan and his colleagues provide door-to-door services for the elderly. He said the number of bathing assistants required on each occasion depends on the physical condition of the elderly client.
For example, if there were three assistants, one would be mainly responsible for bathing, the second assistant would talk with the elderly person and pay attention to their condition, and the third would prepare the hot water and help the customer get in and out of the tub.
The whole process generally takes an hour, with the actual bathing lasting about 20 minutes, Yan said.
"When I found this job, many friends could not understand my choice; most of them thought that bathing the elderly would be boring hard work," Yan said. "But everybody gets old. What we are doing now may be laying the groundwork for when we get old. And in the future, we may enjoy better services for the elderly."
To relieve the worries of new clients, Zhou Na, Yan's superior, would send videos of how the job is done to the elderly or their children in advance, to help them learn about the procedures.
Zhou said she uses a large towel to cover the customers, while the steps of undressing, showering or bathing, drying and dressing again are completed under the towel.
The cost ranges from about 200 yuan (about US$28.7) to over 400 yuan for each bath. All the bathing assistants must go through 10 days of training, including bathing techniques and knowledge of first aid and nursing, and pass an exam before starting their services, according to Zhou.
Zhou said that many people have consulted her about bathing services for seniors. "The service is being accepted by more and more people," Zhou said.
Apart from private companies that offer bathing services at the clients' home, many communities in Chinese cities have government-run bathing centers where staffers help seniors during their showers. Some cities also provide a traveling bathing center service with facilities housed in a vehicle.
According to Du Peng, a researcher of aging-related issues at Renmin University, China has trialed a long-term care insurance for the elderly in 49 cities, which will be rolled out across the country gradually. With such an insurance to cover service fees, the senior care industry has huge growth potentials, he said.(Xinhua)