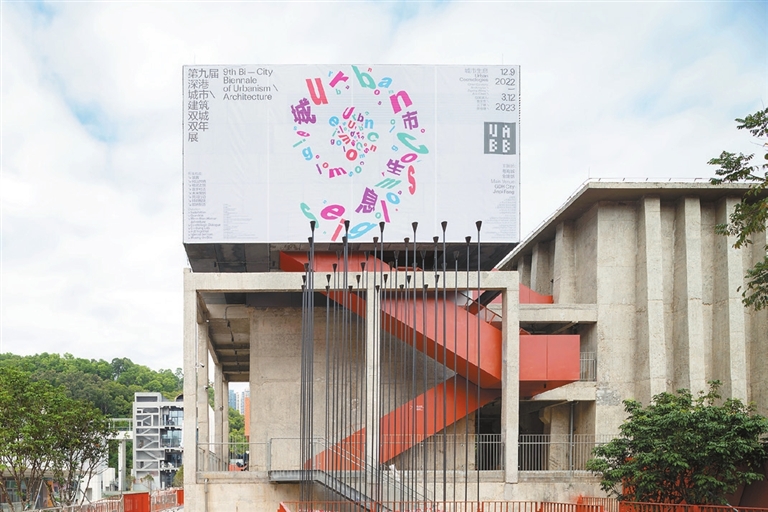 Zhang Yu
JeniZhang13@163.com
THE Ninth Bi-City Biennale of Urbanism\Architecture (UABB) officially opened to the public in Shenzhen yesterday and will run until March 12, 2023, with over 200 events lined up to give residents a chance to learn more about their city and get involved in building and beautifying it.
An opening ceremony was held at UABB (Shenzhen)'s major exhibition venue at the GDH City•Jinpi Fang, formerly Kingway Brewery, in Luohu District on Saturday.
John Lee Ka-chiu, chief executive of the Hong Kong Special Administrative Region, made an address via video link. Shenzhen Mayor Qin Weizhong also gave a speech and announced the exhibition's opening.
According to Lee, Hong Kong and Shenzhen have worked together for many years to discuss the future of cities through the biennial cross-city exhibition, which is full of creativity and foresight.
The establishment of such an exchange platform and the connectivity and innovation of cities are just examples of how Hong Kong and the mainland strengthen cooperation and develop together, Lee said.
Lee encouraged Hong Kong's architecture sector to continue maintaining interaction and communication with its mainland professional counterparts, and build communities with a broader vision.
Qin said that he looked forward to taking this year's UABB as an opportunity to deepen ties between Shenzhen and Hong Kong, strengthen exchanges and mutual learning in urban planning and construction, carry forward the pioneering spirit of the two cities' architects, and promote interdisciplinary exchanges in architecture, art, history and literature. (Continued on P3)
(From Page 1)
It is hoped that the UABB will promote the conservation and revival of old urban buildings, discuss cities' strategies and actions under the background of carbon peaking and neutrality, and make greater contributions to building a quality living circle suitable for living, working and traveling, as well as a world-class bay area and city cluster, Qin said.
Themed "Urban Cosmologies," this year's UABB (Shenzhen) is jointly curated by architecture and urban planning scholar Lu Andong, young architect Wang Zigeng and design curator Aric Chen.
The curators believe that the concept of "cosmologies" not only include diversified symbiosis in space, but also reflect the rhythms of life in time. It is not only a future-oriented world view, but also rich in the traditional wisdom of Chinese civilization.
According to them, Shenzhen should become a city guided by such a concept, and the UABB will be perfect to show the city's visions.
"The UABB is not only about exhibitions, forums and activities. It is also a testing ground for new ideas," Lu said.
This year, the UABB has set up five main sections, a special section, three themed pavilions and a permanent exhibition in the city.
Six subvenues have been set up in Qianhai, Nantou Ancient Town in Nanshan District, International Low Carbon City in Longgang District, Dalang Fashion Town in Longhua District, Dawan Ancestral Residence in Pingshan District and Shenshan Special Cooperation Zone.
The UABB also provides a wider platform for young designers and researchers, increasing the proportion of young exhibitors in all sections of the exhibition. Among the exhibitors, up to over 60% of them were born after 1980 and 1990.