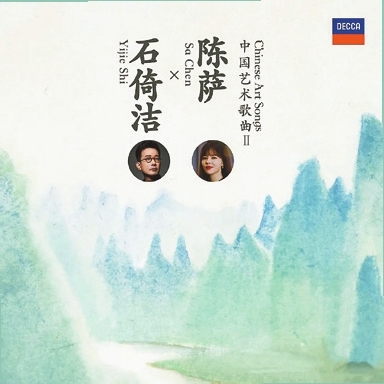 CHINESE tenor Shi Yijie and pianist Chen Sa will release their "Chinese Art Songs II" album via Decca Classics this Friday. All 17 songs in the album were recorded at the Guangming Culture and Art Center in Shenzhen and the album was funded by the Guangming District publicity and cultural development fund.
Composers featured in the album include Ding Shande (1911-1995), Lu Zaiyi and Zhao Jiping. "I Love This Land," an eight-minute song composed by Lu based on a poem written by Ai Qing in 1938, resonates with Shi who has studied and performed abroad since 2002. "Only when one leaves his or her hometown can one have a deep longing and love for his or her hometown and country. This song strikes a chord with me and I love this land," said Shi.
"The piano part in this song makes me feel the sounds from wind and string music because the composer applied rich colors in the texture," said Chen.
"This album shows respect to Chinese tradition. Only by being rooted in the fertile soil of the national tradition, can Chinese music maintain its unique charm and spirit. Composer Ding had achieved much in the artistic treatment of traditional Chinese folk tunes while composer Lu's art songs are outstanding contemporary vocal pieces. The renditions by Shi and Chen, two young musicians, also add new brilliance to the art songs," said composer Zhao, who is best known for his film scores as well as numerous notable symphonies.
Last year, Chen and Shi released their first "Chinese Art Songs" album, receiving rave acclaim from both critics and music fans for their superb performance. In a previous year's interview, Chen compared Chinese art songs with traditional Chinese paintings that leave her with "lots of space to imagine." She said art songs seem to be simple, with only voice and piano, but it's challenging for both the singer and the pianist because "both need to restrain their performances to produce sounds mildly."
"This year, we are more skilled in performing Chinese art songs. The album recording went smoothly," said Chen when asked about the new album.
Chen started in her early teens by earning critical acclaims at Leeds, Chopin and Van Cliburn competitions, and then began her performing career worldwide with her evocative playing.
Shi graduated with top scores at the Toho College of Music in Tokyo in 2006, and the college offered him a fellowship to study music in Austria in 2007. He had his first role in an opera production of Mozart's "Cosi Fan Tutte" in 2007 and in 2008 he performed in the Rossini Opera Festival in Italy. (Cao Zhen)