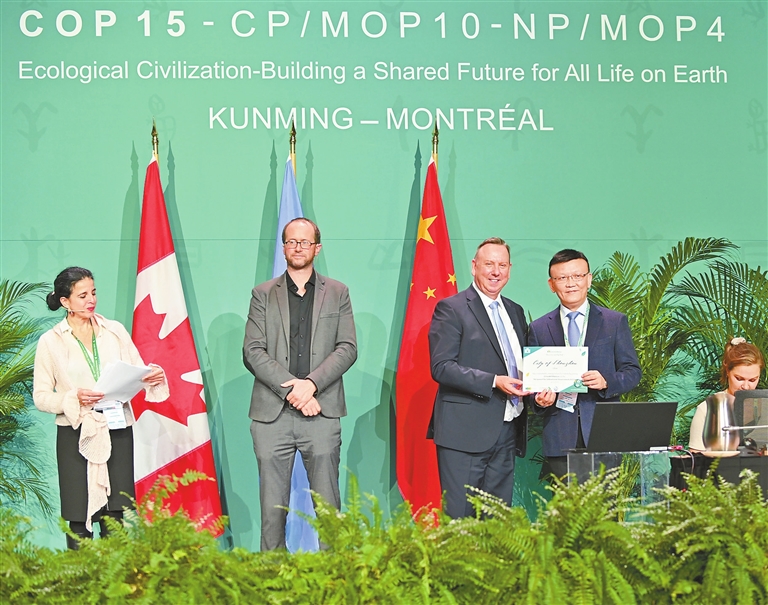 Wang Jingli
wangjingli0715@163.com
SHENZHEN, along with some 20 cities around the world, has joined in CitiesWithNature, a global partnership initiative that strengthens collective action and impact to protect biodiversity and reconnect urban communities with nature. It was announced at the 7th Summit for Subnational Governments & Cities, a parallel event to the second phase of the 15th meeting of the Conference of the Parties (COP15) to the U.N. Convention on Biological Diversity, on Monday local time in Montreal, Canada.
This is the first time that Chinese cities have been included in the platform.
In addition to Shenzhen, another five Chinese cities, such as Chengdu and Kunming, were also included in the platform. Other cities selected for the platform included Paris, Nagoya, San Francisco and Boston.
The 7th Summit for Subnational Governments & Cities focuses on a biodiversity campaign, and it revolves around three activities — Engagement, Influence and Action.
Wen Zhong, deputy director of the Shenzhen Municipal Ecology and Environment Bureau, highlighted the importance of mainstreaming biodiversity in his speech at the engagement session.
Wen shared Shenzhen's innovative models in promoting mainstreaming biodiversity and invited guests participating in the session to visit Shenzhen.
The city's inclusion in the platform will facilitate cooperation and exchanges on biodiversity conservation with other cities that are also dedicated to nature development. At the same time, the city's biodiversity practices will bring more insights to other cities through the platform, according to Wen's bureau.
CitiesWithNature is a partnership initiative among international organizations including WWF and UNEP that provides an innovative online platform to support the co-evolution of cities with nature.
It offers access to an extensive array of guides, tools and case studies to help cities redefine their relationship with nature. This interactive platform is recognized by the Secretariat of the Convention on Biological Diversity as the official vehicle for local and subnational governments to report their commitments and ambitions for the post-2020 global biodiversity framework.
So far, around 266 cities and regions from 66 countries have been approved to join the platform.