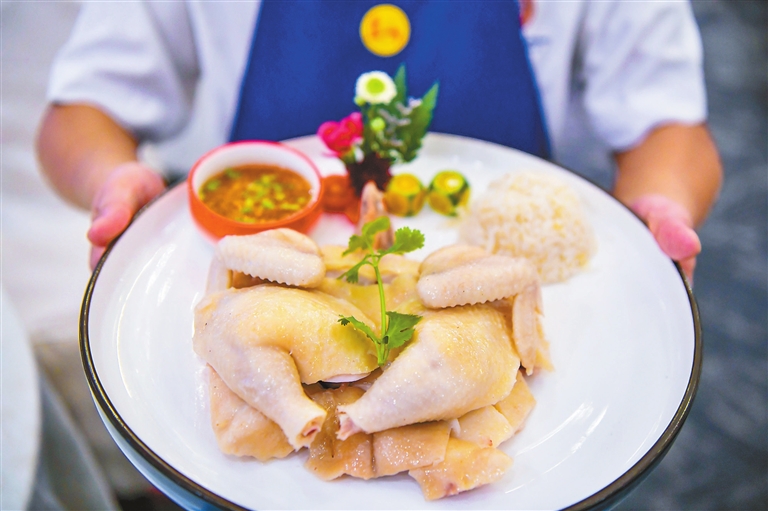 BOILED chicken, rice cooked with chicken oil, plus dipping sauce make up the simple and delicious Hainanese chicken rice, a dish that awakes the lingering nostalgia in overseas Chinese in Southeast Asia.
More than a century ago, an increasing number of Hainan people went across the ocean to Southeast Asia, bringing along their favorite dish Hainanese chicken rice.
As time went by, Hainanese chicken rice gradually became a popular dish in Southeast Asian countries, including Singapore, Thailand and Malaysia.
Located in Kota Kinabalu, Malaysia, Andrew Wong Hainanese Chicken Rice restaurant is quite famous among the locals.
Restaurant owner Andrew Wong Hin Hau, whose ancestral home is in Qionghai, Hainan Province, has been cooking Hainanese chicken rice since 2003.
Wong gets up at around 4 a.m. every day to buy the ingredients at the market, starts to prepare the dish at 5:30 a.m. and gets everything ready by 10:30 a.m.
He said the most important thing for cooking Hainanese chicken rice is to choose chicken of good quality and Thai fragrant rice, and make the dipping sauce thick. "Hainanese chicken rice seems ordinary, but it is not easy to make it a tasty dish," said Wong.
Wong has been constantly improving the recipe. "If the guests are not satisfied, I will find a way to improve," he said, adding that he has always used quality ingredients. "You can't fool your customers by using inferior ingredients just because prices keep rising."
Over the years, Wong would try Hainanese chicken rice at local restaurants whenever he visited a new place. He tried the dish in Shanghai, Hong Kong, Thailand, and many other places.
To him, the Hainanese chicken rice is a delicacy and heritage of his hometown. "As a Hainanese, I'm proud to cook Hainanese chicken rice; it's my livelihood and career," he said, noting that he has been cooking the dish for 19 years. Welcomed by the diners, Wong's restaurant sells about 180 servings of Hainanese chicken rice per day. Scott Chong, from China's Guangdong Province, is a regular customer. "The taste is good; the chicken is tender in texture and the rice is nice too," he said.
Wenchang, a city in Hainan, is the birthplace of Hainanese chicken rice. On the island, Wenchang chicken is often used in the dish. Song Shenmei, 69, is the owner of a chicken restaurant in Wenchang. As the fourth-generation successor, he has been running the restaurant for more than four decades.
"People in Wenchang eat chicken on all the important festivals," Song said, adding that during the Qingming Festival, many overseas Chinese returning home from Southeast Asian countries will order chicken dishes at his restaurant.
Song recalled that in the early 1980s, an overseas Chinese who had opened a chicken restaurant in Singapore came to visit Song's restaurant. The restaurant owner pleaded with Song to give him the recipe and learned with Song to cook chicken and make sauce.
"Some of my clients visited me in the kitchen, so that they could learn first-hand and cook the dish later at home," Song added.
Hainanese chicken rice not only satisfies not just people's taste buds and stomachs, but it also pacifies the nostalgia of overseas Chinese whose ancestors originated from Hainan.
Michael Heng Yee Boon, president of Kota Kinabalu Hainan Association, is a second-generation Malaysian. Heng said chicken rice was always served during the Spring Festival, and his mother would make it into rice balls, which symbolize "reunion" in Chinese.
Having tasted Hainanese chicken rice in Hainan and Malaysia, Heng said the dish was different in these two places, due to different ingredients in the sauce and different way of cooking.
"Our ancestors came to Malaysia, where they interacted with not just Hainanese. To cater to the needs of different races and different cultural preferences, we have made some changes and come up with Malaysia's Hainanese chicken rice," he said.
"The Hainanese chicken rice of Malaysia adds local flavors into the dish, and it is enjoyed by Malays and foreigners alike," he said.
He believed that although culture is constantly evolving, the identification as Hainanese, and their tradition of hard work, are passed down from generation to generation in Malaysia.
"It's always a special moment when we have Hainanese chicken rice; for us it's not just a delicacy, but also a cultural root shared by all of us. We would pass it on," Heng said.
(Xinhua)