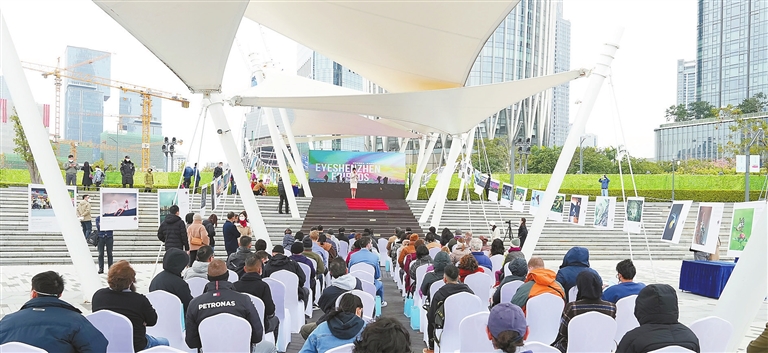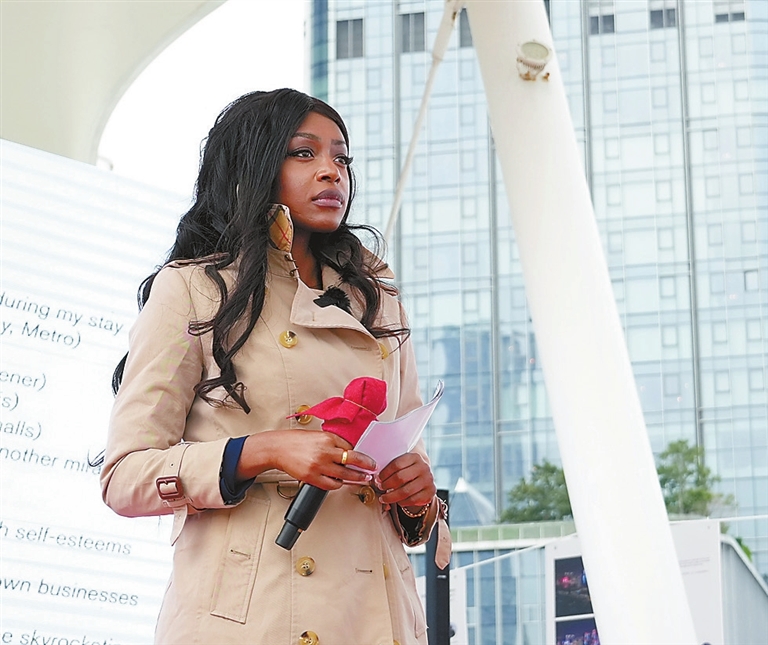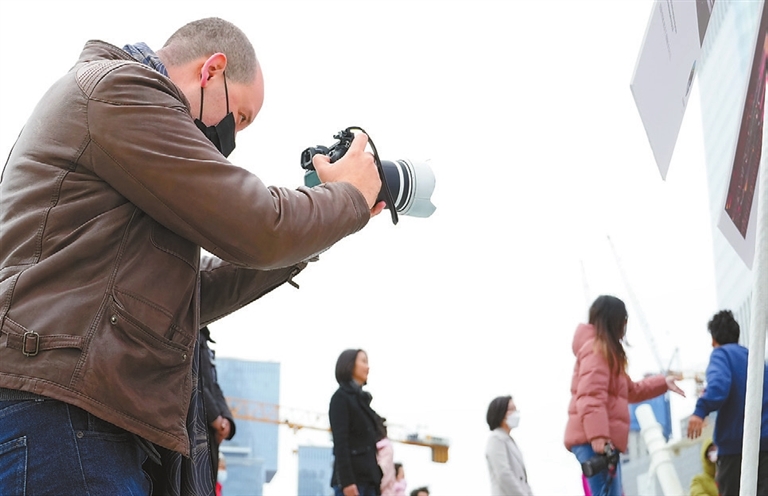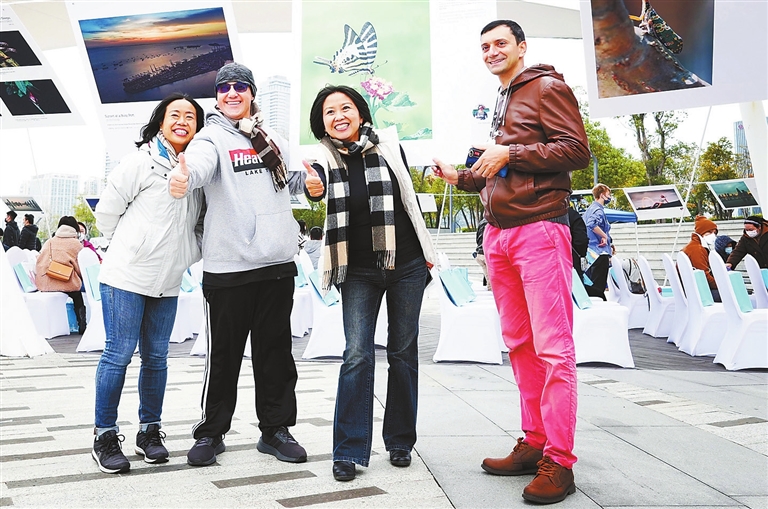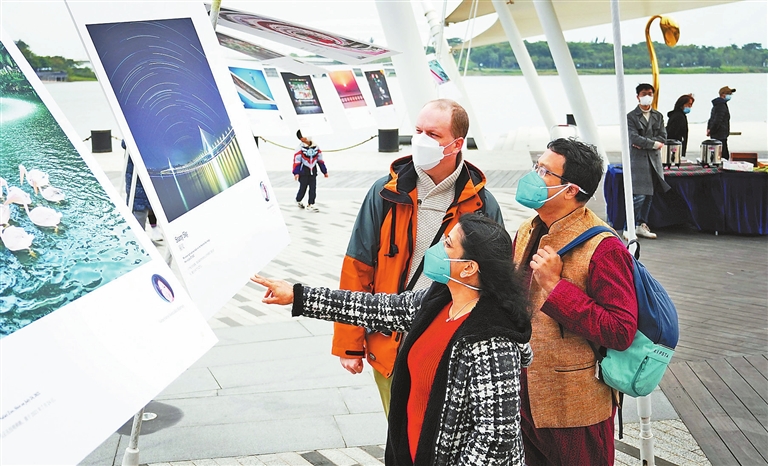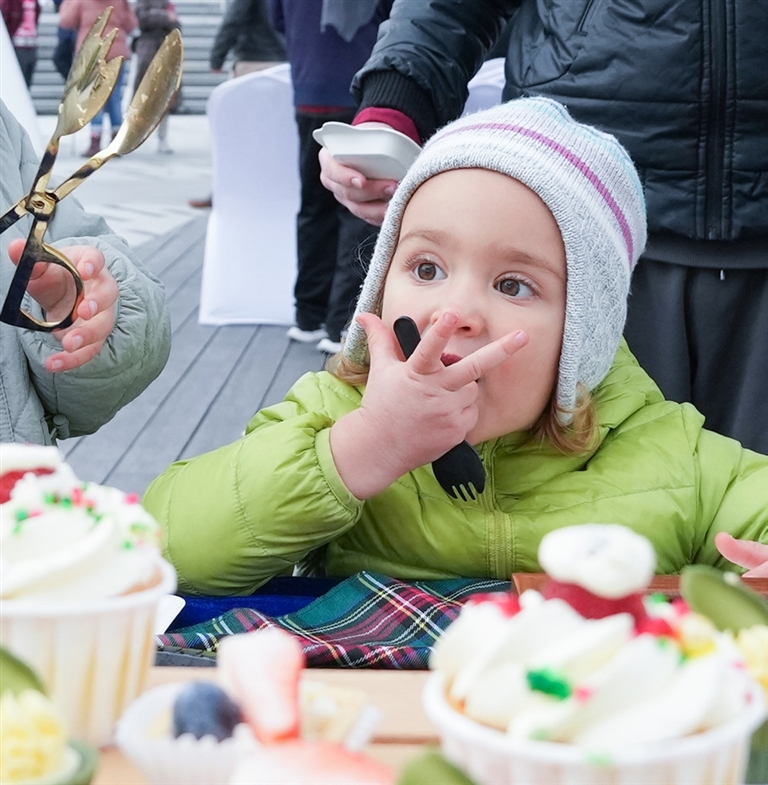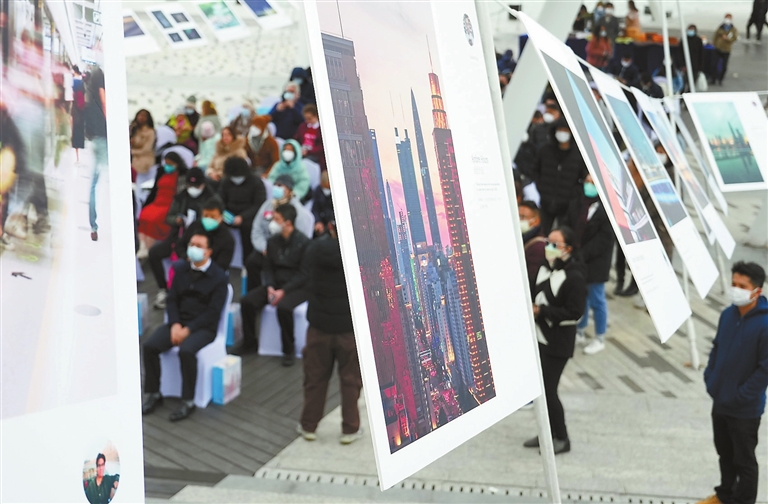 Zhang Yu
JeniZhang13@163.com
BLUSTERY winds and chilly temperatures didn't discourage a group of expat photography enthusiasts from their rendezvous at Tide Square in Shenzhen Talent Park, Nanshan District, on Saturday.
The avid photographers, both professional and amateur, gathered for the award ceremony of the 4th Expats Eye Shenzhen Photo Contest, as well as the opening ceremony of the photo exhibition featuring the winning works.
The exhibition, featuring over 100 stunning works on display, is free to the public until Dec. 24 at Tide Square.
Wu Jun, director-general of the Information Office of the Shenzhen Municipal Government; Ding Shizhao, president of Shenzhen News Group (SNG); Wang Yuanhui, director-general of the Publicity Department of the CPC Nanshan District Committee; Tang Jin, deputy director-general of the China Council for the Promotion of International Trade Shenzhen Municipal Committee (CCPIT Shenzhen); and Ye Xiaobin, deputy editor-in-chief of SNG and editor-in-chief of Shenzhen Evening News, attended the event.
This year's contest, which was launched in July, received over 1,000 entries from 124 entrants from 39 countries including the U.S., U.K., India, Japan, Russia, Canada, Colombia and Brazil, with some joining the contest for four consecutive years.
The contest was divided into humanistic and nature categories. After the jury's discussion and voting, 73 entrants stood out, with 37 finalists, 20 merit-prize winners, 10 third-prize winners, four second-prize winners, and two first-prize winners selected.
The entries feature prominent themes, rich subjects, novel compositions and different styles. The expats presented Shenzhen's charm with their unique perspectives, and they recorded the changes in the city's social and economic development, natural environment, local customs and technological innovations.
Ding said in a speech at the award ceremony that Shenzhen is a city that pioneered reform and opening up in China, and internationalization is one of its distinctive features. Many expats regard Shenzhen as their home, where they live, start businesses and pursue their dreams in the Guangdong-Hong Kong-Macao Greater Bay Area (GBA).
Ding noted that the photo contest provides a platform for expats to record Shenzhen's prosperity, their observations, ideas and feeling about the city, and pass these stories to their relatives and friends, as well as other people around the world.
(Continued on P4; photos on P4, 5)
(From Page 1)
Pappu Sarkar from India won the first prize in the humanistic category for his photo series "Iconic Landmarks: Architectures of Shenzhen," which shows the grandeur of the city's modern buildings, roads, bridges and other infrastructures.
For the nature category, Issac Cohen from Colombia won first prize with his photo series "While Shenzhen Sleeps," focusing on wildlife at night, featuring snakes, frogs, owls and spiders that are active in the city's parks and mountains at night.
The two winners both made their acceptance speeches through video. "Photography is much bigger than just creating images for me. It's an experience and an infinite journey," Sarkar said.
"I really enjoy this contest because it's a great opportunity for us to show our work, our photography and our own perspective of the city. I have had a great time taking pictures with my friends all over the city," Cohen said.
Chiranjib Chakraborty from India won the second prize in the nature category. According to him, Shenzhen is an awesome place with a rich collection of flora and fauna and the harmonious coexistence between different species creates an immense bond between nature and the city.
Roberto Antonio Sanchez Owen from Honduras won the third prize in the humanistic category for his work "Fan of Sunset." According to Owen, since he studied photography just three years ago, "it's a big honor for me to have an award-winning picture in this contest, which makes me confident in my photography."
It's noteworthy that "iTALK: Eyeshenzhen & Friends," a new international communication column launched by Shenzhen Daily and EYESHENZHEN.com, was unveiled at the award ceremony Saturday. According to the organizers, "i" stands for "I," "international," "innovation," and "inspiration."
The column will carry out different forms of "Experience Shenzhen" activities and invite expats and talents in various fields in the GBA for cooperation. It will also cultivate more KOLs (key opinion leaders) and EOLs (expert opinion leaders) who speak for Shenzhen, and continue to provide it more wisdom and inspiration to build a globally influential city of innovation, entrepreneurship and creativity through visual storytelling.
The contest is hosted by the Information Office of the Shenzhen Municipal Government, organized by EYESHENZHEN.com, Shenzhen Daily and CCPIT Shenzhen, guided by the Shenzhen Municipal Foreign Affairs Office and supported by China Resources Land Limited.