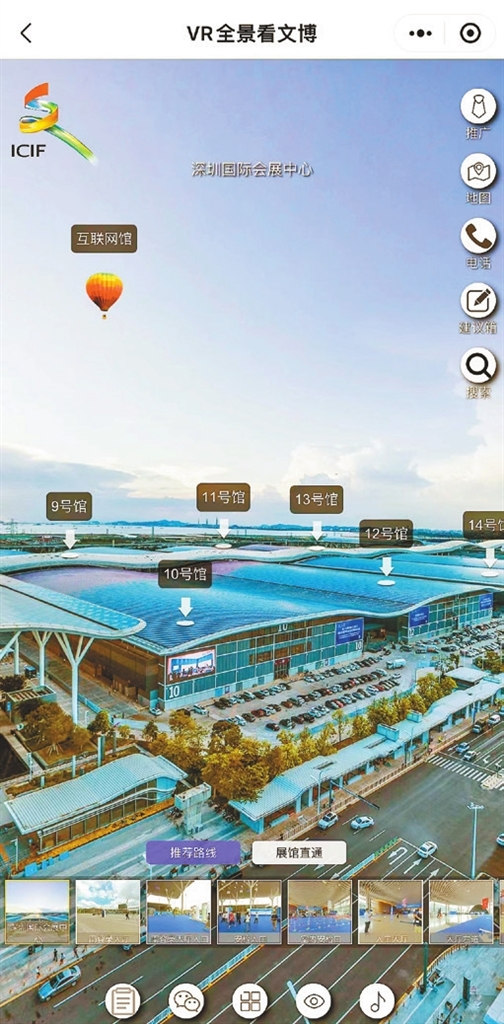 WITH virtual reality (VR) and 3D digital cloud exhibition systems, business transactions can also take place from face-to-face to screen-to-screen at the 18th China (Shenzhen) International Cultural Industries Fair (ICIF) that officially opens today.
The cultural fair designed three interactive sections, specifically platforms on product display, livestreaming and procurement connections, to facilitate online business transactions at the fair, Shenzhen Evening News reported.
The 3D cloud exhibition halls, which applied VR panoramic film shooting technology, allow visitors to enjoy the 120,000-square-meter offline venues through an immersive 720-degree experience.
The cloud platform introduced a 3D digital cloud exhibition system to reduce the cost of building VR exhibition halls to 1%. The move not only streamlined related operations for exhibitors, but also addressed the pain point of small and medium-sized firms.
The fair joined hands with the Chinese online video-sharing platform Douyin to launch an event called ICIF livestreaming consumption season and cooperated with Tencent to launch activities such as cloud investment promotion.
It also built an online auction platform to help connect exhibitors and buyers to boost new consumption for cultural products and added functions such as online translation and intelligent recommendation for better online visiting experiences.
Some help buttons were also added to the cloud platform to help users get familiar with related operations.
(Wang Jingli)