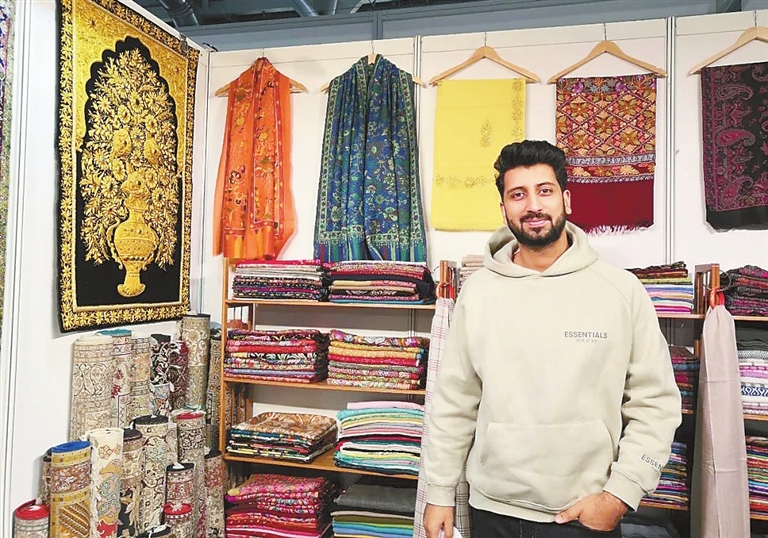 Zhang Yu
JeniZhang13@163.com
ZAHID AHMAD, a staffer from Ikran International Trade Co. Ltd., was delighted to attend the 18th China (Shenzhen) International Cultural Industries Fair (ICIF), which was held at the Shenzhen World Exhibition & Convention Center in Bao'an District.
"We don't want to miss it even for a year," Ahmad, who is from Indian-controlled Kashmir, told Shenzhen Daily on Friday.
According to Ahmad, this was the fifth time that the company took part in the annual national cultural event. "We also participated in the past four years, and the response was overwhelming."
Located in Hall 13, the Intangible Cultural Heritage·Arts & Crafts·Arts & Design Hall, Ahmad's booth showcased a variety of handmade cashmere and wool scarves, silk carpets and tapestries with distinctive Kashmiri and Persian styles.
"I think the fair is a very huge platform for people like us who are involved in cultural products that represent our identity, our culture, maybe our background, religion or the region we come from," Ahmad said.
He believed that as the biggest cultural fair in China, the ICIF offered exhibitors a platform to make exchanges. "I can see other countries also participating and showing their cultural heritage or their cultures, traditions and products."
Ahmad said he was most impressed by the level of exhibition at the ICIF. "I've been overwhelmed by the number of exhibitors and visitors. I can see different kinds of cultural products and some cultural activities."
Ahmad said his company was supposed to have a bigger area at this year's fair to exhibit its products, but due to the COVID-19 pandemic, few of his colleagues were able to attend the fair offline. "But we managed to make it and to continue our journey at the ICIF."
In addition to foreign exhibitors, foreign visitors had also thought highly of the ICIF. "I think the fair is amazing. I can explore a lot of cultural things. Some products are really nice and I want to buy them as gifts," said Rafique Ahmad Khuhro from Pakistan, who was visiting the fair with his family.
Another Pakistani visitor, who preferred to be called Dani, said the fair was beyond his expectations. "Even though I have been to a lot of European countries, the technology and the culture and everything that China is now presenting is really impressive," Dani said.