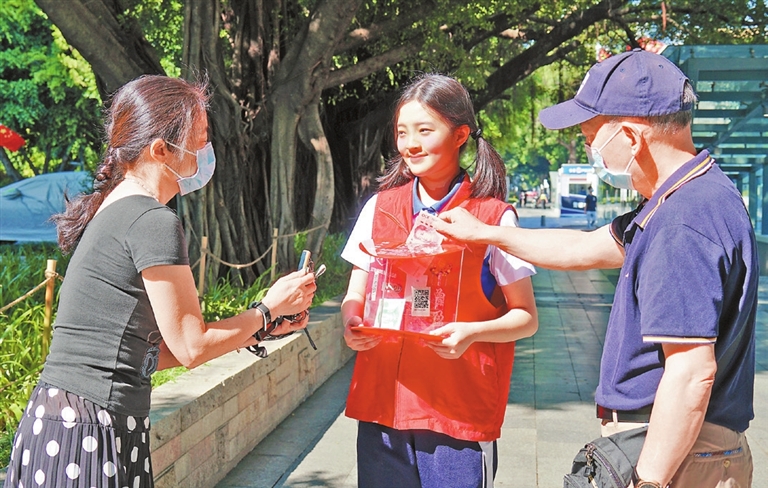 ZENG YINGZHI, a 10th grader at Shenzhen No. 2 Experimental School, has earned national commendation for her earnest participation and outstanding services in volunteering, Shenzhen Special Zone Daily reported recently.
She was among the 32 teenagers across the country who were praised for exemplary deeds. Over the past four years, Zeng had provided services as a registered volunteer in the city for 1,177.8 hours as of November 2022.
Zeng registered as a volunteer in Shenzhen when she was 10 and has been volunteering for seven years. When she was 3, she began to follow her grandparents to other cities in Guangdong such as Heyuan, Shanwei and Lufeng, as well as in Jinggangshan in Jiangxi Province, and Hechi and Baise in Guangxi Zhuang Autonomous Region for student assistance endeavors.
"I still remember that I gave away my favorite toys for the first time when I was 3. I was in tears and was reluctant to give them away. Now, I often use my lucky money to buy school supplies and toys for students in poverty-stricken areas," Zeng was quoted as saying.
She recalled that one time, she handed a gift to a little girl in a poverty-hit area. After receiving it, the girl said happily: "Sister, when I grow up, I want to be a volunteer like you to help people in need." Those touching words warmed Zeng's heart.
On holidays, Zeng would go to the city's volunteer service U stations to participate in charity sales. Income from the charity sales would be donated to needy students.
She is also a frequent visitor to the city's nursing homes and child welfare institutions, where she is a familiar face for the elderly and children. She would feed the centenarians and take them to the park for an outing, and accompany the children to fly kites, make mooncakes, tell stories and sing songs.
During the COVID-19 pandemic, Zeng and her classmates would also do their best to care and encourage frontline workers with supplies and kind words.
According to Zeng, Shenzhen is a city of volunteers, and she would devote her life to helping those in need as long as conditions and time permit.
As of the end of 2022, Shenzhen has 3.51 million registered volunteers, according to statistics.  (Zhang Yu)