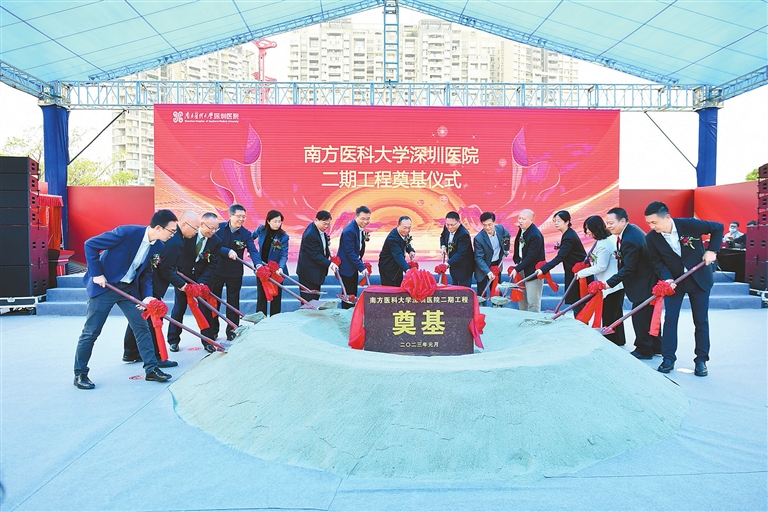 Zhang Yu
JeniZhang13@163.com
THE Shenzhen Hospital of Southern Medical University commemorated the groundbreaking of its Phase II project on the hospital's campus in Bao'an District and inaugurated a clinical medical school yesterday morning.
The project, which is scheduled to be completed in 2027, will add 1,500 extra hospital beds.
The new development will cover a construction area totaling 320,000 square meters and an area of about 230,000 square meters above ground, including inpatient and outpatient buildings as well as a teaching and research building.
The additional 1,500 beds and several new diagnosis and treatment centers will further improve the hospital's service capacity, according to the Shenzhen Hospital of Southern Medical University.
The hospital's emergency and critical care capacity will also be enhanced with five new hybrid operating rooms and 100 extra beds in the intensive care units.
Additionally, platforms such as a clinical research center, a biological specimen bank, a public testing center and labs are expected to effectively promote the development of clinical research, collaborative innovation and the transformation of research results, and attract more high-level talents to join the hospital.
"Medical treatment, teaching and research must develop in a coordinated way. We have made special efforts in teaching and scientific research in the expansion project," said Liao Sizhao, president of the Shenzhen Hospital of Southern Medical University.
The hospital also has a garden set up on the 13th floor, and an 800-meter-long viewing corridor is built to connect the three buildings. Under the theme of sports and leisure, 10 other themed spaces are linked to provide recreational spaces for patients and employees.
The Phase II project will also build a new four-story underground parking lot and add 1,200 parking spots.
According to the hospital, the newly inaugurated clinical medical school is a milestone in the hospital's development and a key step in cultivating excellent medical talents in Shenzhen.