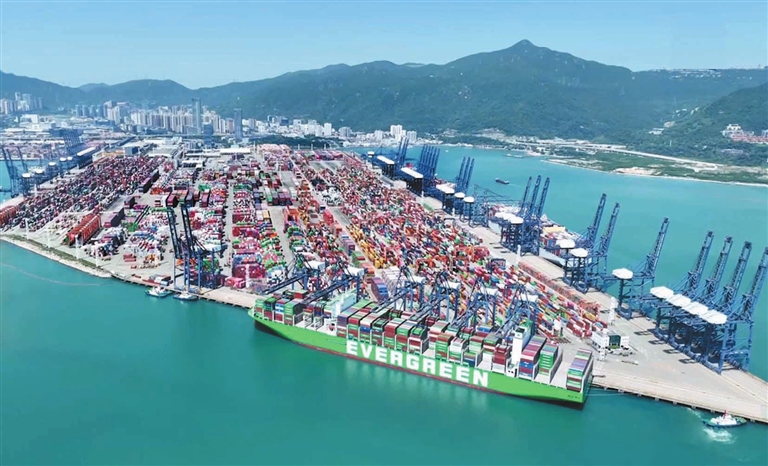 Han Ximin
1824295095@qq.com
EVER Acme, the largest container vessel in the world, called at Yantian International Container Terminals (YICT) on Monday and will load 5,000 TEUs (twenty-foot equivalent units) before heading for Europe, sources from YICT said recently.
The vessel was built in 2022 by Hudong-Zhonghua Shipbuilding (Group) Co. Ltd., a subsidiary of China State Shipbuilding Corp.
The ship measures 61.5 meters wide and 400 meters long, 63 meters longer than the world's largest aircraft carrier. It has a 24,000-square-meter deck area, equivalent to 3.5 standard soccer fields.
The area is able to load over 24,000 TEUs at a time, and the maximum stacking can reach 25 layers, which is equivalent to the height of a 22-story building.
The call of Ever Acme has a higher requirement over a port's handling efficiency and water depth. Yantian port owns the only natural navigation way for 200,000-ton vessels in the Guangdong-Hong Kong-Macao Greater Bay Area.
According to YICT, the port operator has established close partnerships with over 40 shipping companies and offered more than 100 routes a week linking with the rest of the world.
Shenzhen Port's container throughput in 2022 reached 30 million TEUs for the first time, up by 4.39% year on year, data from the Shenzhen transport bureau earlier this January showed.
Shenzhen Port includes YICT in the east, and Dachan, Shekou and Chiwan ports in the west. YICT handled around half of Shenzhen Port's throughput.
According to the 14th Five-Year Plan (2021-2025) released by the city's transport bureau, the container throughput of Shenzhen Port will reach 33 million TEUs by 2025, growing from 28.77 million TEUs in 2021. The throughput of YICT will reach 16 million TEUs in 2025.