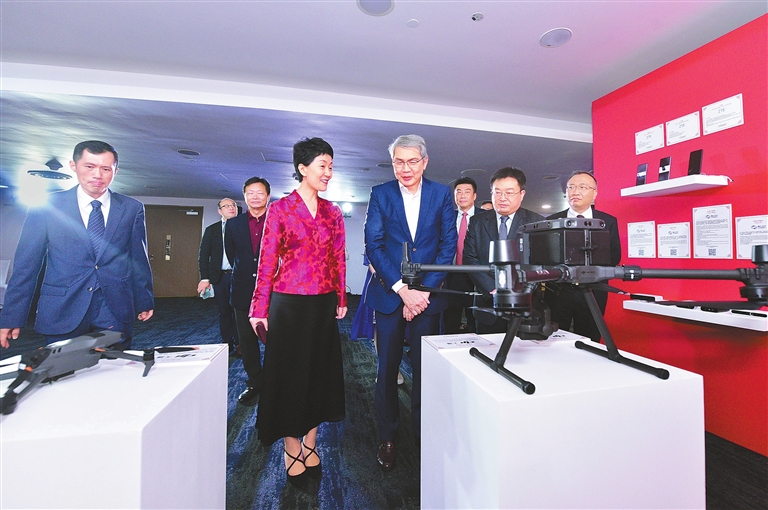 Zhang Yu
JeniZhang13@163.com
A SHENZHEN-THEMED exhibition hall was unveiled in Singapore on Sunday, when a Shenzhen delegation organized by the Shenzhen Municipal Commerce Bureau and Nanshan District Government was promoting economic and trade exchanges in the country at the invitation of the Embassy of China in Singapore.
The Shenzhen exhibition hall was opened at the Chinese New Year's Culture Gala hosted by the Chinese Embassy in Singapore, which was the embassy's first offline Spring Festival-themed event in three years.
The exhibition, which is divided into three zones, aims to tell the story of Shenzhen, highlight the city's characteristics and showcase Shenzhen brands, the city's commerce bureau said.
The theme zone introduces Shenzhen's new technologies and achievements in the fields of scientific and technological innovation, highlighting the development of the city's key industries and the advantages of leading enterprises.
Videos about Shenzhen's history, the rise of Shenzhen's science and technology and Nantou Ancient Town, a distinctive cultural block in Shenzhen, are played in the zone, showing visitors a richer and more dynamic city image of Shenzhen.
In the technology display zone, over 40 high-tech products and popular items including drones, panoramic cameras and intelligent robots exhibited by Shenzhen high-tech enterprises such as DJI and Insta360 have become showstoppers.
The interaction zone takes visitors on a journey to experience traditional Chinese culture empowered by Shenzhen's tech products and technologies.
The immersive digital art exhibition jointly created by Tencent and the Palace Museum invites guests to experience moving pictures interwoven with light, shadow and the Forbidden City's red walls.
The 3D holographic projection of "Digital Mei Lanfang" created by CUE Group presents a digital version of notable Peking Opera artist Mei Lanfang performing classic Peking Opera through 3D holographic projection technology.
The Shenzhen delegation will visit Singapore's Infocomm Media Development Authority and leading enterprises such as Keppel Corp., Yanlord Land Group Ltd. and CapitaLand Group, according to the municipal commerce bureau.
The two sides will hold talks about smart city cooperation between Shenzhen and Singapore, the construction of a Shenzhen-Singapore innovation demonstration park as well as enterprises expanding to overseas markets in a bid to deepen bilateral ties and achieve win-win results.