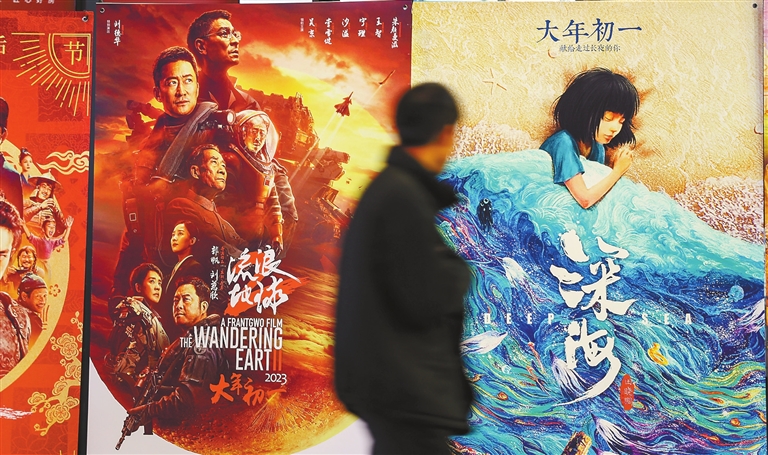 CHINESE moviegoers have been treated to several blockbusters that display cultural confidence during the Spring Festival holiday, with a distinctive Chinese spirit that resonates deeply with audience members.
Zhang Yimou's suspense comedy "Full River Red" tells a story of eliminating evil to demonstrate loyalty and pursue justice. The drama is based around Yue Fei, a military commander of the Southern Song Dynasty (1127-1279), who fought battles against the Jin Dynasty (1115-1234).
Ye Hang, an associate professor with the Beijing Film Academy, noted that the characters in the film pursue truth and uphold morality and integrity. The majestic momentum contained in the film is very inspiring, according to Ye, while it reveals the value and meaning of life, sentiments that have been praised by people and passed down through the ages.
"The Wandering Earth 2" — a prequel to the 2019 sci-fi blockbuster "The Wandering Earth" — tells the story of mankind building enormous engines to propel Earth to a new solar system as the sun rapidly burns out.
Chen Xuguang, a professor with the School of Arts of Peking University, noted that "Wandering Earth 2" is a complex of "Chinese imagination," "Chinese thinking" and "Chinese elements," showing that human beings will never give up their homeland.
Rao Shuguang, president of China Film Critics Association, said that the film conveys messages about caring for the homeland, as well as the protection of the family, which are important ideas in China's traditional culture.
Also making waves is the animated fantasy film "Deep Sea," which has impressed audience members with its visual effects and has been added to the Generation Lineup of the Berlin Film Festival.
Yi Qiao, CEO of Octmedia and producer of "Deep Sea," said the production team spent two years researching and developing "particle ink painting" technique, combining the traditional ink painting style with advanced 3D technology. The animated movie features strong modern Chinese aesthetics, with unique Chinese characteristics, according to Yi.
"If Chinese animation wants to rise, the key point is innovation, and it is necessary to form its own storytelling style, visual characteristics and technical accumulation. 'Deep Sea' is just the beginning, and we still have a long way to go," Yi said.
The visual spectacles presented by the film were cheered by audience members. "The effects are truly breathtaking. It felt like a tour through the colorful, deep blue sea," said a moviegoer surnamed Su.(Xinhua)