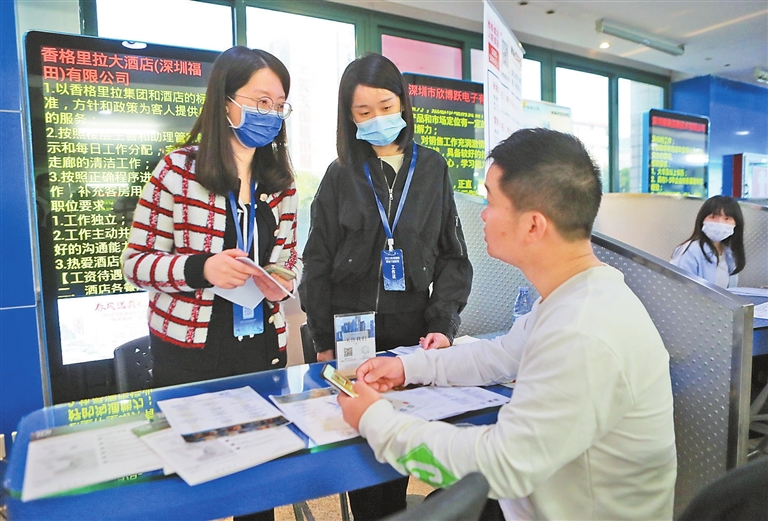 Han Ximin
1824295095@qq.com
A LARGE post-festival job fair was held Thursday at the Shenzhen Labor and Employment Building in Futian District, offering 2,200 posts for jobseekers.
A total of 64 enterprises in the fields of manufacturing, property management, hospitality and catering, construction and electronics including BYD, Shenzhen SEZ Construction and Development Group and OCT attended the fair, offering posts for ordinary laborers like maintenance workers, security guards and cleaners, and various types of engineers with monthly salaries ranging from 5,000 yuan (US$744.28) to 13,000 yuan.
A livestream for job opportunities was also held Thursday with human resources managers from five companies including Foxconn, Sunwoda and Skyworth-RGB introducing corporate culture and 448 engineering and managerial posts for jobseekers. The monthly salaries for the posts range from 8,000 to 15,000 yuan. The livestream attracted a total of 118,000 views and over 1,000 resume submissions.
"In addition to the onsite job fair and livestreaming event, the online job fair (http://www.ggjyfw.cn/) also provided employment opportunities for enterprises and jobseekers," Cai Yuxing, director of the Employment Promotion and Unemployment Insurance Department of the Shenzhen Municipal Human Resources and Social Security Bureau, said during an interview Thursday.
One jobseeker surnamed Zhang has been working in property management for more than 10 years. He resigned from his job at the end of last year and spent the Spring Festival holiday in his hometown. Upon returning to Shenzhen, he sent resumes to two prospective companies Thursday morning.
"I came back after the Spring Festival holiday and feel happy to have the opportunity to discuss salary details with HR managers," Zhang said.
A woman also surnamed Zhang, the HR manager of the South China branch of China Construction No. 2 Engineering Co. Ltd., said that the company is recruiting more personnel in civil engineering and accounting for its new projects.
Skyworth-RGB planned to recruit managerial and technical talents for its 30 posts with salaries ranging from 180,000 yuan to 300,000 yuan a year.
The city has planned to organize 208 job fairs, including 97 onsite ones, between January and March, with the participation of 5,000 enterprises.
The municipal human resources and social security bureau also organized local enterprises to hold job fairs in Guangxi on Jan. 30 and Jan. 31. The job fair organized by Futian District in Guangxi offered 4,000 posts mainly in logistics, security and hotel services. The posts attracted 6,000 visitors and over 1,000 among them had reached intentions. The job fair organized by Bao'an District attracted 732 jobseekers for posts offered by 31 enterprises. On Jan. 31, 74 of them took free bus rides to Shenzhen the day after recruitment.
The bureau worked out policies to encourage employment before the Spring Festival holiday by offering subsidies to enterprises and employees, which amount to 270 million yuan for labor use, recruitment and post-festival transportation back to work.