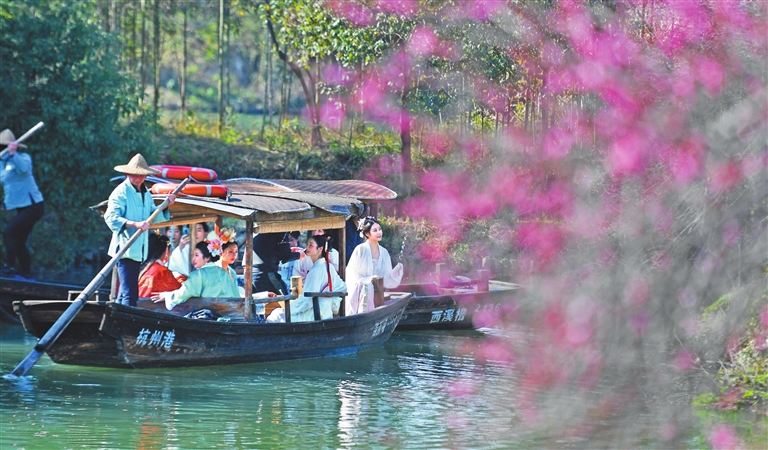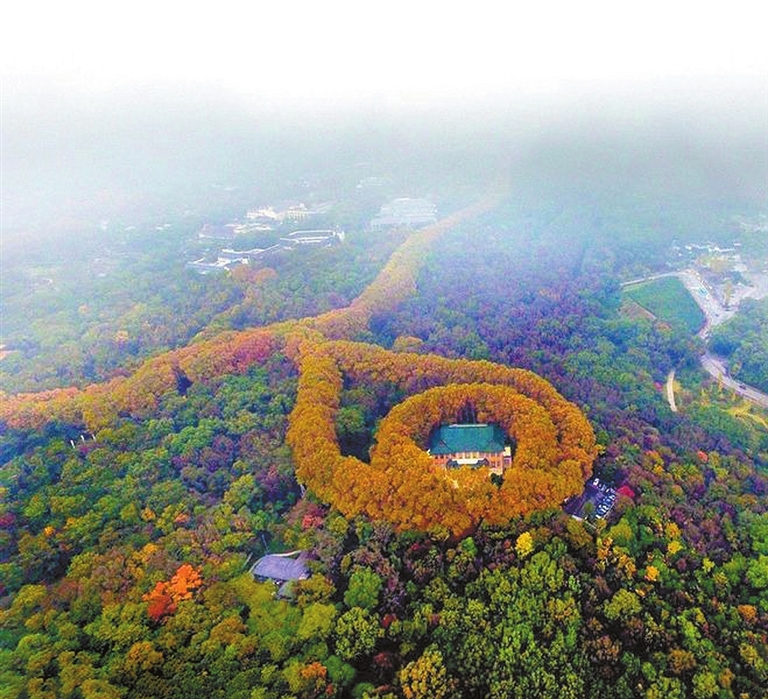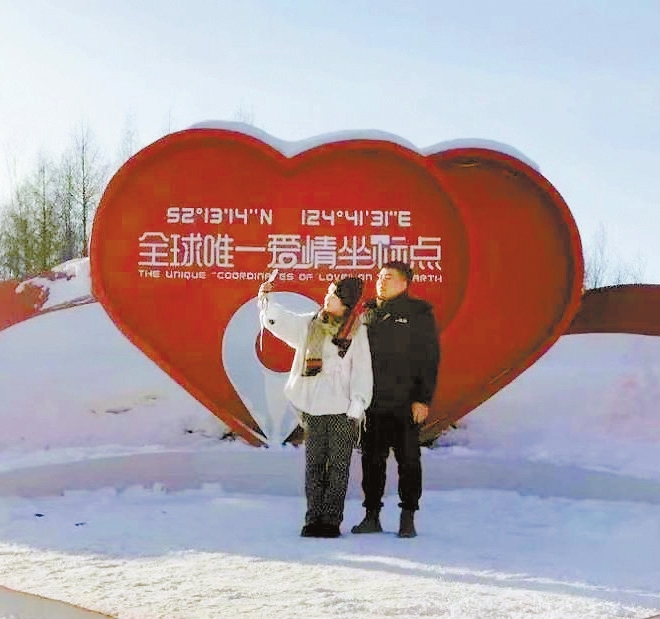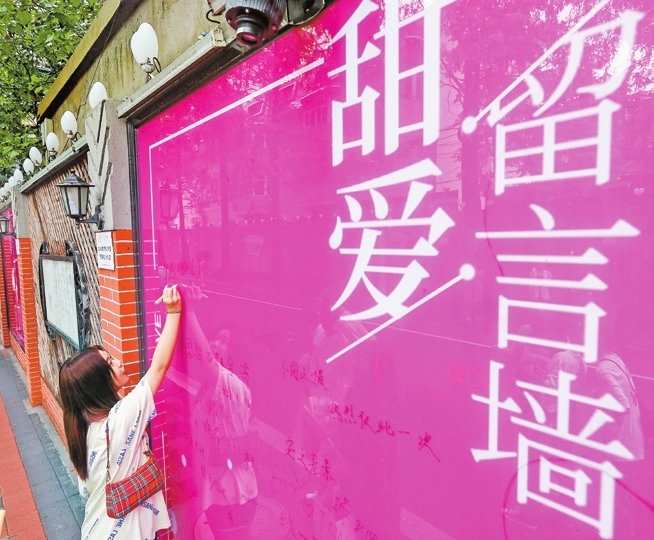 VALENTINE'S Day is celebrated every Feb. 14 as couples across the globe honor their spouses, partners and sweethearts. Hundreds of years of traditions and customs have made it into the holiday that we observe today.
Just in case you have not yet determined how to celebrate this special occasion, we've come up with a list of romantic destinations around China where you may spend an unforgettable day with a loved one.
Water bus in Hangzhou
Everyone raised in Chinese culture has fantasized about Hangzhou before their first visit. Known as "Heaven on Earth," the city praised by numerous ancient Chinese poets immediately evokes the serene image of boats down clear streams under stone bridges, peach blossoms and willows swaying in the breeze, and black-roofed white-walled houses nested in small villages.
No need to pay for the expensive entrance tickets to ancient towns near the city, or spend a few hundred bucks on a tourist boating experience on the West Lake; you can in fact take a 3-yuan (US$0.44) water bus tour and travel back in time to ancient Hangzhou.
Unlike the other three routes that use big boats to transport passengers, small boats allowing only eight on board are running on Route 7 along the East River, which has been flowing through the city since ancient times. Starting from the Meihuabei stop, the small boat runs a course of 45 minutes until it arrives at Baziqiao, passing 14 bridges of various forms along the way.
Meiling Palace in Nanjing
Located at the foot of the Purple Mountain (Zijin Shan), the Meiling Palace was built in the 1930s and was once considered the No. 1 mansion in the Far East, representing the best of Chinese architecture in the first half of the 20th century. Then first couple Chiang Kai-shek and Soong Meiling had frequently vacationed and received guests at the venue, hence the name "Meiling Palace." The palace's exterior has a traditional Chinese style with its roof covered by green tiles, on top of which are more than 1,000 carved phoenixes. However, as soon as you walk through the front door, you see luxurious Western-style rooms. There are many displays of historical documents and artifacts at this place that history buffs would find interesting.
When the leaves turn yellow in the fall, the aerial view of the palace shows the design of a necklace with the house as the pendant. People say that this ingenious design was meant by Chiang as a gift for his wife. Wasn't that romantic!
High-speed rail to Wuhan
High-speed trains G520, G521 and G1314 all have stops in Wuhan. As the Chinese pronunciation of the three numbers are puns for "I love you" and "a whole lifetime," a ride by one of the trains to the city can be a romantic experience.
Once in town, there are plenty of places to explore, the most romantic of which might be the Heptachord Terrace (Guqin Tai), located on the south bank of Moon Lake (Yue Hu), near the western foot of Tortoise Hill (Gui Shan). First built during the Song Dynasty (960-1279) and refurbished in the late 18th century, the elegant ancient buildings consisting of halls, gardens, pavilions, tearooms and courtyards are a cultural heritage site protected in Hubei Province. It was originally built to pay tribute to Bo Ya, a guqin (Chinese plucked string instrument) master during the Spring and Autumn Period (770-476 B.C.). History books record that Bo found in woodcutter Zhong Ziqi an unexpected friend, who could appreciate his guqin virtuosity. Bo met Zhong while playing the instrument by the Moon Lake; they made an appointment to meet again at the same site on Mid-Autumn Festival the next year, but Zhong failed to appear, having died of an illness. Thinking no one could better understand his music, Bo destroyed his guqin and stopped playing. As the Chinese term "zhi yin" (one who knows music) is another word for "kindred spirit" or even "soul mate," the Heptachord Terrace is a nice place to honor a faithful relationship.
Tian'ai Road in Shanghai
Tian'ai Road, an 800-meter-long road in Hongkou District, Shanghai, has a romantic name, whose Chinese translation literally means "sweet love." Everything on the road is named after it. The sidewalks along the street are bookended by walls, on which are inscribed 28 famous love poems quoted from various Chinese and foreign authors. Lovebirds can stop and have a drink at Tian'an Café; one can also send a postcard or letter to a loved one from the mailbox near the end of the 520-meter road, which will then be stamped with a "LOVE" postmark.
Zhongyi Bus in Hangzhou
Every year, thousands of romantics send letters addressed to "Juliet" in Verona, Italy, the subject of the timeless romantic tragedy "Romeo and Juliet."
Hangzhou, Verona's sister city, has started a bus service to honor the Sino-Italian friendship as well as the romantic traditions of the two cities. The Chinese term "zhong yi" can mean both "Sino-Italian" and "take a shine to."
Painted in red, white and green, the buses run on Route 1314 and Route WE1314. Route 1314 passes such romantic destinations as Qing Dynasty (1644-1911) woman poet Chen Ruisheng's mansion, the Long Bridge where Liang Shanbo and Zhu Yingtai of the "Butterfly Lovers" bid farewell after three years of schooling together, and the Leifeng Pagoda where the legendary White Snake Fairy is imprisoned because she fell in love with and married a human being. The Route WE1314 bus makes stops at the tomb of passionate song girl Su Xiaoxiao, Qiushui Villa, West Lake Music Fountain and the Wansong Academy.
Inside the buses, lines from "Romeo and Juliet" and "Butterfly Lovers" are printed on seatbacks and handgrips, as well as cheeky flirty lines popular among Chinese netizens such as "You know what my weakness is? You!"
Taergen Town in Heilongjiang
A location in Taergen Town is at 52°13′14″N, 124°41′31″E, whose Chinese pronunciation is a pun for "I love you my entire life." This scenic site in Northeast China's Heilongjiang has attracted lovebirds from across China. In addition to posing for photos in front of a heart-shaped installation, visitors can enjoy the pristine views of snow-clad forests and ice-covered rivers as well as fresh air and quietness away from the hustle and bustle of city life.
Travessa da Paixão in Macao
The most iconic landmark of Macao is the Ruins of St. Paul's, the remains of St. Paul's College built more than 400 years ago by Jesuits. The first Western-style university in the Far East was destroyed by a big fire in 1835, leaving relatively intact only the foundations of those buildings, the façade of the college's church and part of the stone steps in front of it.
At the foot of the slope where the Ruins of St. Paul's stands, you can find among the crisscrossing alleys our romantic destination: Travessa da Paixão, which can be roughly translated as "lane of passion." The pinkish and yellowish exterior of the buildings along the lane has made it a perfect spot for couples' photos. In addition to the photogenic location, there are a few additional places to visit. These include the Cinematheque•Passion, a film culture attraction offering exhibitions, screenings and book reading services, a cute hotel called Love Lane 7, a milk tea shop as well as other food and souvenir shops just around the corner along the St. Paul Road.(Li Dan)